Cut From the Catalog: SMOG
Upcoming Event
Record labels have long been the gatekeepers of the dance music space, as they continuously define and reshape tastes via releases, endless talent scouting, and the curation of brand-hosted parties. In our Cut From the Catalog series, we big-up established and buzzing imprints alike, by taking a look at the organization's ops while running through a retrospective mix built solely from their respective catalogs.
It's hard to believe it's been a decade since Drew Best, Danny Johnson, and John Dadzie, aka 12th Planet, came together to form the inimitable SMOG Records in Los Angeles. Forever transforming the soundscape of the L.A. underground via the heavyweight dubstep style that SMOG brought to the table—courtesy of artists like Skrillex, Kill the Noise, Megalodon, TrollPhace, and Oolacile—the club-night-turned-record-label continues to operate at the forefront of bass music culture in all its shapes and forms 10 years on.
To celebrate its 10-year anniversary, the SMOG crew is busier than ever right now with upcoming plans for a blowout anniversary party in Los Angeles, a nationwide tour featuring 12th Planet and LUMBERJVCK, and a series of mega releases due to blow your socks off when it drops.
We touched down with SMOG cofounder and label boss, Drew Best, for a look into the creation of what MTV once dubbed the "pioneering incubator" of the dubstep and bass music sound. As if that weren't enough, 12th Planet hits us with a 40-track retrospective SMOG mix that offers up a jaw-dropping reminder of just how far the label has come and how it will no doubt continue to lead the evolution of the dubstep and bass music cultures for years to come.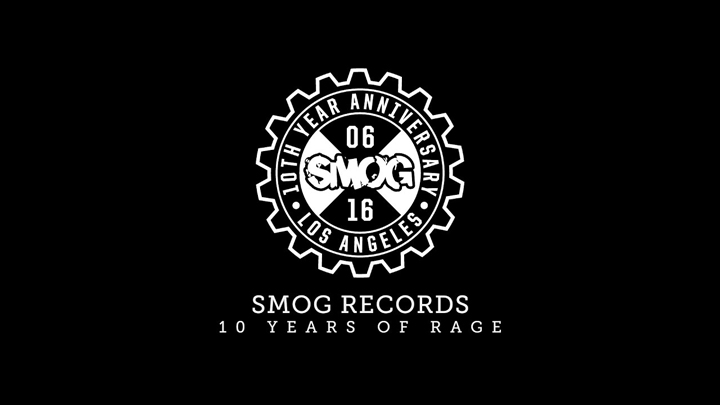 Before we get into the label, let's go back to your roots. Where'd you grow up, and how does electronic music enter the picture?
I grew up in Chicago. Wax Trax! was a local label, and they started distributing a lot of artists like Underworld and Aphex Twin early on; I got into electronic music through that. I did the rave thing for a bit, started going to jungle parties, became a hardcore drum & bass head, started DJing and throwing parties. That took over everything for me.
How'd you end up in L.A.?
Somewhere around 1999, it looked like the scene was starting to die. I remember thinking, "No one's going to be DJing a few years from now, so I'd better get a real career together!" I left Chicago, went to film school in Vancouver, and then moved to Los Angeles in 2002 to get into the visual effects world. But when I got here, I saw there wasn't much of an industry left. All of the places I was applying to were actually laying people off, so I just reached back to music and jumped right back into the scene.
Paint the world from which SMOG emerges. You're part of the drum & bass scene. You're doing a lot of behind-the-scenes work for clubs, including Bassrush and Insomniac, while also getting known for your visuals and as a VJ. When does dubstep enter your world?
I had a friend who was collecting all the early records, Tempa and Kode9, and he would play me all these records. [I thought it was] cool, but I didn't really see how anyone in L.A. would really connect with it. For me, bass music, techno, and the rave scene were high-energy, and keep in mind, these were the early days of dubstep, so everything was really minimal, very dark. It wasn't until Mary Anne Hobbes did her now-infamous Dubstep Warz broadcast on Radio 1 [in 2006] when everything came together for me.
What was it specifically about that broadcast that made things click?
She was interviewing all these people who were pioneering dubstep music at the time. It just painted a picture of what it was like for these producers to be making music in their bedrooms, cutting stuff to dubplate, having only one or two copies of these tracks, and going out to these clubs and playing this music for the first time, with maybe like 20 people standing around the turntables, just watching. It was the complete opposite of what was happening in drum & bass, which was all about sensory overload. This was the era of Pendulum, where producers were making tracks within tracks, crazy edits with all these different sounds, all these MCs onstage with visuals and lighting. Then dubstep comes along and is like, "Let's strip it all down to the core and just focus on bass." You'd see videos on YouTube where people would film ashtrays shaking off the tables at a Dub War night in New York, or the way the piss troughs would shake in the bathroom at DMZ in Brixton. I was like, "Man, there really needs to be something like this in L.A."
And that was the birth of SMOG?
That was all it took, man. It was like, "Let's try and do one party and see what happens."
What was that first night like?
It was packed, and the energy was out of control. I remember R.A.W. had stopped by on his way to a gig, just to check it out, and ended up losing his mind and missing his gig later on that night. After the show was over, we were trying to square up with the bar, and we basically realized we had lost a lot of money. It really bummed me out, and I was beaten down by it. But then people started hitting me up, talking about how the show was life-changing for them. R.A.W. hit me up and was so inspired that he started talking about changing his name to 6Blocc. All of that inspired us to keep going, because it became obvious really quickly that the night had a huge impact on a lot of people, especially people I respect. From there, it just got bigger and bigger.
You must've felt like you were at the heart of a new movement.
My biggest complaint about L.A. at that time was that music events were constantly showcasing the "best" artists in the world that came from everywhere but L.A. The best house was from Chicago and New York, the best jungle from the UK, the best breaks from Florida. But what about Los Angeles?
With this new music, I wanted to say that we're not going to take something that's a London invention and make it sound like everything else in London. I was more inspired by the thought of how Los Angeles would take this sound and interpret it. Our first event was billed as an "experiment in dubstep," and it was sort of an acid test. The fact that we had guys like R.A.W. and EMU and DLX, and all these guys make this sound their own, eventually led to Los Angeles being a hub for producers; it's ultimately what led to us creating a record label that would pioneer the sound of Los Angeles dubstep.
Looking back over the past decade, what is the SMOG sound?
Our roots come from a deeper place, but I feel like we encompass the entire spectrum of the sound, all the way from DMZ on through to Skrillex. We never try to be biased toward one sound or the other, but you can definitely see how John [12th Planet] has been curating the sound a lot more and discovering all these young producers who never experienced dubstep when it was in its infancy. There's this whole new wave of people that John is bringing in, and it feels like we're giving voice to the next generation.
If it all stopped tomorrow and you all decided to pull the plug on SMOG, what would be the legacy you feel you've left behind?
I feel like we did our bit; we definitely left a mark. We were part of something that happened in L.A., which birthed something big. Beyond what it did for dubstep, I feel like we helped a lot of local producers gain confidence and not only find success in L.A., but take their sound international. I feel very proud of that—and the fact that we lasted 10 years! It's such a huge benchmark, 10 years of anything. We were impressed we made it through one year originally! [laughs] But we're not going anywhere; it's not over yet. We're going to continue to push the next generation of musicians. We've always been a tastemaker label, and discovering new talent and exposing them to the world is something we want to continue to do.
Any final shouts before we launch into the next 10 years?
I wanna shout-out the OG SMOG crew: 12th, Flinch, Kemst, Knife Dreams, Showguns, DLX, EMU, Pawn, Steady, Danny Johnson, Evol, Kelly Dean, Sam XL, Pablo Hassan, Spectr, Unit, Hera, Joe Nice, Plastician, Antiserum, Noah D, SPL, Breakage, Caspa, Youngsta, Cyrus, Hatcha, Skream, MRK1, N-Type, Distance, Mary Anne Hobbs; the Bay Area crew: Miro, Nick Argon, Matty G, Juju, DJG, Djunya, Kozee, Ultraviolet; all the crews who have supported us over the years: Bassrush, Insomniac, Pure Filth, Respect, Basshead, Embrace, React, Firepower, Mad Classy, Trouble & Bass, Scion, Red Bull, IHEARTCOMIX, UKF, Metalheadz; and anyone else I forgot. Thank you for being a part of the last 10 years.
12th Planet's SMOG Records Cut From the Catalog Mix Track List:

12th Planet "Ptera Patrick" [SMOG002]
DLX "Matter of Fact" (Breakage's Relatively Speaking Mix) [SMOG003]
Pawn & EMU ft. Werd2Jah "Headshot" [SMOG006]
12th Planet "68" [SMOG004]
Datsik, 12th Planet "Texx Mars" [SMOG005]
Datsik "Galvanize" [SMOG005]
SPL, 12th Planet "Lootin 92 Revisted" [SMOG012]
DLX ft. Kemst "City of Cars" (Von D remix) [SCIONAV00430-CDV30-10]
Noah D "Clash" [SMOGLP003]
Truth "Evil in the Woods" [SMOG020]
Kelly Dean & Steady ft. Kemst "Teflon" (Datsik & Excision remix) [SCIONAV00430-CDV30-10]
12th Planet & Juakali "Reasons" (Doctor Premix) [SCIONAV00430-CDV30-10]
12th planet & Flinch "The End Is Near" [SMOG023]
Flinch ft. Heather Brite "Light It Up" [SMOG014]
12th Planet, Skrillex, Kill the Noise "Burst" [SMOG014]
Herobust "Sheknowshebad" [SMOG038]
Bare "Finger Trvp" [SMOG039]
Pyramid Juke, Ookay "Yen" [SMOG044]
Herobust, Two Fresh "Throw That" [SMOG031]
Son of Kick ft. Foreign Beggars & Virus Syndicate "EOW" [SMOG019]
Mayhem, Antiserum "Horn Dawg" [SMOGLP002]
12th Planet, Mayhem ft. PennyBirdRabbit "Whoops" [SMOG027]
SPL "Hypnotize" [SMOG034]
12th Planet, Protohype "Shady" [SMOG035]
Flinch, Infuze "Belly of the Beast" (Trolley Snatcha remix) [SMOG057]
Twine "Killing Machine" [SMOG051]
12th Planet, LUMBERJVCK "Name Bran" [SMOG070]
Bommer & Crowell "Yasuo" [SMOG059]
Dubloadz, Trollphace "Dangalang" [SMOG052]
Subfiltronik, Benzmixer "Psycho" [SMOG059]
Cotti "Papi Chulo" [SMOG045]
Barron & Ponicz "Flava" [SMOG059]
12th Planet, Trollphace, Juju "Spilly Talker" [SMOG066]
BloodThinnerz "Cryclone" [SMOG062]
Oolacile "Expansion" [SMOG073]
Phiso "Jotaro" [SMOG071]
12th Planet, Megalodon, 50 Carrot "True OG" [SMOG069]
12th Planet, Antiserum "Bass Salt" [SMOGLP003]
TroyBoi "Scatterbrained" [SMOG064]
Starkey ft. D Double E "Screwed On" [SMOG063]
[Editor's Note: As shown in the catalog numbers featured next to each release in the track listing, this mix is virtually arranged in chronological order to reflect the sonic evolution of SMOG Records.]
Follow 12th Planet on Facebook | Twitter | SoundCloud
Follow SMOG Records on Facebook | Twitter | SoundCloud
---
Share
---
Tags
---
You might also like