'Night Owl Radio' 180 ft. KSHMR and Borgore
For anyone out there feeling like they need to kick up the Friday vibes, Pasquale has just the thing to give your weekend the legs it needs. He's showing up with a super fresh episode that has no extra space for quality selections. The records he is throwing down for this show are basically a first-class ticket to a good time, and they range from teeth-grinding breaks all the way to left-of-center bass house. Once he burns through those tracks, he lets his two guests pick up the slack.
KSHMR is a man known for his breathtaking melodies, and though he tends to dabble in the pop-centric world from time to time, the L.A. transplant still knows how to make a party pop off. He's expected to spread the love at Bill Graham next week, when he cruises into the San Fran edition of Crush. Before he elevates the mood in SF, KSHMR wants you to catch some feelings with his Up All Night segment.
Landing on the opposite end of the spectrum is the don of stank-faced bass music, Borgore. The low-end behemoth is thriving at the moment, after linking up with Benda, the fledgling producer he's taken under his wing, on a fully flexed-out collab called "Camo Diamond Rollie" for Bassrush Records. Because we can't get enough of the collab, we had him play it properly in a 30-minute guest mix.
Night Owl Radio is available via iTunes, so get to subscribing on your iOS devices.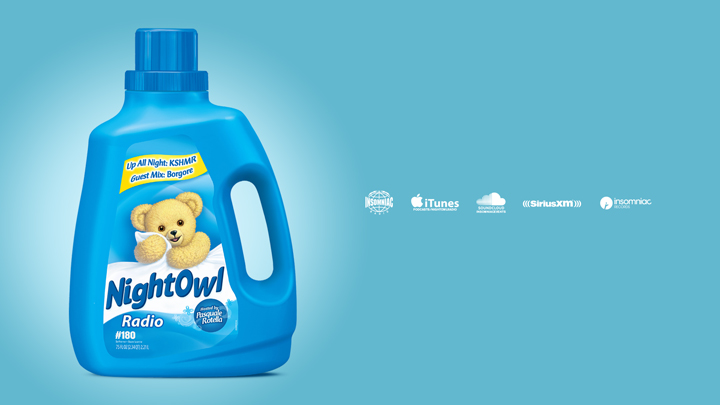 'Night Owl Radio' 180 Track List

Honey & Badger x Kramder "French Fries"
Endor "Geezers"
Pretence "Disciples"
Van Múrten "Rumors"
Vanilla ACE "Rock Right" (TOUCH Remix)
Win + Woo ft. Kaleena Zanders "Right in Front of Me"
Shift K3Y "Rhythm of the Drum"
Ship Wrek "Soul"
Westend "Holy Moly"
Malifoo "Trigger Me"
Kendoll "Get You Out My Head"
DJ Zinc "Close My Eyes"
WATEVA "Icecream"

KSHMR - Up All Night
KSHMR ft. Jake Reese "Carry Me Home" (Drums Version)
KSHMR "Magic"
Hardwell & KSHMR "Power" (Niles Radio Edit)

Shadow Child & Mark Archer present MASC "Non Stop"
HANNS "Flaw Machine"
Julio Bashmore "Au Seve"
GAWP "Gameface"

Borgore Guest Mix

Cola Boy "7 Ways to Love" (Straight to the Cola Boy Head)
Follow KSHMR on Facebook | Twitter | SoundCloud
Follow Borgore on Facebook | Twitter | SoundCloud
---
Share
---
Tags
---
You might also like