'Night Owl Radio' 172 ft. Chris Lorenzo and Eprom
It's another fine Friday night, and the only thing that would make it even greater is a new episode stuffed with nonstop whoppers. Pasquale has them locked and loaded this week, as he rips through a new pile of records pulled from all corners of the dancefloor. He spends the first chunk of the show sliding those your way, before bringing on two guests who will be throwing down at their own respective shows in L.A. later tonight.
Chris Lorenzo is a bassline genius that has been feeding the filthy bottom-end to crowds for a cool minute now. He's currently in the city for the Insomniac Records showcase at Academy, which shows him sharing the stage with Motez and Sinden. Before he busts out those chunky beats, Lorenzo dips into his personal collection and shares his three Up All Night picks.
Eprom is also a mastermind when it comes to low-end, except his authority over bass is outside of the four-four realm. The experimental, left-of-center producer has been churning out some of the craziest head-spinners we've come across of late, and he's going to use them to turn the crowd on its head when he goes on an all-out blitz for Bassrush at 1720. The 30-minute mix he's whipped up for the occasion is a nice precursor to the kind of bass savagery you should expect when it all goes down.
Night Owl Radio is available via iTunes, so get to subscribing on your iOS devices.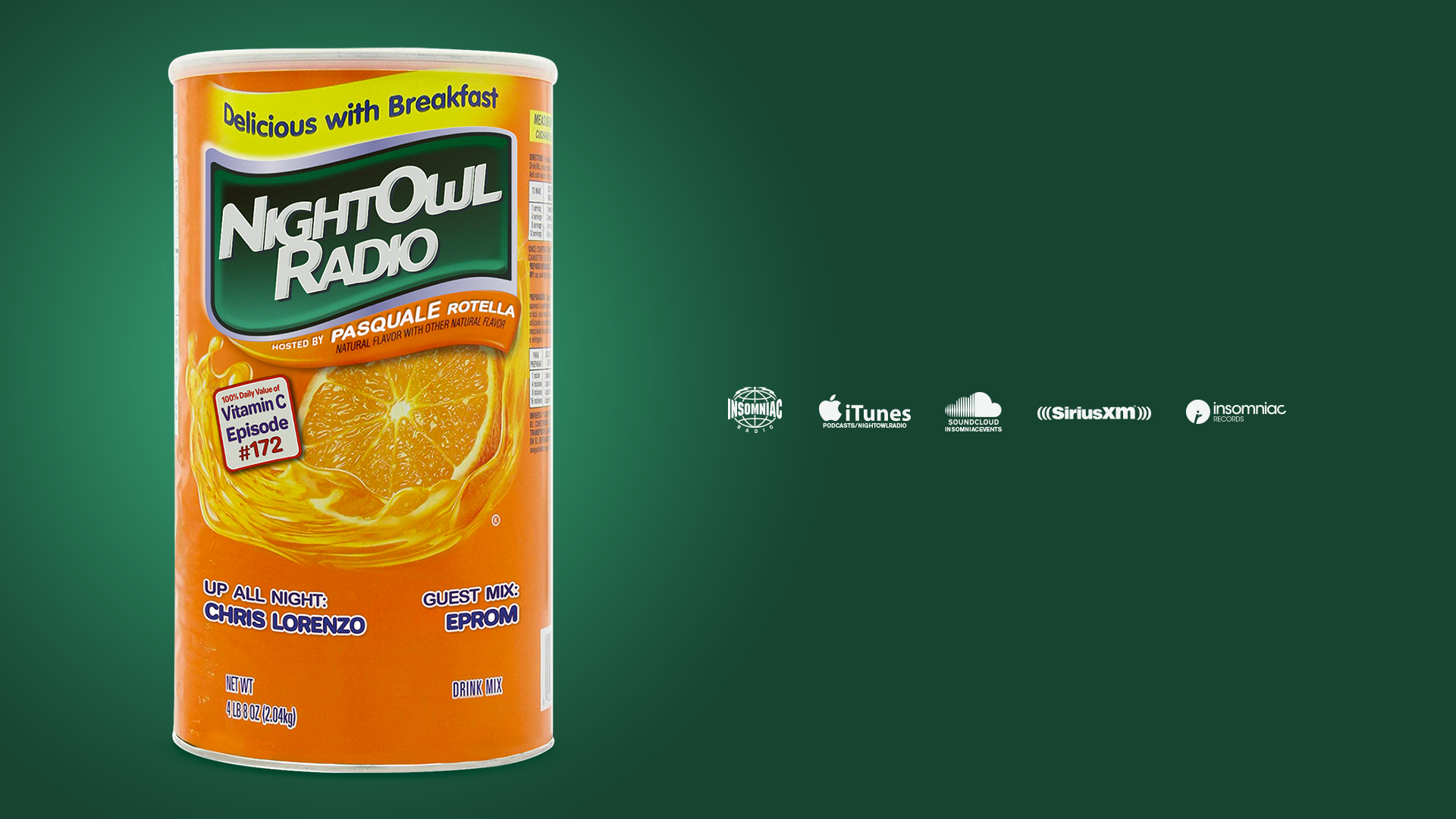 Night Owl Radio 172 Track List

DJ Snake & Mercer "Let's Get Ill"
Mo Falk, Zoopreme and Yukio "Midnight Strike"
E.R.N.E.S.T.O "Addicted" (Proper Villains Remix)
Anti Up "Get That"
Bot & Dances With White Girls "Where's the Party"
SLVR "Endless"
Valy Mo "Dimension"
Bellecour "Right About"
Leandro Da Silva "Gopher Mambo"
Botnek "Can't Remember"
Dombresky "Futurmastic"
Ferreck Dawn & Robosonic "In Arms" (A-Trak Remix)
Solardo x CamelPhat "Accelerator"
Mat.Joe "Repeat"
Soul Divide "Got to Give It Up" (K & K Remix)
Anti Up "Hey Pablo"
Siwell "On the Fly"
Sinden "In Love"

Chris Lorenzo - Up All Night
Patrick Topping "Be Sharp Say Nowt"
TNGHT "Higher Ground" (Chris Lorenzo Edit)
John B "Up All Night"

Rawtek Micro Mix

Eprom Guest Mix

Orbital "Chime" (Live)



Follow Chris Lorenzo on Facebook | Twitter | SoundCloud
Follow Eprom on Facebook | Twitter | SoundCloud
---
Share
---
Tags
---
You might also like