'Night Owl Radio' 163 ft. Afrojack Takeover
Upcoming Event
Even though the door to festival season might have officially closed with the end of summer, that doesn't mean things have become any less busy for everyone at Insomniac HQ. Pasquale is currently dialing it in for a stacked couple of months coming up (we have shows on shows!), so he has decided to turn the controls over to one of his close friends for a special takeover.
Nick van de Wall has been a constant force on the festival circuit, known for servicing dancefloors through the juggernaut Wall Records imprint he heads up, as well as on the artist side, via his prolific Afrojack project. He's been pumping out stadium-size productions for the better part of a decade, and a grip of them can be found on the whopping 13-track Press Play EP he hit the masses with most recently. Then there's the long-running JACKED Radio show that keeps him busy.
The Dutch dynamo is essentially the perfect candidate to sit in as a guest host, and he puts all of the aforementioned skills to work by stitching together heavy-duty heaters of his own making, as well as from his homies.
Night Owl Radio is available via iTunes, so get to subscribing on your iOS devices.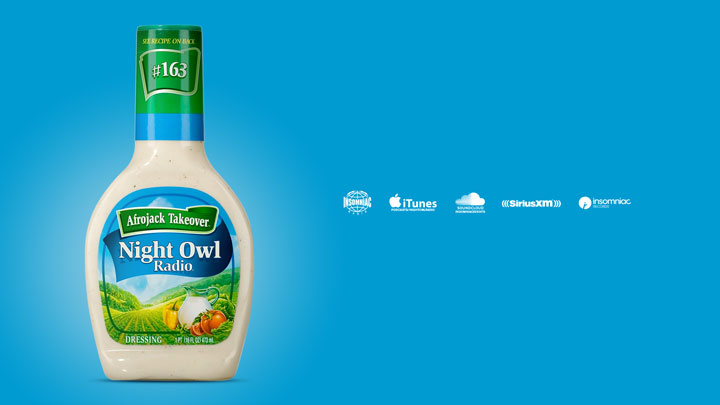 'Night Owl Radio' 163 Track List

Afrojack & Brohug & Titus "Let It Rip"
Toby Green "Check This Out"
twoloud "Graffiti"
Steff Da Campo "Deeper Love"
Chocolate Puma & Firebeatz "Blackout"
JSTJR ft. Jenn Morel "Tiguere" (JSTJR x Rathero VIP Remix)
Wax Motif ft. Dances "Bunda"
HI-LO & Mike Cervello "Impulse"
RIVERO "Inception"
Tom Staar vs Sunnery James & Ryan Marciano "Bombs Away"
Laurent Wolf "Hello"
KYANU "Yo DJ"
Oomloud "Rumbabox"
Redlight "Get Wavey"
Chris Lake & Green Velvet "Deceiver"
Dave Winnel "Acid Trippin"
Steven Vegas "Bukka"
Clean Bandit ft. Demi Lovato "Solo" (Syn Cole Remix)
KURA "Like a Boss"
Afrojack & Disto "My City"
Afrojack & Chasner "Own Game"
Afrojack "Bassride"
Hasse de Moor "Dope"
Matisse & Sadko "Takeoff"
Ronko "Bun It Up"
Swanky Tunes "In the Club"
Taiki Nulight, Cause & Affect "Bad Boy"
AC Slater & Bijou "Louis V"
Afrojack "Time"
Afrojack & MC Ambush "Step Back"
Follow Afrojack on Facebook | Twitter | Instagram | SoundCloud
---
Share
---
Tags
---
You might also like