'Night Owl Radio' 158 ft. AC Slater and ILLENIUM
Upcoming Event
Nothing is more satisfying than the idea of being able to shut off and dive headlong into an extra long weekend. But before you get too caught up in all the Labor Day shenanigans, you might want to first consider the option of devoting the next couple of hours to the latest episode Pasquale has lined up. You won't regret it. He's got a gang of solid selections in store, each of which is going to get you even more stoked that you don't have to go into work on Monday. Once he's done ripping through those records, Pasquale points to two of the heaviest hitters from the Nocturnal Wonderland lineup (as a friendly reminder that we are only two weeks shy from the SoCal camping fest).
Stepping up first is the absolute don of bassline, AC Slater. The Night Bass Records head couldn't earn any more respect than he is already clutching at the moment, because of the work he's done putting the States up on the sounds of bass house, garage, and gritty tech house. Slater shows up with three teeth-clenchers for his Up All Night appearance, including his "Legit" collab with Wax Motif that today hit shelves on his Undefeated Champions EP. If we're lucky, he just might rinse the other two cuts when he takes control of the decks at Nocturnal.
Sliding into the guest mix slot, we have an artist who has been a defining force in the melodic bass game. ILLENIUM is a project conceived by Colorado-based artist Nick Miller, and it has swept up the scene in the most feels-inducing and uplifting low-end that bassheads can't get enough of. Miller recently let us pick apart his process in an interview leading up to Nocturnal, and now he's putting those emotive melodies on display in a 30-minute that is just a taste of what's to come two weekends from now.
Night Owl Radio is available via iTunes, so get to subscribing on your iOS devices.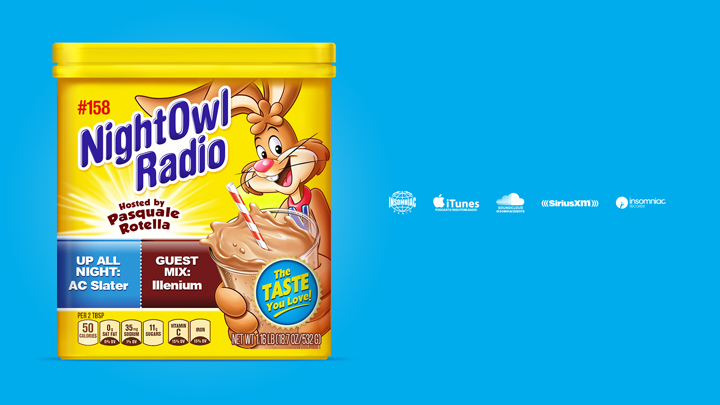 Night Owl Radio 158 Track List

Alex Metric & Ten Ven "The Q"
Dom Dolla "Take It" (Wongo Remix)
Loge21 "Move Higher"
BROHUG "The Hunt"
Hood Rich & Acaddamy "Caller 10"
SNADS "Whatcha Want"
Gorgon City "One Last Song" (Eli Brown Remix)
Shaded "Sumbody"
Kage "One More Drink" (Luis Da Silva & Øthersang Remix)
Ibranovski "Drumstick"
Bram Fidder ft. AxR "Thirsty"

AC Slater - Up All Night
Sinden & Lo'99 ft. Capo Lee "Natural High"
AC Slater & Wax Motif "Legit"
Royal-T "Clouds"

Dombresky & Noizu "Rave Alarm"
SL2 "DJs Take Control" (Slipmatt & Sooney 2018 Remix)
Underground Traffic "Shiv"
Bleu Clair, Irsan & Devarra "Phone Call"
Vato Gonzalez "Wavy Riddim"
Apexape x Riddim Commission "SURESHOT"
YDG ft. Ookay "Love Thang"

Illenium Guest Mix

De'Lacy "Hideaway" (Dubfire Needs to Score)
Follow AC Slater on Facebook | Twitter | SoundCloud
Follow Illenium on Facebook | Twitter | SoundCloud
---
Share
---
Tags
---
You might also like