'Night Owl Radio' 146 ft. the Glitch Mob and San Holo
Upcoming Event
After holding it down with a super slammed schedule, Pasquale is officially back in action and ready to help you take on the weekend with a fresh new episode. He wastes no time whatsoever getting straight into the music, as he churns out tune after sweat-dripping tune. Once he's done ripping through his selections, he makes it a point to prime his listeners for Electric Forest in a couple of weeks by bringing on two guests who will be rolling into the woods for the two-weekend gathering in Michigan.
The Glitch Mob are no doubt a Forest favorite, and the three-piece outfit is currently grinding it out on tour to push their recently released See Without Eyes LP. The powerhouse group, consisting of Ooah, Boreta and edIT, slip into the Up All Night seat and play the closing cut from the album, as well as two other tracks pulled from two of their five total full-lengths. The guys put on one hell of a live performance, so don't sleep on their set.
On the guest mix tip we have San Holo, who has been absolutely crushing it in the studio and with his own bitbird label and radio show. The Dutch sensation has been on a monumental climb in the future bass scene, and he takes us on a 30-minute trip through his special blend of endorphin-rushing music taste. Naturally, he's another act you should never skip out on when the opportunity is there. Trust.
Night Owl Radio is available via iTunes, so get to subscribing on your iOS devices.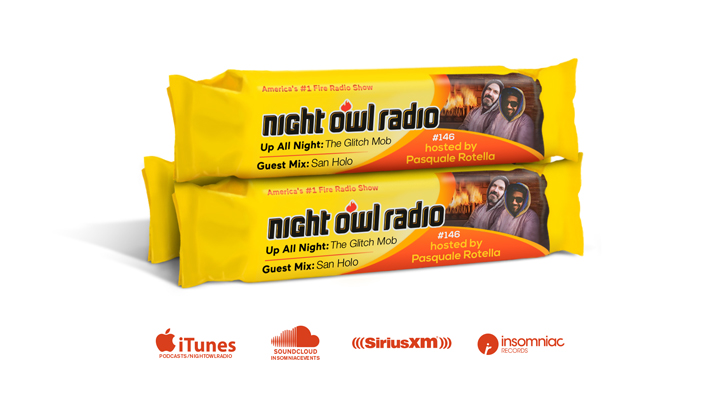 Night Owl Radio 146 Track List:

Robbie Rivera "Me Gusta Miami" (Sted-E & Hybrid Heights Remix)
Dateless "Bolder"
Lucati "Inertia"
Billy Kenny x Wongo "4 My Ppl"
Jay Robinson "The Return"
Endor "Dance & Dip"
Shift K3Y "Cowbell"
Bad Habit "Chronic"
Unknown "Go Down"
Minimal "Violence"
Noizu "Wavey" (VOWED Remix)
Dakar "I Can Feel"
Tennan "Radio Jack"
Taiki Nulight "Broken Ribs"
Aylen "Party Hat"

The Glitch Mob – Up All Night
The Glitch Mob "Fortune Days"
The Glitch Mob "Skullclub"
The Glitch Mob "Way Out Is In"


Three Drives "Sunset on Ibiza" (BLR Extended Remix)
Pryda "Elements"

San Holo Guest Mix

Bassnectar "Bass Head"
---
Share
---
Tags
---
You might also like