MK Brings the Real on His Nocturnal Wonderland 2018 Mix
Marc Kinchen has been around the block—many, many times. The DJ, producer, and above all else remixer, known as MK has been around and releasing music for more than 25 years. Yet somehow, this is his first Nocturnal Wonderland appearance. To celebrate the blessed occasion, the multitalented maestro has been kind enough to record a mix to hold us over until the big weekend. He was also gracious enough to answer a few questions about his years behind the boards—and decks.
MK got his start in the late '80s in Detroit, with his first release dating back to 1989. MK has said he met Derrick May when he was 13 and was a quick study. As one does, he started assembling gear and making music of his own as the golden age of house and techno was giving rise to the '90s and both styles were pushing into the mainstream. It wasn't long before his tunes started charting. Steamy house numbers—like "Burning" (1992) and the "Push the Feeling On" MK remix he delivered for the Nightcrawlers in 1995—made him a household name.
Tickets for Nocturnal Wonderland 2018 are on sale now.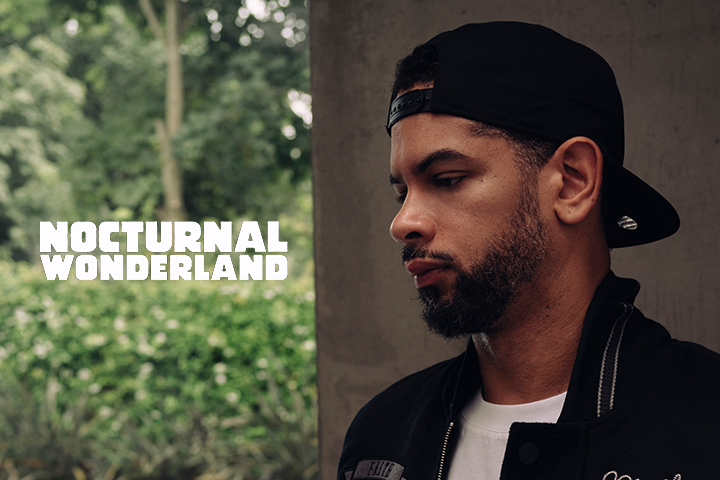 He started taking major-label remix deals for the likes of Jodeci, Brandy, Janet Jackson, and Pet Shop Boys, eventually moving to L.A. around the turn of the millenium to delve deeper into the world of big pop music. He worked closely with Will Smith, Quincy Jones, and others during this phase. By the end of the '00s, he had strayed pretty far from his humble house beginnings.
When the Hot Natured crew—led by Jamie Jones and Lee Foss—caught fire in the early 2010s, they met with MK and got him back into dance music. At around the same time, Pitbull had famously sampled MK's "Push the Feeling On" remix, and house sucked him back in; only this time, he would return as a producer/DJ. He never really was a DJ in his original heyday, which was much more common in the '80s and '90s. Practically everyone is a producer/DJ these days in order to pay the bills, but that wasn't always the case.
For inspiration, Kinchen looks to some of his favorite DJs—American titans from the Midwest and East Coast, in particular. Names like Masters at Work, Carl Cox, Frankie Knuckles, Kevin Saunderson, Derrick May, Juan Atkins, Murk, Danny Tenaglia, Felix the Housecat, Armand Van Helden, and Mr. Fingers roll off his tongue when he talks of his favorite DJs of all times. He's lucky to know many of them, collaborating and sharing a bill with quite a few, as well.
Since his return to house in the past decade, Kinchen has been prolific, even by his standards. His dub of "Look Right Through" garnered his first UK charts #1, and he's seen a relentless slew of records, remixes, and his famous dubs since then.
When asked what separates an MK remix from an MK dub, he explains it's a "good question, but not always the same answer. Most of the time, the MK remix is the main vocal version of my remix, and the dub is the longer version, with some different twists and less vocals and sometimes no vocals. A lot of times, I prefer the dub to the main, and the dub ends up more popular than the vocal 'main' MK remix."
"When I was 25, I was buried in the studio and producing day and night… in the last eight years, I really started DJing. I guess my approach changed from then to now."
As a DJ, MK unsurprisingly plays a lot of house, which is a wide umbrella unto its own—from jacking house to dark house to smooth house to piano house, acid house, you name it. But he also likes to be ready for anything. For his debut at Nocturnal, Kinchen says he likes to "come prepared, so that I can switch things up if I need to." Whether it's a cramped underground basement or a mammoth stage at a festival, "you never really know what a crowd will be like, and you really have to try to feel them so you know what will move them and speak to them. If you are lucky enough to make that connection, those are usually the best shows."

"When I was 25, I was buried in the studio and producing day and night… in the last eight years, I really started DJing. I guess my approach changed from then to now. I have a better idea about how to use the instant feedback and kinetic energy of a live crowd. It's an amazing feeling when you hit it right."
For this mix, Mr. Kinchen has spun together some peak-time house and tech house bangers, starting with a spate of his own productions ("17" (Extended Mix), his remix of Aurora's "I Went Too Far," and his remix of Tovelo's "Disco Tits"), before veering into some singles that aren't his work, as well as an excellent remix by Will Clarke of the classic "Percolator." It also includes one of the weirdest and funniest club tunes in a minute: "Pizza," by Anti Up. All in all, it's a perfect warmup to get you in the mood for throwing shapes.
Though Kinchen is approaching 50, he's shown very few signs of slowing down, especially on the production and remixing front. In addition to a slew of new releases, mixes, and DJ dates, 2018 finds MK in a space where he seems to share that youthful excitement of being able to get to do what you love for a living, as if he were just getting started.
"2018 was and is still proving to be a year of change and growth for me—so many new opportunities, meeting a lot of new friends. My life is so different today than just even a few years ago, and I have a great sense of gratitude for being in this position, where I can really exercise my creativity and share ideas and music with so many people. I am feeling pretty blessed."
MK is playing at Nocturnal Wonderland 2018, which takes place Friday, September 14, and Saturday, September 15, at Glen Helen Regional Park in San Bernardino, CA. Tickets are on sale now.
Follow MK on Facebook | Twitter | SoundCloud
Follow Nocturnal Wonderland on Facebook | Twitter | Instagram
---
Share
---
Tags
---
You might also like