Insomniac's Metronome series features mixes from some of today's fastest-rising electronic stars, as well as championed legends. It takes listeners deep across a wide range of genres, movements, cultures, producers, artists and sounds that make up the diverse world of electronic music.
Riot Ten—a native of El Paso, Texas—has come a long way from his humble beginnings as a teenager banging out hip-hop beats in his bedroom. Once he discovered the heavyweight sounds of trap and bass music in all their head-banging glory, it was all over as the young blood envisioned a path forward, mashing up his seemingly disparate genre interests into what has since become his signature "Hype or Die" sound.
Merging hip-hop, dubstep, and electro influences into a blistering hard trap sound has led the young producer to not only release on imprints as varied as Dim Mak, Rottun, Firepower, Buygore and Elysian, but also to garner the support of everyone from DJ Snake and the Chainsmokers to Porter Robinson, Datsik, Flux Pavilion and Excision.
On the come-up in 2017 like a rocket blasting toward the big leagues, Riot Ten will be the first to tell you he has lots to learn and do. To reflect on just how far he's come in the past few years, as well as offer a glimpse into where he's heading, we thought we'd tap Riot Ten for a wide-ranging Metronome mix. It's sure to go down as a future classic that captures all the neck-snapping, face-melting energy he's known to bring live to the stage.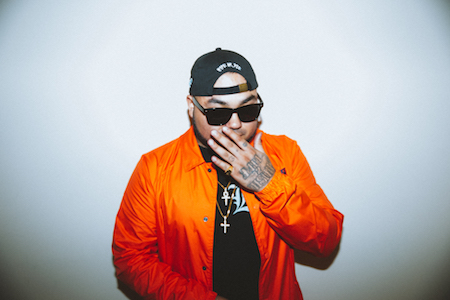 Give us a sense of what it was like coming up in El Paso, a place many would consider outside the usual zone of the EDM pipeline!
Man, I have so much love for my hometown of El Paso, and even more for the entire state of Texas. Coming up in El Paso wasn't the easiest to be discovered, of course, but the EDM scene is as organic as it gets, and it's still growing. The fans are REAL fans, and they are big supporters of their hometown artists. Now, whenever I play shows in El Paso, it's more than just a regular show. I try to go out of my way to meet as many people as possible and thank them for staying with me.
You started out as a hip-hop head. At what point does electronic music enter your world?
I'll always be a hip-hop head, and I still draw so much influence from that in all of my music. You can definitely hear my hip-hop roots in the instrumentation of my songs. In terms of electronic music, it took hold of me the first time I went to a show and saw both of my worlds collide. When I'm performing, I want people to literally feel the energy I feel when I'm hyped by the tunes—and if I can successfully bring them that while incorporating my love of hip-hop at the same time, that's a victory. I'm a huge rock and heavy metal fan as well, if you didn't notice.
The past few years have no doubt been a mad blur for you. Take us back to 2015, when your trapped-out remixes had GTA, Borgore, and Bro Safari playing out your tracks! One minute you're icing remixes for "Blessings" and "Murda Something" together in your bedroom, and the next they're racking up hits and listens in the millions!
It's always a surreal feeling to get the support of the artists you used to look up to—and, honestly, still do. These guys are some of my biggest influences in EDM, so when I saw them supporting my music, I was kind of in shock. In many ways, it still excites me to see my music being played out by other artists. The Chainsmokers have been opening their sets with my record "F**K IT" with Sullivan King, which is so incredible to watch. DJ Snake set off mosh pits with my remix of "Bodies" by Drowning Pool for nearly all of 2016. Sometimes, I have to ask myself if this is still real life. I couldn't be more appreciative to have their support. As far as putting those tracks together, I just remember thinking, "These songs are gonna do so good. They're too hype not to." I was very excited making those two remixes.
"Hype or Die" has been a slogan of yours for years. Break it down for those who don't know!
Hype or Die is a lifestyle! I produce all types of genres, but my live sets are HYPE through and through. When I started producing that hard trap sound a few years ago that people are now growing accustomed to, I dubbed that sound "Hype or Die." It was a way for me to let my fans know before they'd even heard the song that it was going to be a neck-breaker. My Hype or Die crew are the people who know what to expect at a Riot Ten show: a lot of jumping, a lot of headbanging, and well, it's rare that there isn't a mosh pit or two throughout the night.
With things changing so fast these past few years, what keeps you grounded?
My son, my girlfriend, the music, the fans, and my entire team at Interlock and Circle. It's easy to stay grounded when you're surrounded by people who truly care about your success. My son is literally everything to me. He alone keeps me motivated to become the best I can possibly be.
What do you have to say to some 16-year-old out there, living in a town that may not have a scene as developed as Los Angeles or New York, wanting to follow in your footsteps?
Never give up! Practice, practice, practice, and make yourself available. While most smaller cities are not as developed, there are still major shows that go down everywhere. In El Paso, for instance, there's a ton of talent that comes in and out of the city every single week. Go to shows, make friends, be genuine, and try to create music that is different; your supporters will do the rest.
What projects or developments do you have cooking that we should be looking out for in the coming months and year?
Man, so much! I have a few other singles coming out on Rottun Records with Sullivan King. I have a remix with Sullivan coming out on April 10 that's going to melt faces everywhere! There's a ton of other collabs and solo releases that are currently slated on Kannibalen, Rottun and Dim Mak. I want to put out a hip-hop EP this year, as well—something different, but showing people where I came from. Lot of tour plans this year, both international and in the US. I'm super excited for what's to come!
Do you have an early pick for a tune you think is going to blow up and be running it all summer long?
Honestly, my boys Skellism have a massive tune with Lil Jon that I think is going to do some real damage. I love playing it out, and I've included it in my mix for you guys!
Speaking of which: For someone who has yet to experience the power of Riot Ten in the mix, what should they be expecting when they hit play?
HYPE OR DIE! I've put in a ton of unreleased IDs from some of the homies and myself, as well. I wanted to give you a taste of what a Riot Ten show is like: full of hard trap bangers, dubstep, and more. Even threw in some of my hip-hop staples. I hope everyone likes it!
Track List:

Riot Ten x Sullivan King "Fuck It"
Wooli x Sunday Service "Horns Up"
Spag Heddy x F3tch "Spooks" (VIP)
AFK x Wooli "ID"
Trampa "Runners" vs. Wavemode "Flamer"
Barely Alive "Ca$h"
Riot Ten x Sex Whales "ID"
Valentino Khan "Make Some Noise" vs. Far Too Loud x Yookie "Shockwave"
Flosstradamus x Valentino Khan "MFU"
Excision x Space Laces "Throwin' Elbows"
Riot Ten "Evil Dead"
Valentino Khan "Deep Down Low" vs. "Can't Get Enough" (Carbin Remix)
Wavedash "Bang"
Flosstradamus "Moshpit"
Dr. Ozi "Always You"
MAKJ "Springen" vs. Spag Heddy "Oh My!"
Flosstradmus x GTA x Lil Jon "Prison Riot"
The Frim "Swipe My Swords"
Riot Ten "ID"
Drowning Pool "Bodies" (Riot Ten Remix) vs. Asap Ferg "Let It Go" (Riot Ten Remix)
Big Sean x Drake "Blessings" (Riot Ten Remix)
Eptic "Swords & Dragons" (Maliboux Bootleg)
Alvaro x Mercer x Lil Jon "Welcome to the Jungle" (Spaveech Remix)
Joyryde "Damn" vs. Eptic "The End" (Carnage & Breaux Remix) vs. "Club Action" (Smookie Illson Boot) vs DJ Snake "Propaganda" (Snafu Mashup)
System of a Down "Chop Suey" (Riot Ten x CYBRPNK Remix)
Chief Keef "Don't Like" vs. Mashok "Scavenger"
LUMBERJVCK "Mirkwood" (Riot Ten Remix)
Future "Thought It Was a Drought" vs. Popsikl "Graduation" (CYBRPNK Remix)
Badfella "Riddim Wars"
Skellism x Terror Bass x Lil Jon "ID"
Getter "Rip N Dip" (Kill the Noise Remix)
Zomboy "Invaders"
21 Savage "X" vs. Herobust "Dirty Work"
Dada Life "Kick Out the Epic Motherfucker" (Sullivan King x Riot Ten Remix)
Follow Riot Ten on Facebook | Twitter | SoundCloud
---
Share
---
Tags
---
You might also like