Metronome #118: Riddim Commission
Insomniac's Metronome series features mixes from some of today's fastest-rising electronic stars, as well as championed legends. It takes listeners deep across a wide range of genres, movements, cultures, producers, artists and sounds that make up the diverse world of electronic music.
Ever since the "collab bro?" DM became the norm for producer-to-producer intros, many of the stories behind new duo formations have been nothing more than some variation of that catchphrase. Yet that's not the case for Marco Del Horno and Swerve, who came together as Riddim Commission seven years ago via much more organic means. At the time, Marco had just signed his tune "Ho Riddim" to legendary UK imprint Black Butter Records. The label commissioned Swerve to throw down a flip, and knowing that they wanted a UK grime spin on the tune, P Money was enlisted to spit bars on the remix. Upon hearing Swerve's rumbling wobbles and slinky halftime beats, Marco said, "This remix is bigger than the original! Let's make this the lead and make it our record, rather than mine." And thus, Riddim Commission was founded.
They've since spent their time working toward a vision—one that's built on the primal, body-moving nature found within the fusion of grime and house music. While the worlds of hip-hop and dance music may seemingly be at odds, Marco and Swerve felt their respective roots were naturally intertwined together.
The duo also had plenty of firepower in the holster to make it happen. Marco manages some of the world's most respected bass acts, like AC Slater, Chris Lorenzo and Shift K3y. Swerve has spent years as a revered radio DJ and authority on R&B and hip-hop. Drawing from their collective experiences, they were able to build an unstoppable force that has culminated in the recent release of their debut album, Riddim.Bass.Life. The 12-track album has an impressive lineup of features from the worlds of house, hip-hop and grime, including Grammy Award–winning Eve, Baltimore's Rye Rye, and UKG/jungle MC D Double E. The vision that was born from that first record has fully come to life.
The boys have lined up a mix of dank, shape-cutting beats to celebrate the release of the album. Clocking in at just over an hour, the mix sees Riddim Commission making their vision crystal-clear in a blaze of rude boi basslines and beats for the street. We caught up with them to discuss how their music is meant to bring people together, why this is the perfect time for their work, and how a record that's more than two decades old is still making people shake their asses.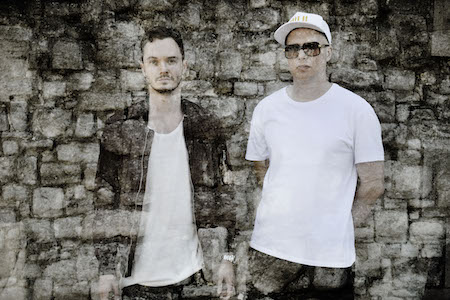 Your album has such a wide variety of featured artists. Do you think this kind of cross-pollination helps broaden the appeal of your music?
Our plan is to just make interesting music by combining different genres and worlds that we love… If you, for example, put a grime MC on a bass record, then it can open you up to both scenes. But on the flip side to that, you sometimes find that bass kids just want to hear instrumentals in the clubs, and grime kids want straight 140-BPM grime. Our goal is to just push our unique sound to as many people as possible. The worst thing we could do would be to just sound like everyone else out there. It's all about thinking outside the box, creating something unique, and standing for something.
How do you sell some of these artists on stepping so far out of their comfort zones?
They trust what we do, and that trust comes from having earned our stripes both as DJs, record producers, and radio presenters for several years. That being said, it's always tough to get artists out of their comfort zones. What we do a lot of the time is cut the original vocal at a BPM that the artist is comfortable at, and then move it to the BPM we're writing the track to. We can then show them a working version of our vision—then re-cut if we need to.
The bass scene in the UK is a tight-knit group. How does it feel to have such a close community to draw inspiration from?
It's great. It's a scene of people who are all about the music first. It's very much what I would call a "record shop" culture, where you find everyone in the scene has a real passion and knowledge of where this music has come from, and its roots and heritage. With the rise of "celebrity" EDM DJ culture in the American market and people focusing on social media content and gimmicks over actually focusing on writing music, it feels like the bass/house scene (and several other underground scenes) are the polar opposite to that.
You both pull inspiration from grime, hip-hop and garage. How do you see these worlds coming together through modern dance music?
If you look at it very simplistically, modern dance music is built on house, and house is built on disco and was pioneered in Chicago and grew quickly to areas like New York and Baltimore. These inner-city areas had a mixing pot of music, where rap, hip-hop, disco, house, and funk [were] all in the pot. Our Riddim Commission sound is built on producers like Kenny Dope and Todd Terry, with big drums and a hip-hop mentality to house music. We're doing the same with our own London "melting pot," where we're taking house and smashing it together with everything else around us, whether that's grime, rap or dancehall. With how global music is today, it makes it easier than ever to take a sound to a worldwide audience and it not be confined to just one "scene" or specific location.
Historically, the grime and garage scenes have been driven by the UK. However, that has changed a bit over the last few years. How have those changes affected your reception in the US?
Yeah, it's working. I think that grime is always a tough one, because the slang is so British that a lot of the lyrics can get lost in translation. And with MCs spitting at 140 BPM, it can feel too quick to a US audience. That said, we're bringing house and bass records to the US and putting UK features on them, which is opening them up to a bigger dance audience who would maybe not understand or appreciate a straight-up grime record so much. Labels like Night Bass pioneering this sound in the States helps getting that "stamp of approval" from a trusted brand, which means the US punters will give something a second listen, as they trust the brand.
Do you feel that you have a place to educate the new listeners on some of their roots while also putting together forward-focused records?
The music we release is a culmination of all our influences up until this point, so naturally our music has a rootsy undertone to it. When we DJ, we would always play records that have inspired us, alongside brand-new music, as we love those records and they still stand up and work in a club today. Prime example: We still play Armand Van Helden "Witch Doktor," and that record is from 1994. It sounds as fresh today as it [did then]. I would say that if kids have a passion for the music, then they should dig deeper. We love to open doors to a track a clubber has never heard, whether that record is from 1994 or was written in a taxi on the way to the gig. Good music is good music, plain and simple!
Track List:

Dajae, Prok & Fitch "Minder" (RC intro edit)
Riddim Commission & Petey Clicks "Gonna Be Mine" (Phlegmatic Dogs remix)
Riddim Commission ft. Doctor "Biggup"
Phlegmatic Dogs "Donut Dope"
Riddim Commission & DJ R3LL ft. Rye Rye "Get It Poppin"
Crazy Cousinz "Masaai"
Chris Lorenzo "Moggy"
Riddim Commission ft. D Double E "Dem Tings Dere"
Petey Clicks "VA 2 LA"
Maxx Styler and Colt Matthews "Heartache" (Taiki Nulight Remix)
Riddim Commission "Da Da Da"
Shift K3Y & AC Slater "Come Back"
Jaxx Da Fishworks "Don't Wait Up"
Riddim Commission "Beggin"
J Cole "GOMD" (Riddim Commission Remix)
Brohug "Paparazzi"
yogi ft. Pusha T & Elliphant "Siri" (Riddim Commission Remix)
Cause & Affect "Social Experiment"
Riddim Commission ft. Stush "More Fire"
Chris Lorenzo & DJ Zinc "Gammy Elbow"
Riddim Commission "Babe"
Riddim Commission ft. Scrufizzer & Neutrino "Cut Some Shapes"
Armand Van Helden "Witch Doktor" (Riddim Commission Edit)
Shift K3Y "Come With It"
Riddim Commission "Close to You"
Follow Riddim Commission on Facebook | Twitter | SoundCloud
---
Share
---
Tags
---
You might also like