Metronome #022: Private Agenda
Insomniac's Metronome series features mixes from some of today's fastest-rising electronic stars, as well as championed legends. It takes listeners deep across a wide range of genres, movements, cultures, producers, artists and sounds that make up the diverse world of electronic music.
It was a glorious moment when I stumbled upon Private Agenda. My first cup of coffee was coursing through my veins, and I had just sent 10 promo emails directly to the trash. I was cursing producers the world over, begging for an iota of originality before I landed on Private Agenda's lead single, "Déjà Vu."
Immediately, I was soaring on the back of Falcor, who took me to a secluded, white sand beach on some tropical archipelago. Needless to say, I was thirsty for more. I took to Google but came up with nothing. As is the case with new artists, they haven't much content, so I had to get them on the decks for a Metronome mix. Still, I'm not convinced they weren't cryogenically frozen and brought back to life to save us from mediocrity.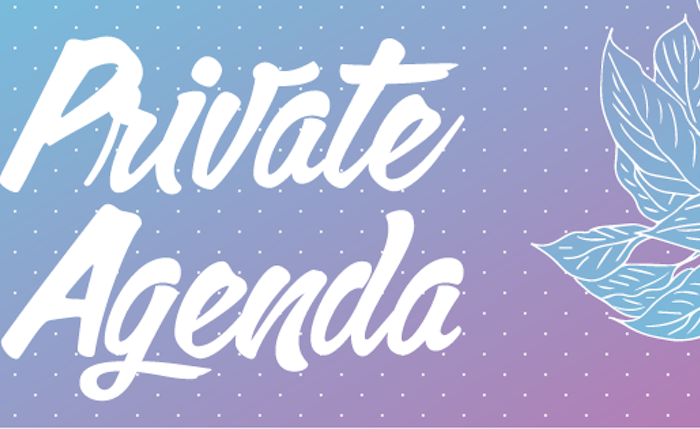 I scoured the internet trying to find more information about you guys after hearing a promo copy of your new EP and coming up empty-handed. So, who is Private Agenda? How did the group come about?
We weren't trying to be cryptic; we've just been going very quietly about our business. Private Agenda is Martin, Nick and Sean. Although it doesn't automatically reflect in our sound, Berlin is the center of our world. Martin was looking for a place to live with another musician and moved into Nick's spare room. The first time they worked on a song together, an effortless six-hour session followed. This immediate understanding meant Martin knew it was an opportune moment to get in touch with an old-school friend, Sean, to complete a formidable trio; he, too, was in Berlin at the same time while Nick and Martin were working on the first demo for "Freefalling." Stars aligned, and Private Agenda was formed almost immediately. Although it could have happened anywhere, Berlin was the place we came together for the first time. We'd all moved there for different reasons, and it's a place that's constantly inspiring, clichés aside, particularly for the incredible variety of positive dance music we find here.
If I owned a sailboat, I think I'd have your record playing on repeat. Where do you think is the ideal place to hear your music?
We definitely wanted the song to take people wherever their imaginations let them. We'd imagined stepping off your boat onto this perfect, tropical island, where you're surrounded by 200 of the most awesome people you've met in your life, including your dream lover, for a magical weekend of dancing and debauchery.
There seem to be a lot of references from dreamy synth pop records from the '70s and '80s. Who were some major influences for you guys?
In essence, Private Agenda is our attempt to unite songcraft through the heart and soul of the pop music of a bygone age with contemporary production values to create something that's moving, timeless, and accessible to audiences that are familiar with our influences—and for those who are keen to immerse themselves in a new but exciting and diverse palette of sounds.
You're right, "Freefalling" has got '80s dream- and synthpop written all over it. It's Cocteau Twins for the Ibiza crowd. All in all, though, we're most inspired by the generation of artists mostly active from the mid-'70s to the late-'80s, who mastered the 12-inch pop single, and those artists who nowadays have channeled their spirit. To briefly list just a few key influences, though, Private Agenda would be nothing without the artists that recorded at Compass Point: Grace Jones is a huge influence in that sense, as are Talk Talk, Roxy Music, Donald Byrd and Donny Hathaway. Linda DiFranco was also a massive influence during our early writing sessions.
Tell us a bit about the mix.
The mix is a special selection of tunes to reflect the mood and style of "Déjà Vu," but also to more generally give people an idea of the range of influences on our songwriting. We wanted the mix to feel like an hour-long sonic journey where you can immerse yourself in some pop, disco, some classic Balearic beat records, and some old mixed in with the new. It's the definition of a mix, but that's the essence and spirit of Balearic beat; it's rewarding for those who embrace diversity. The tracks showcase some of our production influences, too, in that many of the tracks were produced in analog studios with session musicians and weren't quantized like much contemporary electronic music. It's been loads of fun cutting up these tracks a bit, messing with the tempo and pitch to make it fit—all, hopefully, in a seamless way. In short, it should be the spirit of the Balearic beat. Anything goes.
Your Déjà Vu EP drops March 2. What's next in the world of Private Agenda?
We're currently focusing on producing some exciting, new material, which should be ready for release over the summer, and we'll hopefully be playing our first shows then, too. So, it's all about summertime 2015. We'll be partying on an island somewhere, and you're all invited.
Follow on Private Agenda on Facebook | Twitter
---
Share
---
Tags
---
You might also like