Metronome #028: Camo & Krooked
Insomniac's Metronome series features mixes from some of today's fastest-rising electronic stars, as well as championed legends. It takes listeners deep across a wide range of genres, movements, cultures, producers, artists and sounds that make up the diverse world of electronic music.
When it comes to turning drum & bass inside-out, no one does it better than Camo & Krooked. The Austrian beat architects Reinhard Rietsch and Markus Wagner are never ones to shy away from the opportunity to inject personality and inventiveness into their productions and sets. They made this mission clear when they first started running exclusively with the esteemed Hospital Records crew, and even more so when they launched their live show, which sees them getting down on drums, MIDI controllers, iPads and a Wii controller.
Now, the gents are gearing up—literally, they just stocked up on loads of new hardware—for their third artist album. Before that, they are embarking on a string of dates in the States next month, including a much-needed stop at the Bassrush Massive takeover at the Hollywood Palladium.
In anticipation of the show, we welcome our first drum & bass outfit to the Metronome decks. Here, Camo & Krooked come through with straight-up proper vibes and some fire VIPs.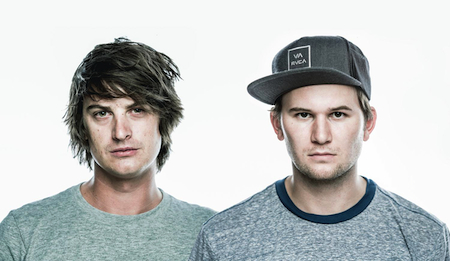 You have a new album in the works with very few details out. Since you have a tendency to crossover into new genres, are there any unexplored ideas you're playing with for this forthcoming release?
We try to have a logical progression going from our last album, Zeitgeist. Most of the music we have written so far is actually on a tempo of 175 BPM, but we try to have different rhythms, grooves and arrangements to make them feel totally different to what your typical drum & bass tracks sound like. Also, sonically, we try to tend toward a more organic sound, rather than growling basslines and huge, slamming drums.
The internet has told us you've recently come up on some new studio gear as a means to reinvent yourself. How much of a difference have you noticed in your sound since you started tinkering with the new toys?
While plugins are great for doing super complex stuff, it's the simple things that the analog world can do better. We are fans of very pure sounds. We really like the sonic approach of some techno artists. Also, some sound aesthetics are not reproducible in the digital domain. You won't be able to get that beautiful Moog filter drive from a plugin (yet). We also like the fact about hardware not being completely controllable. A bit of randomness and glitch in today's sterile audio world does not harm anyone.
You were recently commissioned to curate the music for the showcasing of the new Lamborghini & Porsche cars in Geneva. We're curious what your dream car is and what you would do if you owned it.
That has to be the Italdesign Giugiaro GEA. It will probably never be available for the masses, but we saw it live, and our jaws dropped. It has a huge red "G" as a label.
If you own this car, you are not big in the business—you are big business. Big, bad, super villain business! We would certainly act like the baddest bad guys. (Can you even imagine that?)
Skateboarding is a hobby you take very seriously. What are some of your favorite spots to catch a sesh?
Camo: Although I didn't have the time to visit Prague for skateboarding in a long time, I love the world-famous "Stalin Plaza" spot right in the middle of the city; loads of curbs and manual pads and good skateboarders, and Czech beer. Nowadays, it's more about the quick skate session in a skate park near my place, so I don't miss out on too much studio time. L.A. is skate heaven—everyone knows that—so we'll try to bring our boards on tour this time!
Tell us about the gnarliest time you've wiped out while riding.
Camo: The last time I've had a proper slam was when I broke my rib right before a big festival weekend. Still went to play the legendary Glastonbury festival, as it did only hurt when I was jumping, moving, laughing and breathing. Worth it!
Krooked: In 2009, I slammed on my left arm doing a FS Flip and smashed my radial bone into several pieces. I ended up with having a titan plate and 10 screws in my elbow. Now, there's a huge scar remaining on my elbow that somehow looks like a woman's… you-know-what.
You're playing at a Bassrush show in L.A. in a few weeks. What are you most excited about for this show?
L.A. has a very dedicated crowd; they know their tunes! But to be honest, it's a mixture of loads of factors. We catch up with people we only see once or twice a year. Sometimes, you spot some well-known artists in the crowd! Last year, we saw Mat Zo and Yasmin from Krewella as regular punters going crazy to our set. You don't get that anywhere else! And of course, we heard loads of good things about the venue. And well, it's a Bassrush show; they know how to throw a proper event!
Track List:

Camo & Krooked "Faith" VIP
Subwave "Rain Dance"
ZHU "Faded" (A cappella)
Camo & Krooked "Afterlife" (BCee Remix)
D Kay "How Much Does It Take"
Fatboy Slim "Right Here, Right Now"
Tame Impala "Feels Like We Only Go Backwards"
Wilkinson ft. Thabo "Hopelessly Coping"
Etherwood ft. Rocky Nti "Spoken" (SPY Remix)
DJ Ransome "People on Other Planets"
Lenzman "Always"
Daughter "Youth" (Hybrid Minds Bootleg)
BMotion ft. Jon Lilygreen "All My Love"
Flume "What You Need"
ZES "Do It Again"
Flume "Star Eyes"
DLR ft. Hydro "Synesthesia"
London Grammar "Hey Now" (Camo & Krooked Bootleg)
Camo & Krooked "Move Around" (A cappella)
Camo & Krooked "Turn Back the Time" VIP
Culture Shock "Surprise"
Camo & Krooked "Aurora" VIP
Camo & Krooked "All Night" (Walking All Night VIP)
Oliver Huntemann "The End"
Subwave "I Need You"
Camo & Krooked "Lost in the Future" VIP
Mr Probz "Waves" (Logistics Bootleg)
Noisia "Leopard Slug"
Eneli Sande "Heaven" (SPY Bootleg)
Fatboy Slim "Praise You" (A cappella)
Logistics "Together"
Commix "Be True"
Ivy Lab "Live on Your Smile"
Follow Camo & Krooked on Facebook | Twitter
---
Share
---
Tags
---
You might also like