Insomniac's Metronome series features mixes from some of today's fastest-rising electronic stars, as well as championed legends. It takes listeners deep across a wide range of genres, movements, cultures, producers, artists and sounds that make up the diverse world of electronic music.
London low-end duo Ryuken (Aaron Doyle and Jeff Cox) have been exhaustively busy, proving that hard work and relentless dedication do pay off. The childhood friends teamed up in 2016 with a simple mission statement: to make good house music. Since then, they've put out a dizzying number of releases across an equally verbose list of labels. Placing personal taste and passion alongside success, Ryuken tracks have found their way into the eclectic likes of Good Enuff/Mad Decent, Bingo Bass, Juicy Music/Armada, Skint/BMG, Blanco y Negro, Cheap Thrills, Illegal and Bass, Sleazy G… and that's just the shortlist.
Beyond that, Ryuken have gained just as many accolades from veterans and peers alike for their UK-centric four-on-the-floor bass house style. Blending elements of garage with a heavy lean of US hip-hop, their tunes bounce with a party energy while also delivering hard-hitting basslines sure to grab a rewind on the regular. They've made Beatport's track of the week and iTunes Dance Charts, on top of gaining support from the likes of AC Slater, Sinden, Hervé, DJ Q, Kissy Sell Out, Wongo, Rico Tubbs, a whole host of mainstream names, and so very many more.
Keeping their stride going strong, their upcoming release on Zinc's Bingo Bass is a weighty dance banger simply titled "Pimp." Beyond the vocal samples giving a nod to a legendary anthem, Ryuken drop in a bass that wields the heft of bassline but breaks up into a unique bounce that will definitely put bodies on a dancefloor. This comes somewhat on the heels of very successful bootleg flip of another classic, Jay-Z's "Big Pimpin.'" This one has been snatched up and rinsed out by many a DJ mix and notable online radio station (not to mention any number of DJ sets).
Today, they christen the new year with a serious beast of a Metronome mix. This one goes right in with their upcoming track "Pimp" and stays fiery all the way through. It's strong enough for the serious ravers and catchy enough to suck in any random passerby. You've got AC Slater, Valentino Khan, and Redlight, and even Lil Debbie drops in for a minute. It's the perfect example of the kind of mad energy Ryuken exudes, and there certainly will be more of it to come.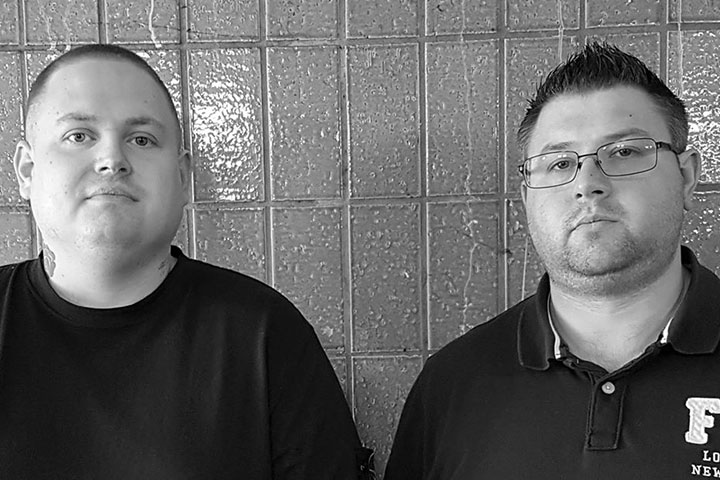 You seem to always be up to something; what are you working on right now?
We are working on various tracks at the moment. We are focusing on bass house and trying some other ideas out, along with getting some vocalists into the studio.
Your upcoming release on Bingo, "Pimp," is a big tune. What was the idea behind sampling such a big dirty South anthem, and how did that play into the flow of the rest of the track?
Thanks, we're glad you like the track. Funnily enough, we got down the basic idea for this track first and then went looking for the perfect sample. As soon as we heard "International Players Anthem," we knew straight away we wanted to use it; it was just a matter of working it into the track.
Keeping on the pimp theme, your Jay-Z boot was a big hit. What was the inspiration for that one, and how do you feel about the success it's garnered?
We are both big fans of Jay-Z and have always loved the "Big Pimpin'" track. We got the inspiration for this one when we were at ADE and this was actually made just for us to play in our sets. A couple of friends heard it, and it's gone from there! We are really happy it's gone down well, as you always run a risk when bootlegging such a massive anthem.
You've put out music on so many different types of labels. What do you look for in labels you want to release on?
We look for labels with a good reputation that are putting out similar sounds to what we've just made.
How do you keep up with your relentless output of music? What's your production process like?
To be honest, our production process is different with every track. We like to work quickly, and the majority of the time, we start by building the beat. You tend to get a feel quite early on if a track is going to be any good or not. If we feel like it isn't, then we quickly scrap it and start over.
You each had your own past with music before teaming up to start Ryuken. Care to shed some light on your paths before this?
Jeff: I started off my early production days in UKG (I was young—don't judge!), releasing mainly under "Mr Pud" and other aliases. I successfully ran my UKG label, MRP Recordings, for many years in the good-old days of vinyl. As I grew older, my taste in music took me back to house.
Aaron: I also started my production days in UKG, releasing under "DNA." I then teamed up with other producers on various projects before joining with Jeff.
What brought you two together to start Ryuken, and what does "good house music" mean to you?
We are actually cousins! We both happened to finish with other projects at the same time, so [we] thought it would be a good idea to work together. We share a love of good house music; whatever the style, it has to have that groove and soul and, of course, be well produced. [It's] summed up in the Rhythm Controll classic "My House": "House is a feeling!"
What was the first track you released that made you feel like you'd made it, and how many did you have to write before that happened?
We'll let you know when it happens!
This mix is mental; what was your angle when you were putting this one together?
This mix covers our favorite tracks from the past year, with a few new ones in, too. We can't take credit for it—they were all great tracks.
What do you have coming up next this year, and what else would you like to plug?
We have a release coming out on Good Enuff (a sublabel of Diplo's Mad Decent) very soon, called "Pioneer," with a very talented vocalist called Maddy Carty. Look out for that one.
Ryuken 'Metronome' Mix Track List

Ryuken "Pimp"
Carta "Peanut Butter"
Oomloud "Body Pop"
Loge21 "Detroit"
Propane "Jack It Up"
Aazar & Bellecour "Da Vinci"
GODAMN & Crossnaders "I Love Girls"
Kim Lee & Lil Debbie Present GRLZ "Pretty Girl Rock"
Valentino Khan "Lick It"
AC Slater & Chris Lorenzo "Giant Mouse"
Swanky Tunes "In the Club"
Atica "Country Boy"
Hunter Siegel & Seelo "12 Gauge"
Matroda "Beef Stick"
Redlight ft. Dread MC "Crazy"
JOYRYDE & Skrillex "Agen Wida"
Follow Ryuken on Facebook | Twitter | SoundCloud
---
Share
---
Tags
---
You might also like