Insomniac's Metronome series features mixes from some of today's fastest-rising electronic stars, as well as championed legends. It takes listeners deep across a wide range of genres, movements, cultures, producers, artists and sounds that make up the diverse world of electronic music.
Some artists have instant success and seem to blow up overnight. But for many more, it's a longer road of hard work, ups and downs, and steady grinding no matter what. Codes falls into that second category and has the kind of story we love to champion. DJing since his teens, the New York producer went from the gritty world of drum & bass to the deep world of house music—all the while, struggling to get noticed. But the years of hard work and resilience paid off. The once unsigned "house orphan" has found a home among a massive fan base and some heavy-hitting names in the scene.
Codes' style is always fresh, inventive, owing just as much to his time in D&B, hip-hop, and turntablism as it does to four-on-the-floor explorations. There's a lot of low-end and a lot of sounds peppered in from across the music spectrum—not to mention the knowledgeable selections of someone who's been around the block for a bit.
Though he's dropped music on the likes of Slow Roast, This Ain't Bristol, Country Club Disco, IN / ROTATION, and even Dirtybird, it was his Bumps EP (on Psycho Disco!) that really launched him to the next level. Not only did "Bumps" chart all over the place, but it also got a big push from Spotify, where it's logged more than 2 million plays and counting. This all leads up to 2018 being Codes' busiest year to date. With sold-out shows around the country, as well as some solid sets on the international circuit, he's also rocked big fests like Electric Forest and Splash House. Already announcing an appearance at Ubbi Dubbi Festival in 2019, and certainly with more releases in the works, it looks like Codes won't be slowing down anytime soon.
Today, he drops an utterly massive mix on Metronome. It's a small taste of the kind of eclectic and energized set he throws down live. While deep in the four-on-the-floor zone, Codes rips through classic house, hip-hop sounds, club styles, bass bangers, anthems and more, all with deck-cutting turntablist flair. It's the kind of mix you could work up a sweat just listening to.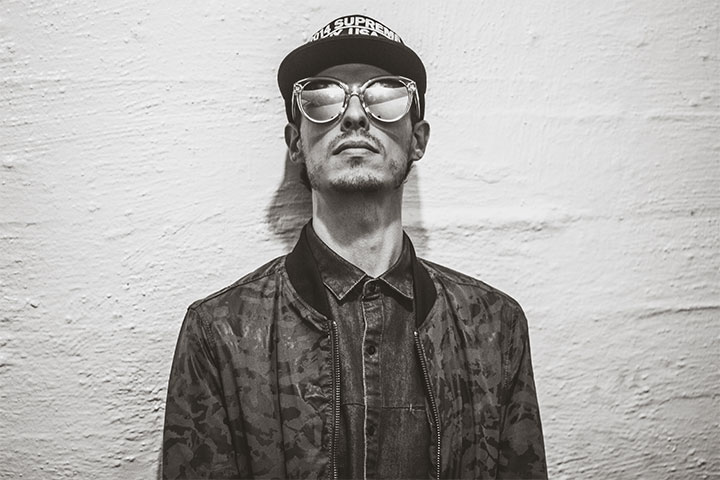 It's been a crazy year for you, to say the least. What have some of the high points been?
I'm extremely grateful to say there were quite a few high points this year. A fun one that sticks out for me is playing the Splash House After Party at the Palm Spring Air Museum. I didn't realize how many people were actually going to be there; when I heard "after-party," I figured a few hundred. When I arrived, we went straight to the green room, so I didn't see the thousands of people that were there until I walked out a few minutes before my set. I'm pretty critical on how I play, but if I was to pick a place to have my favorite set of the year, that was definitely the show.
Another high point was seeing Claude VonStroke drop my tune "Birds and the Bees" on a private island fest in Croatia. Shouts to the Ship Fam Island crew that brought me out over there!
What were you thinking when you were making "Bumps"? Did you expect the massive reaction you got from it?
The real story behind "Bumps" is that the Homie remix was actually the first version I made. The original mix that was released was a remix or remake of that version, and I decided to make that the main track. I was going to develop "The Homie" as a secret side project, but my career took off and I didn't have the time to dedicate to that project. Maybe someday I will revisit.
The idea for "Bumps" came from what we use to call a car with some sort of sub-heavy sound system in it. If you heard a car rocking a booming custom sound system, you would say the car had "bumps."
I knew the tune was a beast, but I didn't have much of an outlet then. Once I signed it to Psycho Disco! and it came out, I don't think I even really knew anything about Spotify. To get such support then and now still, I am mad proud of that one, for sure. Also, countless people have asked me if the woman says "Dr. Bumps," but to clear it up, she is saying, "Drop the bumps." 🙂
Outside of successful tracks, what's your favorite track you've made so far?
Right now, my favorite is my next Dirtybird release, called "100% Skills." Very cool to see CvS post videos of him playing it and everyone asking about it in the comments. Super excited to get that one out.
How do the house crowds you play to now compare to the jungle/D&B crowds of your teen years?
The UFO pants, camouflage gear, and BPMs are different. The crowds are also a lot bigger now, which is really fucking awesome. Carrying and playing vinyl is not at all like sticking a USB into a big computerized CDJ, but I make sure I also still capture some of the same real DJing aspects and play my ass off even more for all my sets.
What were some of the craziest shows you played during that time?
My best friend Evan and I flew to L.A. to go to an Audiotistic at the Long Beach Convention Center madddd long ago. My uncle lived in North Hollywood and scooped us from the airport and then dropped us in Long Beach to fend for ourselves to make it to his place. We had no clue how we would get back or where the hell we were, but the lineup on this shit was one of the craziest I had ever seen before. They also had skate ramps set up at the outside part of the venue, and I think Chad Muska was skating. Snoop had just started his Chronic Candy biz and had a big truck selling it.
What was the crazy part were these kids playing tunes right next to the truck. Someone was scratching, so I went up and somehow ended up meeting the guys who had set up shop there. They invited us behind a truck to smoke some weed with them and then told us that they weren't supposed to be there. They were from OC and would crash big festivals by just showing up with their gear and setting up. No one ever questioned them, lol. I ended up playing some of their records and scratching with these guys, rocking a nice crowd outside while all these Shorty's guys were skating. So, I wasn't officially playing at all or was anybody back then, but I'll never forget that shit.
After Audiotistic was done, we had no idea how to get home. We honestly just got on the Metro over there. There was a super crazy gangster-looking guy with tattoos all over his face that were grilling the F out of me and my homie—definitely had us both shook—but before we could say anything, he blurted out, "Yo, you see Craze's set?" I started laughing because I was happy he didn't rob us, and also, he loved drum & bass, haha! I slapped him up, and we talked about Craze rocking on the turntables and the D&B stage, which was next-level back then—or shit, even now—no one does anything like that still. This was before I even had met or worked with Craze, but I was a big fan. Long story short, this dude ended up giving us proper directions to take the Blue line to the Red line, and we rolled up to my uncle's at like 8am, just straight-up beaming in love with California and life in general.
You seem to treat DJing for a crowd more like a live performance (and not just in the put-your-hands-up, stand on the decks way). Is this a conscious choice, or does it come naturally?
I really just do me and play my heart out for all my shows. I was a DJ before I started producing, and crushing a show is important to me. I guess it's really a little of both. Making people dance by playing music I dig, along with my own, is the fucking shit. But then adding some extra skill and thought to it makes it so much more fun for both me and the crowd.
You've worked with Slow Roast in the past. Did the Slow Roast crew impact or have an effect on how you DJ today?
I put out my first Codes House EP with those guys a while back, when Craze and Kill the Noise were still running it together. Bouncing ideas and touring around with those guys def had some major influence on what I did back then, and even now. Craze is the GOAT of DJing, and Jake is an all-around beast, so playing before or after those guys all over the world makes everything else like a walk in the park, to be honest. I loved rocking with those guys, but really my favorite shit was, and still is, just talking for hours about life or music or anything with those dudes.
With your increased and rising success, what would you like to achieve, music-wise, at this new level?
The next step is to start my own platform/label, along with putting out more and more music with labels I respect.
What was the inspiration for the mix you've dropped for us today?
I was inspired by all the rad music my friends have been making and that has been coming out. I think we are in a really awesome time in dance music, and this is a nice hour of the wave I'm on in the studio and behind the decks.
You've already teased out a few things for 2019, but is there anything else you'd like to plug for the coming year?
"100% Skills" will be out on Dirtybird in the next few months, and I have a remix coming out for AC Slater on January 25. My first show of 2019 will be in Houston at Stereo Live and will also be rocking Ubbi Dubbi in April!
Shout out everybody!
Codes 'Metronome' Mix Track List

Vangelis Kostoxenakis "Play It Loud"
Tru Fonix "Asante"
Baum, De La Swing "DiscoKids"
Proper Villains "I Get Down" (Lucati Edit)
Harry Romero "Revolution" (Deep In Jersey Edit)
Walker & Royce ft. Sophiegrophy "All 4 the Gram"
Endor "Blastin"
Codes "Brand New Drop"
Born Dirty "Get Up"
Chris Lake, Green Velvet "Deceiver"
Low Steppa & Dennis Quin "Afters Groove"
Sinden "In Love, Still"
Dillon Nathaniel "Werk That"
Codes "That Old Fly Sh**"
Codes "100% Skills"
Codes "Heartbeat"
Elderbrook "Capricorn" (Claude VonStroke Remix)
Duke Dumont "Runway"
Malaa "We Get Crunk"
Chris Tolan "Burning" (Dead Space Remix)
Rogue D "Chains" (Patrick Topping Remix)
Shiba San, Tim Baresko "All I Need"
Anti Up "Get That"
Solardo, CamelPhat "Accelerator"
Codes "Something Massive" (Steve Darko Remix)
Follow Codes on Facebook | Twitter | SoundCloud
---
Share
---
Tags
---
You might also like