Metronome #151: Doc Martin b2b Joeski
Insomniac's Metronome series features mixes from some of today's fastest-rising electronic stars, as well as championed legends. It takes listeners deep across a wide range of genres, movements, cultures, producers, artists and sounds that make up the diverse world of electronic music.
Back in the late 1980s, it was hard to imagine house DJs having careers that would last 30 years. If anyone outside the culture paid attention to house music at all in those days, they often dismissed it as a fad that would soon burn out and leave DJs scrambling for day jobs and "real" careers. Well, it's 2018 and house, techno, and electronic music in all its forms is thriving on a global scale. Two DJs and producers who have been along for most of the ride are L.A.'s Doc Martin and NYC's Joeski.
Individually and through several collaborations, they have rocked parties of all sizes, from underground one-offs in their hometowns to festival stages worldwide. Joeski's history includes stints at Save the Robots, Limelight, Roxy, and many other NYC institutions that shaped the city's nightlife, as well as running his own label, Maya Records.
Originally from San Francisco, Doc Martin made his name in L.A.'s underground, including parties like Flammable Liquid and his own long-running event, Sublevel, while racking up residencies in New York, Miami, and Ibiza, gigs at Twilo and Fabric, and festivals from EDC to Coachella.
Most recently, the pair teamed up on three releases: the Loveland EP, out now on Crosstown Rebels sister label Rebellion; the Vajra/Leary's Revenge single on Poker Flat; and Presence in the Air on Lapsus. They have remixed each other's tracks, they turn up on each other's set lists, and they've been doing a string of b2b sets lately—including this one for Insomniac. We caught up with Doc Martin briefly to ask about the mix, how he hooked up with singer/business partner/soulmate Lillia (Mendoza) and formed Sublevel, and what's next.
Doc Martin & Joeski's Loveland EP is available here.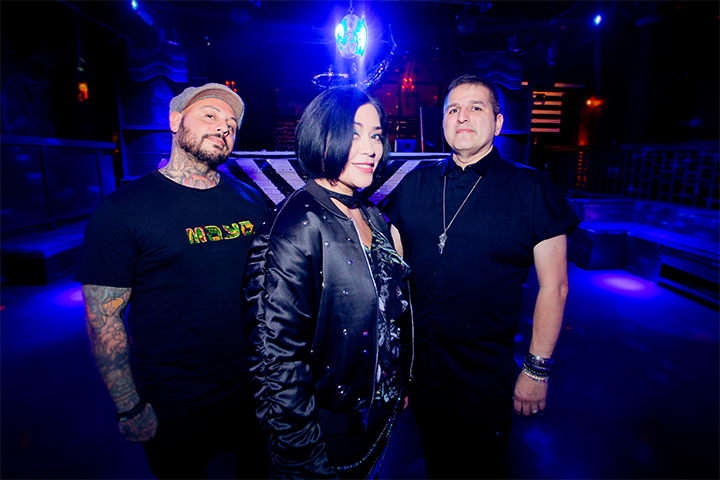 Congrats on the Loveland EP; those are four solid tracks. How'd this EP come together?
We had just finished a couple of other EPs together. Joeski was in L.A. for one of our Sublevel shows. We had put some loops together in Los Angeles. I recorded Lillia's vocals. Took it back to New York, and we finished it there.
What were the origins and inspirations for each of the tracks?
We put everything from ska, 2-step, tribal, classic house, Latin, dub, and then some into this EP. No barriers. : )
You've been working with Lillia for several years now. Can you tell us a bit more about her?
Lillia came to L.A. from Australia. She was signed to Sony Records/Shock and was also featured on Triple J, Mushroom Records for various compilations. She is one of those people who's all about the music first. She is also heavily involved in our ever-growing Sublevel events in L.A. and San Fran. She has been on a tour lately. We have released or remixed on labels such as Crosstown Rebels, VIVa, Poker Flat, Soul Clap, Desert Hearts, Get Physical, Knee Deep in Sound, Rhythmetic and Classic, to name a few.
How did you connect with her originally?
I met her in 1990 in Los Angeles. Her spirit and soul were all about the music. Nothing has changed since then. I would see her at all the early house clubs and raves. When she was there, you knew it was going to be a great night!
How does her voice influence what you do with the beats?
She is very creative with words and vibe. So, things come together very easy for us. We'll spend a couple of hours on one sound, if need be. I usually will do like 40 tracks of sounds and vibes. We kind of play Legos till we get the right elements lined up.
Working with Joeski has been super dope. He is a wizard in the studio—plus, we always have a good time working together.
Where was this Insomniac mix recorded?
We did this mix in Los Angeles at Sublevel HQ (my house).
What gear was used?
Rane 2015 mixer 4 CDJs and Pioneer 1000-EFX.
Was it vinyl or digital?
Was all digital this time, even though I still have a heavy affection for vinyl.
Do you plan your b2b sets? Did you work out a playlist for this b2b in advance or just wing it?
We don't plan our sets out ahead of time. We just started playing, and the hour flew by.
When you have done b2b sets before, has either of you ever caught the other "off guard" with a track selection?
He always catches me off guard. He will pull out some track from the mid-'90s, plus he has so many unreleased edits. It makes for more fun—for us and the crowd.
What are some tips you can give DJs about doing b2b sets?
You should always be respectful to each other. Most of all, have fun. If you're not into it, the crowd won't be, either.
You seem to have a handle on the meshing of your sounds and styles. When did you feel like your energies clicked into place, and how has working together influenced how you make your own tracks?
We have known each other since about 1991, so we kind of know each other's styles. We each hear music in our own way—it comes through when we get together. I've definitely learned a lot more stuff since working together. We've both been doing music for a long while. You're never too old to learn new stuff.
You've both been at this for almost 30 years now. What have been one or two highlights for you? How do you approach DJing differently now from when you started?
So many great shows to choose from. Playing four hours the first time I played at Get Lost in Miami was serious! My first time at Sound Factory NYC/Desert Hearts/Fabric UK/DC 10 Ibiza/Output/NYC/Cityfox NYC, to name a few. The early Sublevel 12-hour sets in L.A. were incredible. I think evolution through music is healthy, as long as you don't forget who you are.
What's up next for Maya Records and Sublevel/Sublevel Live?
We will keep doing our monthly Sublevel parties at Union in L.A.; it's been a really great mix of people and vibes. We are doing a bunch of live/P.A. shows all over the place. We are also releasing on a bunch of music on some great labels in the near future.
Follow Doc Martin on Facebook | Twitter | SoundCloud
Follow Joeski on Facebook | Twitter | SoundCloud
---
Share
---
Tags
---
You might also like