Insomniac's Metronome series features mixes from some of today's fastest-rising electronic stars, as well as championed legends. It takes listeners deep across a wide range of genres, movements, cultures, producers, artists and sounds that make up the diverse world of electronic music.
JayKode emerged just over three years ago, determined to meld together his heterogeneous musical influences. Thanks to the rare approach he takes to bass music, the young gun from L.A. has managed to surpass the legions of other trap producers trying to break through. He often comments on social media that he's conducting orchestras in Ableton, while sharing pictures of densely layered synths and beautiful, emotive chord progressions. His signature spin on the heavier end of the electronic spectrum—which he's coined "classical bass"—is the culmination of his childhood classical training in music theory and the far-flung scenes he's fucked with along the way.
JayKode began his musical journey at age 7 as a pianist. By the time he was in high school, he had fully immersed himself in the guitar, with dreams of leading a metal band. Not long after that, he began to soak up the worlds of hip-hop and dance music, both contributing to a well-rounded palate that has helped him decode a sound all his own.
His first big break came in 2014, when Skrillex dropped his remix of Beyoncé's "Drunk in Love" at Coachella. He's since released records on Ultra, Fool's Gold, and Atlantic. And he's quickly become an intensely sought-after remixer, counting the Chainsmokers and Flux Pavilion among those who have leaned on him for his remix talents.
Ahead of his much-anticipated collab with the legendary Wolfgang Gartner, we snagged a rail-crashing mix from the godfather of classical bass. We also had the chance to chat with JayKode about what it was like to work with his idol, his transition from clubber to mainstage party rocker, and how he fell in love with dance music.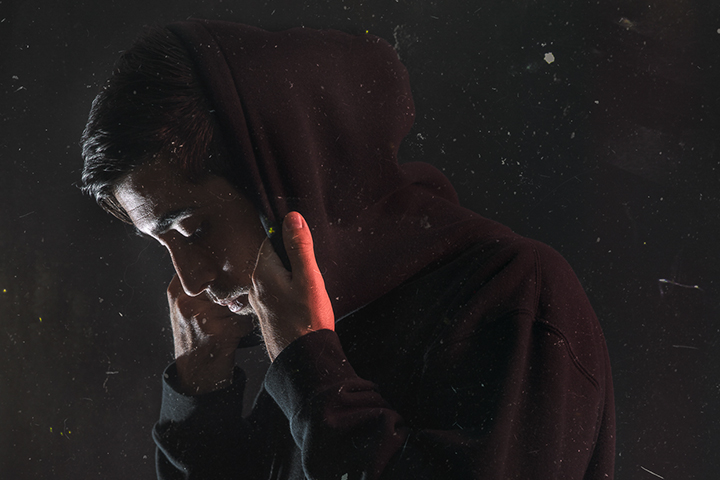 You've got a collab with Wolfgang Gartner coming out. He's been a huge inspiration of your sound, and you both seem to approach your respective genres in a similar way. How did it feel to work with one of your idols?
Working with Wolfgang might have been one of the most fulfilling things I've had the pleasure of doing in my life… he's been my biggest inspiration for the last 10 years, so to be able to come full-circle and have a track coming out with him felt really good. We were always on the same page throughout the entire collaboration, as well, so it made it that much better to be in the studio together to finish up the track.
What initially made you fall in love with dance music?
I got into electronic dance music almost 11 years ago. I grew up in high school listening to metalcore, and what really put me on to electronic music was Justice's † album. I remember going to pick up my friend to go out, and he didn't say a single word and just sat in my car, popped in the album, and said, "Dude, you gotta hear these guys." It was game over after that. Before that, I had heard house music but had never heard this gritty rock & roll sound meshed with electronic drums and synths.
People often make the jump into production and DJing these days without being involved in the rave/club scene. How has moving from being a clubber into being onstage informed the way you approach live shows and what you do in the studio?
This is a tough one. It's really interesting, because when I was actually going to club shows almost 10 years ago, the DJ kinda didn't matter as much as they do now. Everybody in the club was dancing together in their own circles with their friends, and occasionally the DJ would drop a really, really dope mashup and people would go crazy. Now, it's become a full-on performance/concert, where we are the center of attention and everyone is facing us, as opposed to a "club night," so to speak. So I'd say the only thing I've taken from going from clubber to now being onstage is really personal experience and how I've seen the scene change.
I started my career playing house parties and club shows, and in that case, you had to fully read the crowd. If they didn't like something, you'd have to switch it up immediately. Now, for the most part, people are coming to see you as an artist and performer, so you more or less have an idea of what the crowd is expecting and what you can play before you even go into the room. Different times, but I'm happy I got to experience both.
Your collab with Rickyxsan has been a long time coming. How did you guys hook up on this initially, and why did it take so long for it to see the light of day?
Ricky and I have been friends for almost five years, but we got much closer after the collab. We came up around the same time, and we'd hang out occasionally, so finally we decided to make a track together; that's how our collab was born. We must have spent over 50+ hours in the studio on the track, but it was well worth it. There were some complications with labels, and we both had pretty heavy release calendars in 2017, so it kept getting pushed back—but we're finally very close to putting this one out. Keep an eye out in the near future.
Music has been a constant in your life since you were very young, and you've moved through different phases. What about your current style resonates with you the way it has to lead you to the kind of success you've achieved?
I was classically trained on the piano for about five years, and to this day, I always tell people that without that part of my life, I probably wouldn't be making music—or at least the music I'm making now. I've always wanted to blend classical music with elements of whatever music I was making (metal when I was in high school, and electronic music now), and I think I've been able to pave my own lane now with my #ClassicalBass sound I've been pushing, which is heavy bass music fused with elements of classical music.
JayKode 'Metronome' Mix Track List:

JayKode x Rickyxsan "Started"
AFK x Carbin "Boss" w/ Blackbear "do re mix" (ID Remix)
Tha Trickaz x Creaky Jackals "OG Purp" (Slavly Remix)
Zomboy x Eptic "Bop It"
Herobust "Vertebreaker" (Oski's Hip-Hop Edit)
Flume "Never Be Like You Aurora" (RL Grim Edit) w/ RL Grime "Aurora" (Rickyxsan Remix)
JayKode "Revelation"
Dirtyphonics x Riot "Got Your Love"
JayKode x Tascione – ID
KRANE "Titan" (JayKode Remix)
Swedish House Mafia "Leave the World Behind" (JayKode Remix)
GTA x Lil Jon "Booty Bounce" (GTA Hyper Mix)
Rustie "Big Catzz" (Porter Robinson Remix)
Gammer "The Drop" w/ Riot Ten x Sullivan King "Pit Boss" (Badklaat Remix)
Boombox Cartel "Whisper" (Blvk Sheep Remix)
Dirty Audio x Cardi B "Bartier Gorilla Glue" (JayKode Edit)
ID – ID (Kompany Remix)
Zomboy x Excision x Skrillex x Yookie x Riot Ten "Like a Scary Elbow Rail Breaker" (JayKode Edit)
Nitti Gritti "Crack"
La Roux x Ricky Remedy "In for the Startup 2.0" (JayKode Edit)
Deadmau5 "Raise Your Weapon" (Fransis Derelle x SWRVN Remix)
Quix x Ekali x Post Malone "Fall Apart" (Benzi Edit) w/ Kaskade "Move for Me" (Hex Cougar Remix)
JayKode – ID
JayKode – ID
PhaseOne "Welcome to Mayhem" w/ TVBOO "Dashigo"
Drowning Pool x Flosstradamus "Prison Bodies" (JayKode Edit)
Bro Safari "Follow" (Zomboy Remix) w/ G-Eazy "Say Less" (Eptic Remix)
Kompany "Sucka"
JayKode "Break It Down"
Waka Flocka "Hard in the Paint"
Noisia "Get Deaded" (Moody Good Remix)
Pixel Terror – ID
Borgeous, Riggi & Piros, Lil Jon "Savage" w/ Zomboy "Get With the Program" (Eptic & Trampa Remix)
Tascione "Get It"
Trampa "Rocket Fuel"
Zomboy "Biterz" (SVDDEN DEATH Remix)
Rickyxsan – ID
Felmax x Sam Lamar "Bad"
JayKode ft. Karra – ID
JayKode "Beehive"
Flux Pavilion "Cut Me Out" (JayKode Remix)
JayKode x Ookay "Origin Thief" (Kap Slap Edit)
Maliboux – ID
Sum 41 "Fat Lip" w/ DJ Snake x Lil Jon "Turn Down for What" (Swaggle Rock Edit)
Hex Cougar "Hexifornia" (Gesaffelstein Cover)
JayKode "Whoop"
JayKode – ID
Wolfgang Gartner x JayKode – ID
Follow JayKode on Facebook | Twitter | SoundCloud
---
Share
---
Tags
---
You might also like