Metronome #146: Monstergetdown
From small things, big things can sometimes grow. Or in the case of Eliazar "Charlie" Torres—aka Monstergetdown—you can even go from being so inspired by a deadmau5 performance that you hurl a kandi bracelet at his face, to reaching the point where you're actually releasing EPs on his inimitable mau5trap record label.
"I threw a bracelet I'd made for him, and it hit his face pretty hard," Torres admits, recalling that evening around a decade ago, when he basked in the glory of deadmau5's set at TAO in Los Angeles.
That hilarious incident was only a few short years before Monstergetdown went on to win Discovery Project, where he got a taste for performing live. Torres got burned by a few dodgy labels thereafter, but he eventually caught the ears of the mau5trap camp, which became a full-circle moment for him. He put out a single and a couple of EPs with them, the latest being his horror-themed, techno-tinged Creature, which dropped at the end of March. And there's already the promise of another one on the way.
So, we decided it was high time to catch up with Monstergetdown and have him fill us in on what he's been up to lately.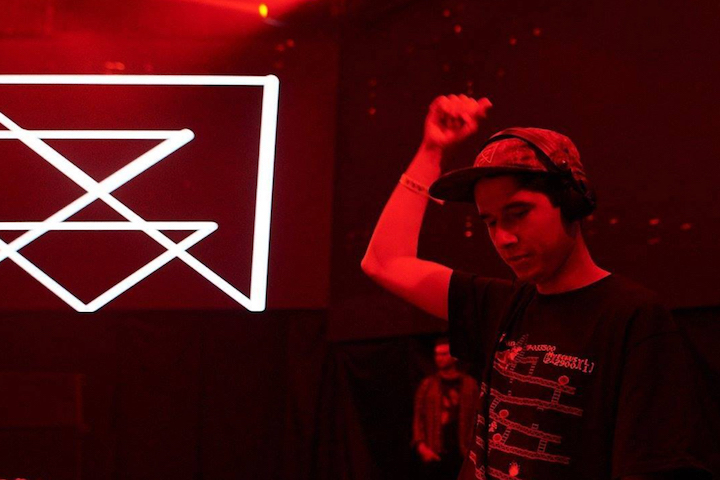 How is your year starting out?
Pretty good, so far. I played a couple shows on BlackGummy's Mesophase tour—keeping it gang. It definitely made me want to get out on the road a bit more, test some new records. Oh, and dropped my Creature EP a few weeks ago on mau5trap. So yeah, good!
You're a fairly fresh name to the dance music world, though you've made an impressive impact with your productions in the past few years. Tell us about your journey so far.
I've been making music for eight years now, had a bunch of releases out on shitty labels who never bothered sending me contracts or accounting—you know, the usual shit. But yeah, started recording all my own samples, started making beats, and then just kept at it—made all types of shit: hip-hop, tech house, disco (lol)… Eventually it just clicked, and mau5trap hit me up.
There's a funny story on the Insomniac site about how you went to see deadmau5 play, and it was so awesome you threw a bracelet at him. Now, you're on his label!
Oh fuck, why did you have to mention that? Joel's going to fuck me up! Sorry, Joel, haha. But yeah, I was a kid like everyone else—partying, going to raves and clubs. Started trying to make music, made tons of shit music, made some okay music, sent out a shitload of demos, got fucked over a few times, and then mau5trap hit me up, saying they liked my track "28mm." I thought someone was fucking with me, lol. But then, the label manager Chris rang me like, "Yo, I played Joel the track on the tour bus, and he wants to sign it." Now, we're family. I signed Joel's Game Boy, so I think we're good.
The artwork on Creature has some cool horror-movie vibes about it.
That's the idea we went for. On the 28mm EP, we had the eyes, and I'd been sitting on this track called "Creature" from years back. I freshened it up, because it was from like 2015, and it kinda just kept growing into this movie idea—this Creature character, like this evil undercurrent. The artwork was dope, though. I got that printed out on big movie posters that I'm going to give out to whoever wants 'em this week, I think.
Winning Discovery Project a few years ago helped put you on the map. Tell us a little about the sorts of gigs and experiences you've been having since then.
Opening for ANNA and deadmau5 at Factory 93 was dope! But yeah, it was a start. It gave me the appetite to keep making music and playing it to people. mau5trap really put me on, though, gave me some shows, took me out to Toronto to play their 10-year birthday party. I slept in deadmau5's movie theatre—like what the fuck, haha.
What's coming up next?
I've got a new EP coming soon, I think… couple of remixes, some merch ideas I drew up, hopefully more shows? I gotta get out on the road and play with more people and learn more; there are so many good artists out at the moment, and I want to be playing with the best. So yeah, HELLA GANG SHIT.
Monstergetdown 'Metronome' Mix Track List:

Stefano Crabuzza "Soul Jackin"
ANNA "Slow Mind"
"Get In" (Buklak Remix)
Gallya "Around Midnight"
Metodi Hristov "Set About"
Radio Slave "Grindhouse" (Raul Facio Rework)
Recondite "Phalanx"
Monstergetdown " Fear of Death"
Monstergetdown "Lemon"
Monstergetdown "Fuck Society"
Monstergetdown "28mm"
Follow Monstergetdown on Facebook | Twitter | SoundCloud
---
Share
---
Tags
---
You might also like