Insomniac's Metronome series features mixes from some of today's fastest-rising electronic stars, as well as championed legends. It takes listeners deep across a wide range of genres, movements, cultures, producers, artists and sounds that make up the diverse world of electronic music.
Once upon a time—the 1980s, to be precise—there was a boy band called Bros, and nobody derided their brand. In fact, their big hit, "When Will I Be Famous," did quite well, breaking the top 10 on music charts in various countries in 1988.
These days, bro culture gets such a bum rap, it makes you squint when you spot the term "brohouse." Yet there it is—on Beatport, Spotify, and playlists all over the internet. Leading the charge to flip the negative bro vibe are Brohug, the bass house trio from Sweden formed in 2015 by John Dahlbäck (cousin to techno boss Jesper) and IRL bros Christopher and Niklas Lunde. The three friends, who met in the club scene as teens, have mastered distilling their club-hopping history into futuristic, bass-centric funky house.
French legend Tchami was among the first to champion them, releasing "In the Morning" on his Confession label in 2016. Since then, bold names like Diplo and Kaskade have cosigned. Their latest haunting house single, "Boogieman" (on Dim Mak), is presently in the top 5 on the electro house charts at Beatport. In addition to their record label Brohouse (which just dropped its second release, Juan Dollar's "Ninetysix"), Brohug also run a merchandising wing, laying the foundation for a whole new type of bro culture.
Dedicated to bringing "the funk, the dirtyness [sic], and the realness" back to house music, Brohug have hit the EDM and festival scene "like bulldozers" and will be dropping dirty beats at this weekend's EDC Orlando. We caught up with them to get a deeper understanding of brohouse, their merchandising business, why their mix for Insomniac features only their own tunes, and what's next for the ambitious trio.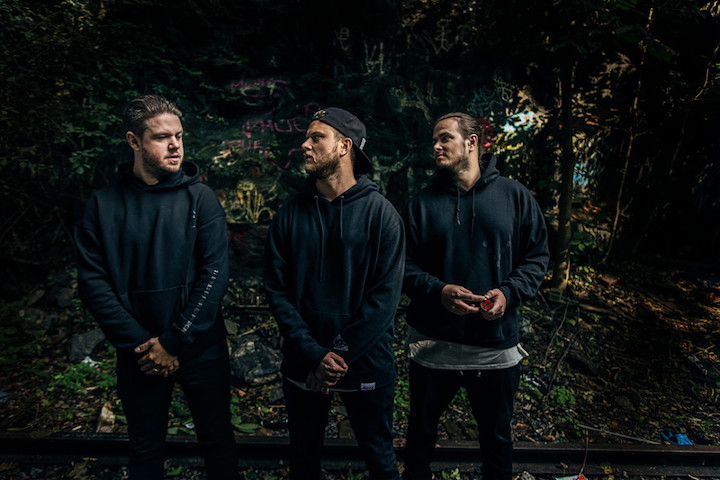 This mix is all Brohug and one remix by you guys. What was the idea/inspiration in keeping it limited to your tunes?
For every set and mix we do, we try to inspire and have this idea that we play our own stuff. We keep it the brohouse thing, so it will always be that we have a lot of our own tracks in the track lists that we have.
You're playing EDC Orlando this weekend. You're festival regulars now. What was it like the first time you played a festival? What was the first festival you went to as a fan?
For EDC, it's going to be great fun. We think every festival is great in its own way, because the production is different, the crowd is different. The first time we played at a festival was in Sweden, called Lights, which is a big indoor festival, which was great in many ways. But that was the night we premiered, the first time we played together, so that was a great memory and a lot of fun. We're not the festival kind of people that have been to festivals ourselves, because we have always been kind of doing it as artists.
Even though you're on big stages, DJs often have a deep love for small clubs. Care to shout out any small gigs that were special to you? Or are you strictly big-room people?
We would love to shout out to every club that we have been to, because every club—every festival, too—has shown great love and response for our sound and music. We love to be out there, be it small venues, big venues, festivals, etc. But it's nice when it's a crowded and sweaty, small venue because you can get into it in a different way. We really have a love for small venues, for sure, because it's always a great feeling inside.
How do your musical tastes differ? What is something each of you likes the others don't? What is something you got turned on to by each other?
We are all kind of into hip-hop. We're pretty similar, but we're also all different, too. Actually, we all listen to old hip-hop and this new kind of thing, if you want to call it trap, this new generation of hip-hop. We also listen to pop music, house, techno, jazz, and we influence each other. It's hard to say who listens to what and what will be liked, because we're all a bit of the same.
If you could estimate who does what in Brohug, how would it break down? Does someone do more songwriting, someone else more producing?
We all produce and do the mixing and mastering together, because in the end, when we are finalizing a track, we have all been in there doing almost everything together… If someone comes out with an idea—a good break or nice drop or whatever—we're kind of always in there, [giving] feedback to each other.
How's the Brohug merchandising going? Are you interested in expanding it? How is that work divided up? Who does most of the designing?
Brohug merchandise, oh yeah! For now, it has been very limited, but it's going to be released very soon, and it's going to huge. The Brohug hoodies are finally coming out, and it's going to be great to finally get them out there, because the people really want it. It's going to be interesting to see a lot of those hoodies at the festivals and clubs.
It's the same here, as [far as] who does what. Someone from the team could come up with something, but we always come with feedback. In the end, we [have] a product that comes from all of us. We all have that interest in doing the branding together.
John mentioned his PS4 recently. Are all of you into gaming? Any interest in scoring video games?
We all are really into gaming. Sometimes in the studio, we have this time off, because we're working really fast and [being] very productive. So, we get some periods where there is a lot of gaming. For now, it is PS4 with the new Call of Duty, but it is also Counter-Strike on PC. It's a big-time favorite.
What's next for Brohug? Who's on your wish list for collaborations?
It's going to be a classic answer, I guess, because we have so much in the pipeline regarding our own releases, remixes, collaborations. It has been an incredible year, and we are prepared to be more productive in 2018. We have a lot of stuff.
In a previous interview, you were asked to choose three words to describe yourselves, and you said, "masterminds, pioneers, idiots." Still accurate? If so, how do those things interact with each other?
We're masterminds, pioneers and idiots. [laughs] They all interact with each other. We see ourselves as pioneers; we want to be brohouse and take brohouse to a new level. We want it to be a new thing that new producers or already-big producers want to be like, "Yeah, I want to get into that brohouse genre or feeling." We think we're pioneers in that way, because we're trying to create a new thing in the business. And we're idiots, because it's kind of cocky and idiotic to say something like that. We're kind of like masterminds, because we're geeks in the studio… [chuckles] Of course, there's a piece of irony in it, but you know—that's how we are.
Brohug Metronome Mix Track List:

Brohug "Marshall"
Brohug "The Streets"
Brohug "If Im Wrong"
Brohug "Bulldozer"
Brohug "Guerilla"
Brohug "Paparazzi"
Alesso "Falling" (Brohug Remix)
Brohug "Hooey"
Brohug "Droppers"
Brohug "Ambush"
Brohug "Knuckles"
Follow Brohug on Facebook | Twitter | SoundCloud
---
Share
---
Tags
---
You might also like