The birth of our underground brand Factory 93 not only brought on an adrenaline rush reminiscent of the renegade warehouse era of raving—on which Insomniac was founded—but it also had us thinking back to all the people, places and parties that made this whole operation possible. And with that came a burning desire to crack open our collection and dust off the classic records we couldn't live without. Through our From the Crates series, we'll be breaking out both seminal and obscure cuts alike, imparting some knowledge in the process.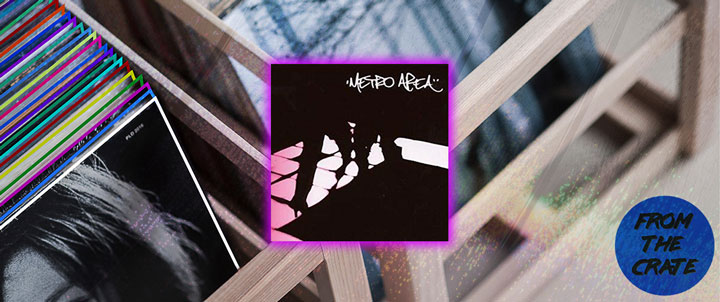 The '90s were weird—just generally speaking. But specifically, they were weird in relation to dance culture and New York. As New York's club culture was being trampled by Rudy Giuliani, a new wave of producers and artists was gestating, ready to emerge in the new century. Your DFAs, James Murphys, and electroclash folks were coming down the pike, but Metro Area and their unlikely crossover hit "Miura" got there first. "Miura" was the tune that really helped kicked off the new millennium and which, despite its rinsing the past two decades, still sounds fresh in 2017.
Together as Metro Area, Darshan Jesrani and Morgan Geist made their name on the type of disco, boogie, and emotive house that indie kids can also get with. This was a big deal at the time and a bit of an outlier. Nowadays, such a crossover can seem quaint or unremarkable. But it was the last decade of that old music industry model, where genres and scenes were still pretty divided.
Self-described obsessive, New Jersey native Morgan Geist started making music while studying English at Oberlin. Geist met New York native Darshan Jesrani on a dance music listserve in the mid '90s (the modern equivalent of meeting on Reddit or RA boards). They got together over their mutual admiration for "slower disco" and eventually started recording as Metro Area, which became an underground classic and really helped signal a look back at the disco format and the origins of music for nightclubbing, which had really fallen out of style for many in the '90s.
Metro Area would go on to release a string of four EPs, which were later collected and reworked in 2002's Metro Area LP. Metro Area EPs 1–3 featured several disco-not-disco classics—like the sublime "Caught Up" and the sparse "Pina"—that made for better home listening than club listening, in most cases. But it was with Metro Area 4 that they had a track that was soft and subtle, but also a track that you could slide into many different types of DJ sets and make it work. They've been called everything from "lusciously restrained" to "the dance-music equivalent of Pulp Fiction" for their loving reconstructions of dance music past with an exacting hand.
Jesrani insists "Miura" "was a reaction to the record we had released before it, called 'Caught Up,' which was very sweet. 'Miura,' in contrast, was sparse and angular." Geist has said they were "always identified with the notion of doing music to satisfy ourselves, which is the opposite of manufactured pop music, which is made to satisfy others," and you can feel that in their early work, in particular. These early records were certainly looking back to disco, boogie, Italo, new wave, and other styles from that 1978–86 sweet spot. But they manage to walk this line, being reverent without being boring, nostalgic without being too goofy, sweet but not saccharine. They made records that found a way to be charming, short of being obnoxious.
"Like much of Metro Area's catalog, 'Miura' glides between camp, earnest enjoyment, and whimsical minimalism."
For "Miura," they sampled the drums from Star Sounds' "Stars on 45s," which was itself a direct knock of late-disco classic "Funky Town" by Lipps Inc. But the reason this song has endured isn't because of a cheeky sample. It's the wobbly bassline, the live strings, and the vocal fricatives that really burrow into your skull and stay their forever. The strings that come in several minutes in appear courtesy of the Kelley Polar Quartet. The vocals, a series of "oohs" and "ahhhs" were provided by Dei Lewison, the daughter of Woody Cunningham, who was the drummer of disco artist Kleeer. "It was completely accidental," said Jesrani, "but we were so excited to be working with someone related to this disco guy. Something felt really right about having her work on it with us."
Like much of Metro Area's catalog, "Miura" glides between camp, earnest enjoyment, and whimsical minimalism. And like many seminal disco records, it's odd and has a true sense of character. The Metro Area 4 EP was released in 2001 as the fourth EP in the series, with "Strut" and "Let's Get…" on the B-side. It was was mastered on September 10, 2001, and they "made the label black to acknowledge what had happened the following day," Jesrani explains.
Unlike many of the tracks we've pulled in this series, "Miura" rather surprisingly never had an official video—likely due to the fact that Environ is a small, truly independent label. You could argue they had no idea it would have the legacy it now has. Plus, any real dance classic shouldn't need a visual to be an all-time great record, even though that had become commonplace in the later '90s, with aggressively visual videos like "Da Funk" and "Windowlicker."
But it was a hit, in the sense that it just stayed in DJs' bags (when DJs still toured with records). It was a track you'd later hear in DFA sets, among other artists and labels playing with this nu disco, Italo and boogie-referencing stuff, which became popular in America—and around the dance world. The Metro Area sound was centered around disco dubbiness, taking the format of dub edits and making hooky, catchy dubs from older and classic grooves. Todd Terje is the logical extension of Metro Area style and has carried on their torch with a more bombastic, often more banging sound. But they have that clean, crisp, dubby simplicity in common and are on the same unending disco-revival branch of the tree.
"Miura"—in many ways more so than its antecedents, like LCD Soundsystem—is obsessive-compulsive disco. Its orderliness seems to suggest it would feel stiff and hollow on paper. But in execution, it's this bedroom classic. It's a crossover critical darling, and it's in any '00s kid's pantheon—or at least it should be. The Metro Area LP just turned 15, and to celebrate, Environ is reissuing the classic record. You can grab yourself a copy here. It's been criminally overdue for a repress.
Geist and Jesrani are fairly active with different production and remixing projects. The two still DJ often, together and separately, under the Metro Area handle. But Metro Area as a production group or artist has apparently been dormant for a long time. "I always like being on my own. I'm not great in groups," Geist said in 2012. It's probably best if they keep it that way. That first run of EPs was unimpeachable. This is the top of post-classical disco mountain.
---
Share
---
Tags
---
You might also like