Landis Makes Good on His Happy House Promise With "Keep On" for IN / ROTATION
Born and raised in Miami, and DJing since he was 13 years old, Landis would likely bleed bass if you cut him. An adamant believer in putting in your time and mentoring, Landis quickly evolved from DJ to producer to label boss. After dropping cuts on Atlantic, Sony, Spinnin' and Universal, Landis launched Fresh Squeeze earlier this year.
A regular at major festivals and clubs including EDC Vegas, EDC Orlando, and Pacha NYC, Landis' strain of bottom-heavy tech house at times also explores and incorporates more melodic, almost Balearic elements. He recently dropped a collab with Kastra and Nisha and announced a new song with Luna Blaise. His latest single, "Keep On"—a jubilant number inspired by a feel-good vocal—is out now on Insomniac Records offshoot IN / ROTATION.
We checked in on him shortly after Hurricane Irma to learn how he got through it, the inspiration for his sound, and whether he's still being haunted by "Despacito."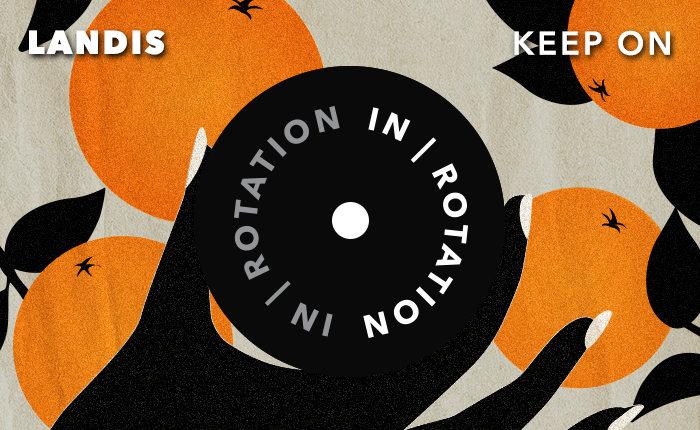 "Keep On" has a nice bounce to it. Is there a story behind the inspirational message and happy vibe?
It's one of those tracks that kind of just put itself together. When I heard the vocal for the first time, it really inspired me to make something with a feel-good vibe around it. I think with all the shit going on in the world, it's important to make music that gives you that good feeling, and that's what this track is all about.
You recently finished a song with Luna Blaise. What can you tell us about the sound and how it went working with Luna?
The track with Luna has a kind of soul/house feel to it. She is only 16 but has extremely powerful vocals. The track has a lot of live instrumentation, and it's one of my favorite productions that I've made, so really excited to get it out there.
You've mentioned having a soft spot for house music circa '08–'11. What tracks that would be on your list?
Pretty much anything Axwell-related. Guys like him—Bob Sinclar, Dirty South, etc.—really inspired where my sound is today.
You've said it's the artist that makes the label. After being released on major and indie labels, you launched your own, Fresh Squeeze. What kinds of artists would you like to sign? What can we expect from Fresh Squeeze in the near future?
I wanted a platform that wasn't one sound. Instead, it's anything "FRESH." For now, it's just going to be my originals, but eventually I will expand and bring in some artists I think are making some innovative music.
The artwork for your label has a 1970s feel to it, evocative of heat, Miami, and disco. How did this aesthetic come together?
All my artwork, I pretty much send the person who's making it a picture of an orange and the song, and say, "Go from there." 😉
You recently tweeted and drank your way through Hurricane Irma. Why did you decide to stay? Is it a born-and-raised in Miami thing?
I'm used to hurricanes by now. I had my first hurricane (Andrew) at two months old, and by now, I've just decided to grab some whiskey and stick it out.
You joked that waking up with "Despacito" in your head was a sign of depression. Is your nightmare over, or is it recurring?
The endless whispers of "Despacito" will never end.
Follow Landis on Facebook | Twitter | SoundCloud
Follow IN / ROTATION on Facebook | Twitter | SoundCloud
---
Share
---
Tags
---
You might also like