Win and Woo Construct a Soulful, Melodic Bounce on "Right in Front of Me" for IN / ROTATION
Upcoming Event
Win and Woo are fortunate enough to have forged their partnership in Chicago, a city drenched in electronic music culture. Nick Winnholt and Austin Woo first met in college as fledgling DJs, and with the city that birthed house music as their sonic backdrop, they found the inspiration to stomp out their own path toward dance music stardom.
It wasn't long after they launched in 2015 that they began to amass a following of clubbers, ravers, and DJs, all who helped push their debut release "Recognize," featuring Ashe, out via Spotify's New Music Friday playlist, as well as land national TV airtime during Monday Night Football. They've since continued to dominate the charts and playlists with a catalog of remixes and originals that have received more than 40 million streams worldwide.
Win and Woo are now making their IN / ROTATION debut with a downright soulful slice of melodic house. Featuring the inimitable vocals of Kaleena Zanders, "Right in Front of Me" is a well-balanced tune that finds equity between its stirring vocal and a solid progressive groove. When the beat drops, it really hits that sweet spot where you can feel immense power and emotion, yet it also has a laid-back quality that harkens to a more classic, mature sound.
We sat down with Austin and Nick to talk about what it was like coming up in Chicago, what inspired this collaboration, and how they like to get down when they play live.
Win & Woo's "Right in Front of Me" is available here.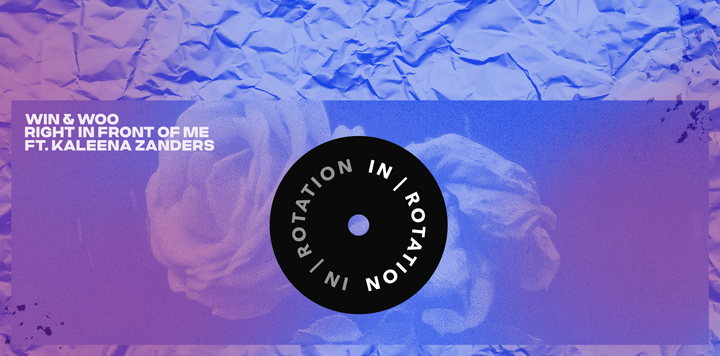 Chicago has a rich history in dance music. How does it feel to represent your hometown alongside other Chicago homies—like Louis the Child and Whethan—in a whole new way?
We are super blessed. Chicago was the best place to get a start in our career, and we wouldn't have it any other way. Always striving to put our best foot forward and make our city/friends proud!
You've begun to incorporate live elements into your stage show. What inspired you to start bringing in more organic elements?
We have always liked to use as many organic sounds in our music as possible. Guitar was always a focal point from the beginning. However, at the moment, we are focused on a more electric/dance sound. We will be bringing back more live instrumentation in the future.
Do you ever see yourselves going full-on live and ditching the decks for a bit?
Not in the foreseeable future. We enjoy DJing. 
Your production style, while varied, leans toward the melodic side of things, while your DJ sets sometimes lean a bit to the heavier side. What makes the onstage Win and Woo different from the in-studio Win and Woo?
We have always liked heavier music during live shows but enjoy producing vibey/melodic stuff. We like to think we are constantly finding new ways to blend the two, in both our production and live shows—keeping it interesting and fun for ourselves, which in turn allows the crowd to feel the same.
Kaleena Zanders provided vocals for "Right in Front of Me." How did you hook up with her, and what was it like working with such a powerhouse vocalist?
Our mutual friend J.Worra actually introduced us, and we just clicked! Been writing a lot of music together ever since. Kaleena is such an incredible human. Writing with her is so energizing and fun—really lucky to be able to work with such talent.
Can you talk a little bit about the process of writing this song together?
All three of us got together in the studio and pretty much wrote the whole song in one session. We wanted to write about the fact that most of what we are searching for in life is right in front of us—you just have to be open and patient. Whether it be love, career moves, or friendship, you must embrace the chaos.
Follow Win and Woo on Facebook | Twitter | SoundCloud
Follow IN / ROTATION on Facebook | Twitter | SoundCloud
---
Share
---
Tags
---
You might also like