JSTJR Mines Global Bass Gold on 'Never Squad Down' EP for Insomniac Records
Stumbling upon gut-busting memes and super-random cat videos isn't the only perk of having the information superhighway at the tips of your fingers. The interweb is also responsible for opening up the greater population to musical enclaves that might have been otherwise overlooked by people trapped in their own bubbles.
Zouk bass and baile funk are but two examples that made a lasting impression on New England's JSTJR, who has kept busy scouring the globe for culturally rich club influences that have put him in touch with labels like Enchufada, Fania, Mad Decent and more.
Insomniac Records is the latest to grant him a vote of confidence, with the release of his border-hopping EP, Never Squad Down. As the name suggests, he recruits a couple heads to add some vocal flavor to the mix. UNIIQU3 lays down the law on the title cut, delivering a mob-mentality hook that shakes hips with the rattling lead and rolling percs. On the opposite end is Florida's Ma-LESS, who commands "Shake That," a convulsive cut powered by tribal percussion and quick-succession horn phrases.
"Break It Down" is sandwiched between these two collabs and is the only offering where JSTJR operates on the solo tip. It's here that his sound design truly shines, allowing him to dip into the lower levels of the bass spectrum through stuttering vocal samples and swerving bottom-end. The three-tracker does all but reinforce our opinion that JSTJR is one of the true gems from the global club scene. With the EP today hitting stores and the coinciding tour kicking off in Los Angeles, we figured it was the right time to reach out and get the full scoop from the brains behind it all.
JSTJR's Never Squad Down EP is available here.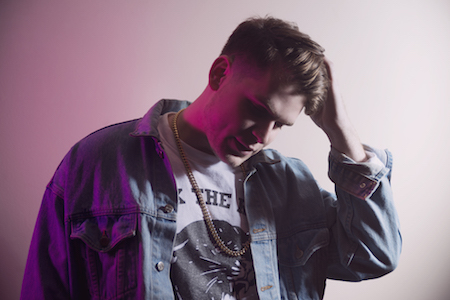 Your new EP was a result of the last few months of your traveling around the world and drawing influence from the cultures you visited. Can you speak on a few that had the most profound impact? 
I draw a lot of influence from Latin America and have been working mostly with Brazilian sounds for the last couple years. The first time I went to Brazil, I got to hear Brazilian music on the radio, in the streets, at the clubs, and got to work with Brazilian artists in the studio. I came back with a mission to incorporate the baile funk style into modern American dance music. I like to think of this EP as the culmination of my mission.
What makes the EP's title significant to you personally?
"Never Squad Down" is a phrase I learned from the Late Night Laggers. At first, it was more a way of guilting everyone into staying out late. If you were going home when everyone else is going to the after-hours spot, you'd get a "NEVER SQUAD DOWN!" The phrase evolved, though, and then "squad" started meaning being helpful, cool or standing up for what is right—basically, being a good person and being there for your people. So, putting together this project, I wanted to embody the idea of "never squad down" by combining forces with all my awesome friends (vocalists, designers, stylists, directors, etc.) and creating a seriously amazing audiovisual project.
Which of the three tracks do you feel most connected to, and why?
I think I'm most connected to "Break It Down," simply because it's the only track I created all on my own. I spent a lot of time designing some cool sounds and working with different rhythms to create a kind of Frankenstein beat with different genres.
You've said before that you're really particular about the artists you choose to collab with. What made UNIIQU3 and Ma-Less a good fit?
Ma-Less and I have worked together for a long time. She's one of my best friends, and when I was first working on new baile funk, I had to hit her up for some vocals! Uniiqu3, I met through our mutual friend, Saint. I loved her work on their track "I'm Lit," and we had a little vocal session on a desk in my old living room, with my girlfriend as the recording engineer! I had her write some vocals over a beat I was working on, and that's how "Never Squad Down" was born.
There are three official EP parties happening in Los Angeles, SXSW and Miami Music Week. Why did these three cities make the cut out of the seven stops on the release tour?
Los Angeles is the typical location for our PluggedIn.LA parties, but to me, it's also the epicenter for underground club music and culture. There's just nowhere else in the world where this much cool new club music is played on a nightly basis! We are lucky here. We wanted to stop in at SXSW and MMW to show the rest of the music world what L.A. is up to!
Each of these events is part of your PluggedIn.LA brand. What's the idea behind the club concept?
This generation of dance music grew up on the internet. Most of us learned how to produce on the internet or found all our favorite music there. That's how a kid like me from New Hampshire could become a notable producer in genres from the other side of the globe.
There is a music culture on the internet that doesn't get as much love in the physical clubs. These globally influenced, underground sounds (like baile funk, moombahton, Jersey club, 3ball, etc.) are what we are championing at PluggedIn.LA. We want to "plug in" our audience and bring them music directly from its source.
How do you hope to affect the global bass scene through your parties?
I hope to help the global bass scene by taking these sounds all around the world and bringing the internet audience out into the physical club world. We hope to transplant PluggedIn.xx around the world and bring a new physical element to the global bass scene.
Follow JSTJR on Facebook | Twitter | SoundCloud
Follow Insomniac Records on Facebook | Twitter | SoundCloud
---
Share
---
Tags
---
You might also like