Jayceeoh and Clips x Ahoy Click Up on Boss-Level Collab "Dancin' on My Wrist" for In / Rotation [Free Download]
It goes without saying that there's always an endless amount of fun to be had at festivals. But it's business as usual in green room and backstage hangs, where rubbing shoulders with other industry types can really go a long way. Los Angeles beatsmith and turntablist Jayceeoh owes the outcome of his next release to said networking hotspots, which gave him an in with rising trap producer Clips x Ahoy. After hitting it off, they have finally decided to click up on a collab.
"Dancin' on My Wrist" started off as a rough sketch that Clips had passed over to Jayceeoh. He was feeling the direction, so they ended up bouncing the project file back and forth until it was clean enough to send off to the masses. The final product is a boss-level bass offering that goes harder than the rest of the game. The stunting-on-'em vocals fit in perfectly with the skittering synth play and unabashed attitude of the beat.
Check out our chat with Jayceeoh below after you've copped the free download, courtesy of In / Rotation.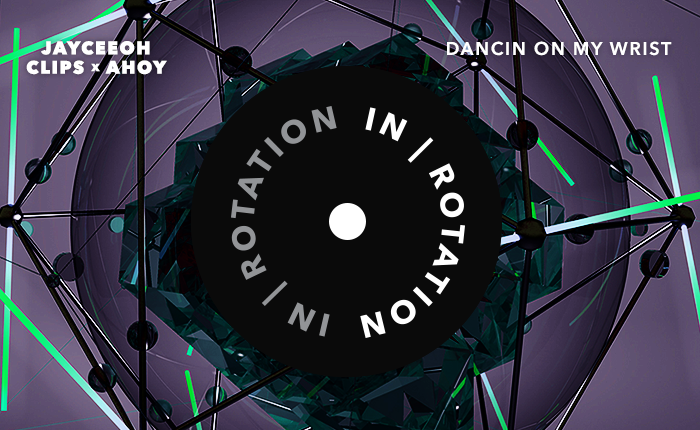 What was your first impression of Clips x Ahoy's music? Do you remember the first time you heard a track or live set of his?
I heard of Clips years ago, with his track "Throwed." We met at a festival randomly and just kept in touch after that.
When did the conversation come up about collaborating? What convinced you to make it happen?
I'm always open to collaborating with people who have dope ideas. Clips hit me with this one, and it was a no-brainer.
How was the workload divided up on this project? Was the flow different from most of your collaborations with other artists?
Every collaboration process is different, to be honest; that's what makes collaborating so fun. In this case, Clips sent the initial idea for the song with the intro and vocals, and I loved it. I took the session and fleshed out the ideas for the drops pretty quickly. Sent it back to Clips, and he added some to polish it off. Bada boom, it's done!
As for the vocal sample used, what drew you to it? Any reason why you went with this over any other sample?
The vocal actually came from Clips x Ahoy's homie. We recorded it and then pitched it up to fit perfectly.
Why do you think In / Rotation was the right place to let this one go?
In / Rotation reached out and had great intentions. It's great to release a song with a new label that is excited to work and build. I look forward to watching the label grow as well.
Describe the perfect time and setting to play this one out, whether it's in a DJ set or on your headphones?
Mid-set, or getting hype at the gym, or on a boat in Greece, haha. Anytime is a good time to vibe to this one!
What are you most excited about this festival season?
Festivals are the most rewarding experience as an artist. People are there to really absorb the music and let loose. I can't wait to rock the stage at EDC Las Vegas for the first time. I'm going to give them a show they'll never forget!
Jayceeoh and Clip x Ahoy's "Dancin' on My Wrist" DJ Bag playlist: 
Follow Jayceeoh on Facebook | Twitter | SoundCloud
Follow Clips X Ahoy on Facebook | Twitter | SoundCloud
Follow In / Rotation on Facebook | Twitter | SoundCloud
---
Share
---
Tags
---
You might also like