Gerry Gonza Approaches Bass House With a Quirky Passion on "WAP" for IN / ROTATION
The biggest obstacle an artist faces when stepping down from a successful music project is trying to shed any association with their previous work. Instead of living in the shadows of his time spent as one half of the super successful deep house duo Thee Cool Cats, Gerado Arellano pulled off a complete 180 that has not once been eclipsed by the TCC discog he helped build.
The Arizona-based artist is now operating under the guise Gerry Gonza, and he's really come into his own as a bass-heavy house pusher who doesn't feed into the trends. Instead, Gonza takes matters into his own hands by giving the genre a gust of fresh air through his left-of-center sensibilities and a firm grasp of everything revolving around percussion (thanks to the fact that the dude has been drumming his whole life). His catalog is already stacked with legit labels from the likes of Confession, Audio Rehab, Sleazy G, Anabatic, and more. Now, he's tacking IN / ROTATION to the end of that list with a new single that makes us question whether everyone else has being going about bass house wrong all along.
On "WAP," he burns with a quirky passion. It marches out on a steady four-four rhythm, which beats out under the sound of drill sergeant vocal samples, smooth-gliding synths, and computerized tones. However, those elements get sucked straight out of the space as soon as the metallic clanks and wonky stabs in the drop take the track hostage. It's stomp-worthy and strange, but it also speaks to every reason why Gerry Gonza is riding his own wave into the hearts and minds of every house music lover out there.
Trip out to the futuristic creation up top, and then come back down to poke around the peculiar mind of this producer by diving into our chat below.
Gerry Gonza's "WAP" is available here.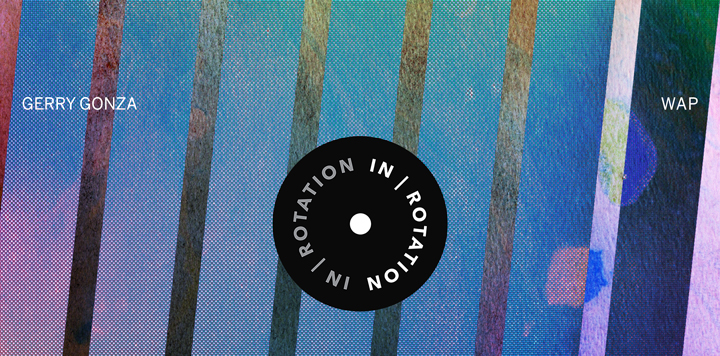 You've spent your younger years studying and mastering the art of percussion. Can you speak on your musical background and how that led to where you are now?
In fifth grade, I joined the music program at school and went through middle school and high school playing in concert band and marching band in the drumline! It's where I first learned about composition, reading, and writing music, performance—and it's also what got me using my first DAW.
In the past year or so, you've been working on a new live show. Can you walk us through your setup? What do you get out of these performances that don't come with the standard DJ set?
It's more of a hybrid show than a live one, I would say—although a real live one is in the works! Right now, I play drums on the sample pad, Maschine, and the APC. I also add acapellas and effects, like risers and ambient noises on the APC and LaunchControl. I harmonize with some tracks that already have vocals on them, as well as sing my own stuff live. Those tracks are really special, because I give all of me on those songs. And when there's a huge reaction, it's the best feeling.
That's ultimately what I get. And what people get is a fuller experience. I'm up there, more engaged with the music, making the crowd more engaged with the performance, and making it all more of a show and more possible to have a personal connection with the crowd. I also like that it can have mistakes and be more alive and have these once-in-a-lifetime moments where it all comes together perfectly. I love the endless possibilities. It's exciting!
Since going solo, you've had an extremely active release schedule, with outings on virtually every label worth the time. What have been some of your favorite records that have seen the light of day?
I've definitely been lucky! "Noize" on Toolroom is definitely one I love! Playing "Bad Bitches" gets more and more fun every time. "Ass on Fire" has been going off! And of course, I've been looking forward to "WAP!"
"Noize" shows my underground side; "Ass on Fire" has a catchy vocal that makes the bassline come in just right; and "Bad Bitches" just has everything. These are tried and trusted tracks that I know I can play any time and they'll get it going.
What have been some of the benefits and/or disadvantages you've come across since splitting from the duo?
It's been tough adjusting to the workload and the lonely road, but being able to make my musical visions a reality has been worth it. I had always dreamt of incorporating live elements into this big bass music with attitude, especially singing. Something about singing a song fills my soul.
Can you tell us how "WAP" came together and how it ended up in the hands of our record label?
I was making stuff with a lot of sounds that would shift in and out, and I got a bit tired of such hectic ideas. So, I thought of doing something simpler that would focus on what I enjoyed about what I was making, which was big bass with a solid lead and a simple, catchy, and easy vocal.
I sent it over to my management, and they loved it. Luckily, they had recently gotten in contact with Insomniac through another artist they manage, so they sent over the track, and luckily you guys were about it. And here we are!
Word on the street is that you love cooking and have aspired to open up your own restaurant one day. When this happens, what do you plan to name the joint, and what would be your signature dish?
I'm actually scheming on two restaurant ideas! I'll save the names for later, but I'm planning a Mexican/Latin spot, as well as a strange/unique creations place. The highlight for the Mexican spot will be the Si Se Puede! section of the menu, where anything and everything is possible. The highlight for the strange spot will be the Italian Benedict or chicken and churros. Both will have regular and vegan options, so everyone can enjoy, no matter what your choice might be. That's really where the drive came for these ideas: wanting more places to enjoy with my non-vegan/vegetarian friends and family, where both parties could also have amazing deliciousness, as well as some healthy options.
What's next for you?
Playing a special techno set opening for Laidback Luke this Sunday, September 9,, for one of his Strictly Techno shows. Playing in Charlotte the week after, at an awesome secret party, which will be on my birthday week! Playing a few shows with Tchami on his Confession tour in early October, and also playing with Boys Noize and Fisher in November! As for music, I'll have plenty coming in the next months! Make sure to follow my socials to stay updated.
Follow Gerry Gonza on Facebook | Twitter | SoundCloud
Follow IN / ROTATION onFacebook | Twitter | SoundCloud
---
Share
---
Tags
---
You might also like