Franky Rizardo Drops a Fluid and Energetic Escape: Psycho Circus 2018 Mix
To get you psyched up and spooked out for this weekend's Escape: Psycho Circus and freak show, Dutch house maestro Franky Rizardo has graced us with a new mix in advance of his set. The 30-year-old DJ, producer, label head, and mini-mogul has been into house—pretty much exclusively—for a long time. He claims he started DJing at age 14, so somewhere in the mid-'90s, and his career has had the pulse of one steady, jacking 120-BPM house beat ever since.
For this mix, Rizardo didn't want to just construct something from his studio to give you the impression of what a set might be like. Instead, he took an hour-long splice from a recent set of his at Chicago's Spybar.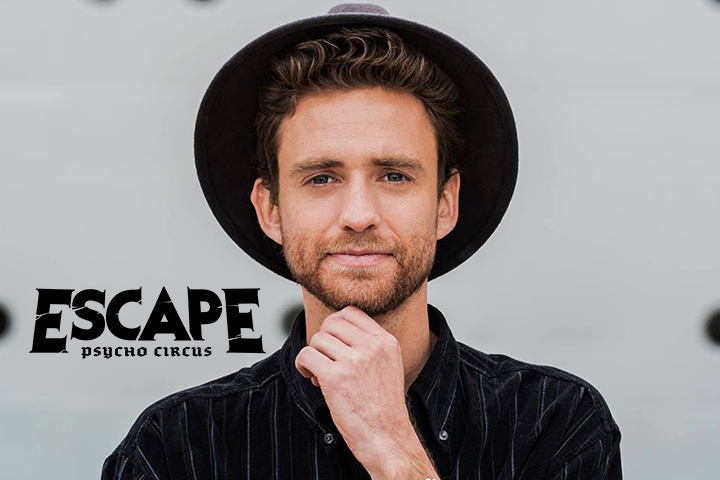 "I wanted to really show what I play when I play live, rather than just put some tracks together in my studio," he explains. It's pretty apt that he'd choose a set from Chicago, the Windy City being the birthplace of and home to the most sophisticated house music crowds on the planet. You can imagine he takes special care in preparing for a set in front of those crowds.
And so, the ensuing mix captures Rizardo doing what Rizardo does best: house music. Whether it's delivering some instrumental house, vocal house, jacking house, tech house, tribal, progressive house, or some of his own re-rubs, it's all house, all the time in his world.
The mix features a fluid, energetic blend of mostly recent house cuts by artists such as No Rules, Stefano Noferini, Anja Schneider, Dosem and Prok & Fitch, Stany, Cuts Deep, George Morel, and an excellent Ki Creighton remix of Steve Silk Hurley's classic "Jack Your Body."
Rizardo's infatuation with house music has been there ever since he first heard house music as a child. This strikes him as unique, though, growing up where he did. Techno and trance are—and have been—huge in the small country of Holland when it comes to electronic music. When people think of the Dutch electronic and dance scene, "house music" isn't historically one of the first things to come to mind. It just doesn't appear deeply rooted in the country's history, the way it is in other cities and countries.
"I found I was drawn to house music instantly. It's all about the feeling for me."
"I found I was drawn to house music instantly," he elaborates. "It's all about the feeling for me." So, the young Rizardo caught the house bug very early on and started spinning. It wasn't long before he was asked to be a resident at Manhattan as a young man.
He started making music from there, and it wasn't long before he was able to collaborate with older Dutch house heavyweights like Bart B More and Hardwell, the latter of whom should be no stranger to readers of this website, and with whom Rizardo shared his first release in 2006.
The records and DJ gigs kept coming, steadily building over the next several years, until another breakout moment: when Rizardo had his first release, the La Chicambo EP on famed UK house label Defected in 2012. Since then, he's become a man of many hats. As a producer, he's put out tunes on Defected, Sweat It Out!, Ego Music, Global Beats, Ministry of Sound Recordings, Simma Black and Nic Fanciulli's Saved Records, among other outfits. He then went on to launch something called FLOW, a sort of catch-all concept and brand that encompasses his weekly radio show, parties, and his LTF label.
In the past two years, Rizardo has achieved a few career accomplishments, starting with his edition of the famed In the House mix series on Defected. That was followed by his being tapped to deliver one of Pete Tong's vaunted Essential Mix series, arguably still the most influential program of mainstream electronic and dance music anywhere on planet earth. As Rizardo told Decoded, "When I found out about this, I was over the moon. It's a show I've listened to many times, so yes, it was a real honour for me to be asked to be a part of it. For a DJ, it's a bucket-list type of thing." Rizardo's entry into the Essential Mix series featured many of his own remixes and edits, including an unexpected remix of ambient masters Global Communication to wind down the set, and was received as one of the year's best.
Though he hasn't released a ton of music in 2018, Rizardo is "excited to mention that my remix for Calvin Harris and Sam Smith is out at the moment, and you should keep your ears open for some new material coming soon on the likes of Rejected, Circus, and 8 Bit."
Until then, we'll bump the new mix and look forward to the haunted weekend.
Franky Rizardo is playing at Escape: Psycho Circus 2018, which takes place Friday, October 26, and Saturday, October 27, at the NOS Events Center in San Bernardino, CA. Tickets are on sale now. For more information, visit the official website.
Follow Franky Rizardo on Facebook | Twitter | SoundCloud
Follow Escape: Psycho Circus on Facebook | Twitter | Instagram
---
Share
---
Tags
---
You might also like