Eyes Everywhere Sends Out Scintillating Beyond Wonderland SoCal 2019 Mix
Eyes Everywhere are Brian Doyle and Kyle Tatum—two rising but relatively unassuming best friends from Buffalo, New York—who have a propensity for infusing house with the weird, the dark, and the off-kilter. They're one of many special guests at this weekend's edition of Beyond Wonderland SoCal in San Bernadino, and they've sent over a scintillating tech-house-leaning mix to get you warmed up, as well as chatted about growing up in Buffalo, raving in Toronto, and making music between best friends.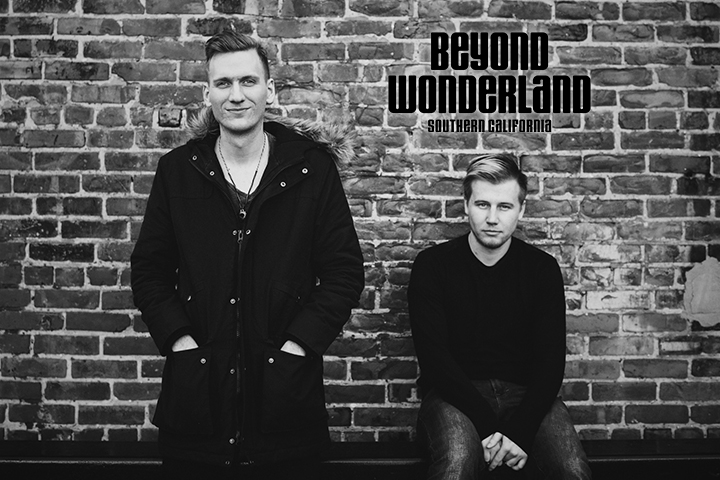 The two grew up and met in Buffalo, which may not be one of the first cities you think of when you hear of house or tech house. "Buffalo is far more known for metal and hardcore than for dance music," Doyle explains. Hardcore and metal acts like Every Time I Die, Cannibal Corpse, and Terror all trace their roots to Buffalo. "The name Eyes Everywhere actually comes from an ETID song," says Doyle. In addition to darker, guitar-driven music in the '80s and '90s, Buffalo was also particularly hospitable to drum & bass. But the smaller-city, DIY ethos seemed to permeate the region, regardless of the style of music playing at a given club or warehouse.
This wintery, brooding underbelly underlines Eyes Everywhere's overall style, even if they don't always wear their metal influences on their sleeves. "From our early days making D&B and bass music to now, we tend to write a lot of darker, heavier stuff," Doyle continues. "Of course, it's tougher to fit that into tech house tunes, so a lot of those end up being B-sides."
It goes beyond just D&B and metal. "It's cold; it's industrial. But there is a certain edge and warmth to it," Tatum muses. "To be honest, all music from the city in the house and techno scene comes from being connected to Detroit, and Chicago by the lakes, and having Toronto a short drive up the road—just a lot of fusing all of those sounds. Bass music is still huge, too. It's one of the places in the US where D&B seems to always have some level of scene. D&B has been a big influence for us, both consciously and subconsciously—that, and just DIY punk/ hardcore ethics."
"Our entire relationship is one spirited debate."
Toronto in the '00s seems just as big an influence as Buffalo on them. "Being like, 19 and broke college students, we would buy a ticket to the Guvernment for either major festivals headlined by names like Paul van Dyk, Fedde Le Grand and Markus Schulz, or pay a few bucks for one of the resident nights with guys like Mark Oliver and Carlo Lio. We saw deadmau5 twice right in the Random Album Title era, and that's his hometown, so those were wild nights," Doyle reminisces. "Toronto likes to party."
"Despite being sort of shit-stirring 20-year-olds," Doyle admits, "most of [the Buffalo elders in the scene] brought us in to play." They cite groups like the Communist Party, Queen City Cartel, LokiDnb, and Frosty Tone. Tatuma also praises "local legends" like 3PO who "went and made his bones down in NYC in the late '90s. His stories are wild and basically showed me that the partying we were doing was half-assed, compared to his day."
Tatum and Doyle met when they were 11 years old, and they've been thick as thieves ever since. They rarely agree on anything, except: "Socialism will win," Doyle insists.
Otherwise, they challenge the notion that all great collaborations are built on agreement. "Our entire relationship is one spirited debate," Tatum says.
The duo started releasing records in 2014 and have played around the world (including Insomniac events) and have steadily established themselves as imaginative producers and confident DJs.
In advance of storming into Beyond SoCal for the Insomniac Records takeover of Cheshire Woods on Saturday, they've prepped a mix that shows their knack for building momentum in their tag-team style. It ends with their new single "Kmart Krump," which also drops this week.
"Brian is more my brother than my friend at this point. I was the best man in his wedding; he will be the same in mine. He will be my son's godfather whenever I actually get around to baptizing him."
Doyle recently moved to Albany, and Tatum had a kid, so last year was busy. When they got back to working on music, Doyle recounts, "I was writing stuff that frankly couldn't get released; it was just too weird. We signed on with UTA after our buddy Wooli from Rochester had randomly showed Smash our music on a van ride back from a fest. I decided to write some dancier stuff again. After a few tune ideas, I landed on that bassline and vocal and a bunch of the accent synths. I sent to Kyle, and he fixed up the groove and gave it that fat synth at the second drop to give it some sauce. We sent it to Treasure Fingers, because he's the homie and we were just looking for an ear, and he asked if we had plans for it."
The tune's name may be meaningless, but it shows that growing up and doing a little adulting and living in different places hasn't made them miss a step. "Brian is more my brother than my friend at this point. I was the best man in his wedding; he will be the same in mine. He will be my son's godfather whenever I actually get around to baptizing him. For the first time in a decade, we don't live in the same city, so it's been a bit of a transition. But we are still constantly talking and bullshitting. That's my brother," says Tatum.
This year continues to look promising for the duo. In 2019, they'd like to see more "festival bookings to represent the super diverse spectrum of DJs and producers, more techno heads to admit they are playing trance at 130, and day parties so I can get up for the gym," Doyle says with an air of practicality. Tatum would like to see more "people having fun, a full drum & bass renaissance, and another Daft Punk tour." Who can argue with that?
Eyes Everywhere's Beyond Wonderland SoCal 2019 Mix Track List

Eyes Everywhere & Steve Gerard ft. Daniel Diamond "City Sleeps"
Worthy "Lift Me Up"
Kaysin "Take Me"
Lazarusman & Jay Hill "I Am Here" (Richy Ahmed Remix)
Kormak "Love on the Line"
Jesse & the Wolf "Hurt Me No More" (Eyes Everywhere Remix)
Max Chapman "Steppa"
Butch "Bepsi" (Waff Remix)
Prok & Fitch, Amine Edge & Dance "Operate"
Lux Groove "Know What"
Booka Shade "Trespass 2019" (Mark Knight Extended Mix)
Camelphat & Cristoph ft. Jem Cooke "Breathe"
Pax "Rave Me"
Eyes Everywhere "Kmart Krump"
Eyes Everywhere are playing at Beyond Wonderland SoCal 2019, which takes place Friday, March 22, and Saturday, March 23, at NOS Events Center in Southern California. Tickets are on sale now. For more information, visit the official website.
Follow Eyes Everywhere on Facebook | Twitter | SoundCloud
Follow Beyond Wonderland SoCal on Facebook | Twitter | Instagram
---
Share
---
Tags
---
You might also like