Experience the Uplifting Energy and Euphoria of This Two Owls Nocturnal Wonderland 2017 Mix
Anyone looking for pure, relentless energy, face-melting drops, and earth-shaking beats need to look no further than this exclusive Two Owls Nocturnal Wonderland mix.
Blending bomb tracks from Marshmello, PhaseOne, Zomboy, Flux Pavilion, and more across 25 hyperkinetic minutes, the mix serves as a Two Owls calling card for Headliners on their way to Nocturnal Wonderland 2017, providing ample reasons to add the dynamic duo's set to their must-see list.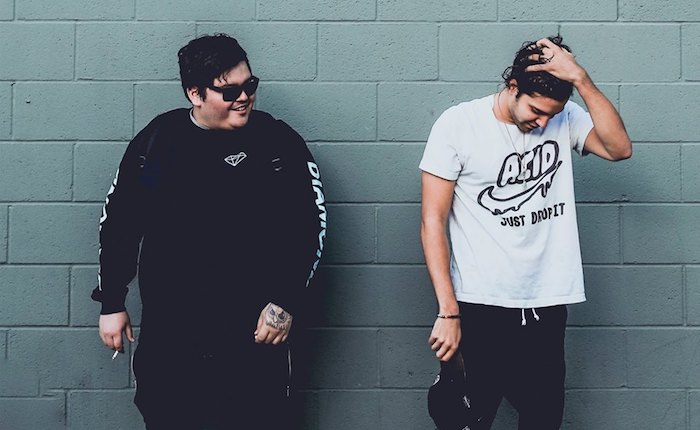 Andrew Sierra and Scotty Dro have built their burgeoning career together since uniting as a duo in 2014. They initially used the moniker Nightowls, after they realized they were both working on individual projects called "Owls."
"Andrew had gotten a tattoo of an owl on his hand when he was 15, and I've had a lifelong fascination with them, as well," Dro explained to Insomniac in an interview earlier this year.
It was all good, as the pair worked their way up the ranks of the EDM elite, until it became clear that their name and logo were a little too close to Insomniac's own insignia. Putting their heads together, the guys had the ingenious idea to simply clone their Nightowl into a pair—hence the successful rebranding as Two Owls.
"To be able to relaunch without losing our fan base—to look back and see any mistakes and start fresh—it's a total gift," Dro declared.
"I see it as a clean slate, to do things the right way from day one," Sierra added. "Our sound has massively improved. As Two Owls, we see ourselves as a more mature version of our previous selves, and it will show in our music moving forward."
Experience the uplifting energy and euphoria of Two Owls deep in the cut with this exclusive party-starting Nocturnal Wonderland 2017 mix. Featuring distinctive hooks from the likes of Kanye West, Migos, and Fetty Wap woven into the grooves, the mix's reach goes beyond just the dance music maven and calls out to newbies with the same urgency. Prepare to move. A lot.
Nocturnal Wonderland 2017 takes place Friday, September 15, and Saturday, September 16, at Glen Helen Regional Park in San Bernardino, CA. For more information, visit the official website.
Two Owls Nocturnal Wonderland 2017 Mix Track List:

KLAXX vs Basstrick vs Just a Gent  (TWO OWLS Intro Edit)
Zomboy x Krimer "Die Like a B*tch" (TWO OWLS Edit)
PhaseOne "Welcome to Mayhem"
Herobust "Vertebreaker" (Damn Daniel Edit)
ID & ID - ID
Zomboy "Back Once Again" (Wavedash Remix)
ID - ID
Kayzo x Graves "Kanye Says Love Things" (TWO OWLS Edit)
Havok Roth & SWRVN "Lotus" (Unreleased)
"Bad & Jefe" (TWO OWLS Edit)
Okay x Enschway & O5CAR "Thief vs. Push Up"
Migos x Herobust "T-Shirt" (Benzi x Chuwe Edit)
Marshmello "Alone" (Sunday Service Remix)
Fetty Wap "Trap Queen" (Crankdat Remix)
TWO OWLS ft. Elle Vee "Waking Up the Dead" (Unreleased)
Droeloe x San Holo "Lines of the Broken"
Flux Pavilion "I Can't Stop" (Ekali Flip) + Just a Gent Edit
Follow Two Owls on Facebook | Twitter | SoundCloud
Follow Nocturnal Wonderland on Facebook | Twitter | Instagram
---
Share
---
Tags
---
You might also like