Ephwurd Goes Medieval on That Bassline in This Exclusive Middlelands 2017 Mix
Ephwurd emerged from the deep, years-long friendship between producers/DJs Datsik and Bais Haus. Following their first collaboraton in 2013, they quickly became pioneers of the nascent future house sound. After recognizing Bais Haus' talent early on, Datsik collaborated with the producer on the 2013 track "Closer to the Sun." The tune was an early example of the duo's ability to marry Datsik's aptitude for insane sound design with Bais' melodic expertise. Yet it wasn't until three years later—when the duo came upon some stems for Major Lazer's "Lean On"—that they realized their new sound would allow them to pursue their mutual love for house music. For Bais, the opportunity to ditch ghost producing and step out from behind the scenes was long overdue. As for Datsik, Ephwurd would soon allow him a much-needed outlet to explore uncharted territory within his musical canon.
Above all, though, Ephwurd was just a chance for the two longtime friends to have fun together in the studio and behind the decks. Their creative synergy comes together powerfully in their sound, which sits at the intersection of soulful, old-school groove and frenetic modern filth. And the dance world has quickly caught on: Their bassline shenanigans have scored the duo remix work for Oliver Heldens, Kill the Noise and the Chainsmokers. As they effortlessly move between bassline bangers, the duo hypes up the crowd via their onstage antics and attitude, as well as their now-legendary T-shirt cannon, which launches their branded swag just about the length of two football fields.
Ephwurd is getting medieval on that bassline at the inaugural Middlelands this May. To celebrate the occasion, the duo dropped an exclusive mix packed full with bass-heavy sounds and future steez.
We caught up with Datsik and Bais Haus to chat about their new musical direction, their approach to creating, and their unfortunate fails with the infamous T-shirt cannon.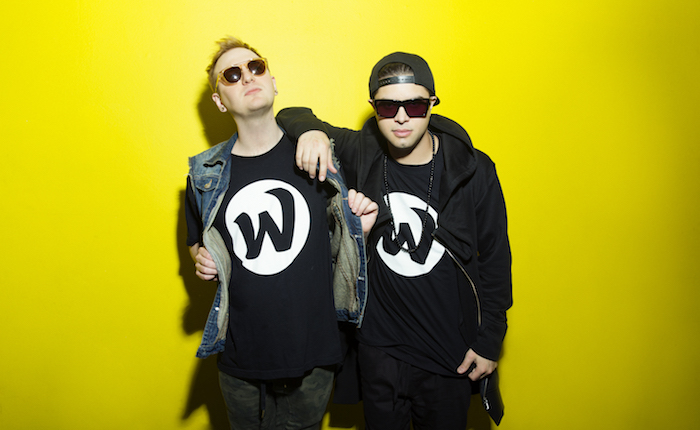 How do you find your separate influences functioning in your collaborative work?
Bais Haus: I grew up listening to jazz and studying music theory. When I first met Troy [Datsik], I didn't have much of a production sense. When we started working together, that's when it all started coming together in terms of producing and engineering. I knew how to do chord structures and melodies and stuff like that. Troy is the fucking master at engineering and making sick, wompy sounds.
Datsik: Having people that are good at different things is key for a duo. By giving each other space to do what we're really good at, [we] end up getting the cool results. It's like having two cooks, but one is a pro with vegetables and one is a pro with meat.
"Having people that are good at different things is key for a duo. By giving each other space to do what we're really good at, [we] end up getting the cool results. It's like having two cooks, but one is a pro with vegetables and one is a pro with meat." —Datsik
Speaking of bass house, it's an amalgam of lots of genres. Do you think that type of cross-pollination is exclusive to dance music?Bais, you've spent a lot of time in other parts of the industry. Did you intend to step out from behind the scenes at some point?
Bais Haus: I've done everything. I knew I wanted to do music, and when I got into electronic music, I had no idea where to start. I got an internship with Dim Mak folding T-shirts for two years, thinking, "Someday, if I keep doing this, I'll find the path." Eventually after working for so many people and seeing brands grow, when Troy came to me with the idea, I thought it was about time.
Datsik: When I met Bais and we decided to do this Ephwurd project, it felt like a natural progression based on where he was at and where I was at, [as well as] having a love for house and this new wave of bass house. We'd actually written some stuff earlier. I put out an album with Dim Mak, and we actually did a bass house track called "Closer to the Sun." I guess that was kind of what started it. I really liked what Bais did with the melody and how it turned out.
Datsik: I would say that cross-pollination between different genres is what pushes music forward. We started with bass house, but the stuff we have planned right now is a step in a completely different direction. We are taking all these different styles of music and throwing them in a blender and seeing what comes out; it's fun. It's a cross between darker pop stuff mixed with trap elements. There's a bass house tune or two we're going to throw in there. But it's just about trying to hybridize everything, because when you do that, you come up with something that's completely original.
You say you're taking a step in a different direction. What do you say to people who try to pigeonhole you as bass house artists?
Datsik: Ephwurd is still a young brand, and we haven't really released a [large enough] body of work, so we still have time to find who we are. This first EP is going to be showing what we can do. From there moving forward, if our first EP is all different genres and it has a common theme, people will expect some sort of common theme, as opposed to [expecting] one tempo. Bass house is awesome, but I want to be able to play everything. I want a track on the radio. That's a huge goal for me, and I know Bais feels the same way. It's going to be interesting to see how it's perceived. You never achieve anything by playing it safe.
"You never achieve anything by playing it safe." —Datsik
Let's talk about crowd interaction for a second. Festival stages just keep getting bigger and bigger. Is that why you introduced the T-shirt cannon? Or did you just want to shoot people with it?
Bais Haus: [Laughs] I think a little bit of both. That thing is out of fucking control, by the way. We had no idea how powerful it was; the first time we shot it, it went like the length of a football field. There's a regulator on it, and we were just like, "Yo, turn it up all the way!" We shot it, and it had a trail of smoke behind it.
Datsik: It just disappeared. We were playing in Toronto, and I'm holding the thing, thinking it's probably going to make it like a good 30 feet. It shot like a good 200 yards!
Bais Haus: It went all the way to the back of the festival.
Troy, you spoke with us a couple of years ago about retaining your underground roots as you continue to grow. Is that important to the Ephwurd project as well?
Datsik: Our sound has a classic vibe to it. A lot of the tracks we've done have old-school breakbeat samples. [For example,] "Bring It Back" and "Rock the Party" [with Jauz] have this theme that ties them together—this old-school, B-boy-type breakbeat thing. I think we'll always continue to have that. That's what Bais and I gravitate toward when we write a track. That is us basically paying homage to the old school. But I don't want that to be what defines us. I don't want to be defined at all. I would rather us be able to say, "Fuck genres," and do what we think sounds cool. It almost feels like [filling] a hole or a gap. I've been playing as Datsik for seven years now, and I love dubstep and bass music from the bottom of my heart. But at the same time, there's this void, and I feel like Ephwurd fills that void.
"I don't want to be defined at all. I would rather us be able to say, 'Fuck genres,' and do what we think sounds cool." —Datsik
Besides your upcoming EP, what else do you have on the horizon for the next year?Bais, this project has allowed you to step out as an artist. Do you plan on using this as a platform to move on and do other things on your own?
Bais Haus: I've thought about that, in terms of building another EDM name. Honestly, though, I'm interested in composing for television and films. Just this past week, [I] finished writing a score for this short film that's getting accepted to all these film festivals. I'd like to use this as a platform to create music, but I'm not sure if it's going to be dance music or composing. Right now, I'm just going with it because I like doing it. And as long as I still like doing it, why fucking stop?
Datsik: That's how I feel, too. We have so much fun with Ephwurd. We get to travel around and smash sushi wherever we go. That's the main reason we started it—because we loved doing it. We get to play on different stages. All of a sudden, I'm not just on the bass stage; we're on the mainstage, playing in front of different crowds. It's a new, exciting feeling for both of us.
Datsik: The EP is set for a late spring/summer release, and we are going to design a whole new set to try and wow the kids. I'm wondering: With all the festivals coming up [where] we have the T-shirt cannon, should we start adding more?
Bais Haus: Oh, absolutely!
Datsik: We should get a fucking jetpack or something!
Bais Haus: Like mounted suits with CDJs on them, so we can crowd-surf while cueing up new tracks. Ephwurd is all about not giving a fuck, and having a good time, and enjoying it, and doing whatever we want. That's the whole thesis behind it. That's why we have so much fun with it. We're just going to do what we think is dope.
Ephwurd — Middlelands 2017 Mix Track List:

Ephwurd vs. Ramin Djawadi "Rock the Throne" (Ephwurd Mash)
Ghastly "The Spider Symphony"
Ephwurd "Vibrations"
Skytech & Fafaq "Flat Beat" (2016 Bootleg)
Armand Van Helden "The Funk Phenomena"
Hasse De Moore & Wuki "Give It to Me"
Wiwek & Skrillex "Killa" (Henry Fong Remix)
Barely Alive "Zombie Hunter VIP"
Matisse & Sadko "Lock 'N' Load"
Tommie Sunshine & Chocolate Puma ft. DJ Funk "Scrub the Ground"
Joyryde "Give My Love"
Zomboy "Patient Zero"
Valentino Khan "Deep Down Low"
Basstrick "Ghostbuster"
Ephwurd - ID
Dog Blood "Middle Finger"
Ephwurd & ? ft. ? - ID
Knife Party & Tom Morello "Battle Sirens" (Ephwurd Remix)
Dirtyphonics "I've Got the Power" (Bootleg)
Jay Karama "Keep Calm"
Wild Cherry "Play That Funky Music"
Ephwurd - ID
Twine "Copyright VIP"
Zhu "Faded"
Michael White "Imagination"
Laxx "WTPA" (Henry Fong Remix)
Autoerotique "Murda Dem"
The Chainsmokers "Don't Let Me Down" (Ephwurd Remix)
Empire of the Sun "Walking on a Dream"
Ephwurd "High on You"
JC "The Tunnel"
Jauz & Eptic "Get Down"
Deorro & Zoofunktion "Hype" (Autoerotique Remix)
Ephwurd "Duck Face"
Oliver Heldens & Shaun Frank ft. Delaney Jane "Shades of Grey" (Ephwurd Remix)
Catch Ephwurd at the first-ever Middlelands, taking place Friday, May 5, through Sunday, May 7, at the Texas Renaissance Festival Fair Grounds in Todd Mission, TX. For more information, visit the official website.
Alexander Dias never uses the F-word. Follow him on Twitter.
Follow Ephwurd on Facebook | Twitter | SoundCloud
Follow Middlelands on Facebook | Twitter | Instagram
---
Share
---
Tags
---
You might also like