SHARPS ft. Mikey Ceaser "Glass Jaw"
Discovery Project Releases is a regular series featuring exclusive music downloads from our Discovery Project alumni.
SHARPS made his Insomniac debut at EDC Orlando last November, but he's not a newcomer to dance music by any means. The Seattle-based producer first served up his razor-edged beats as part of the duo Instant Party, and in 2014, he decided to splinter off from the project and start to shape a groove all his own. In the three years that followed, his solo efforts have garnered heavy attention from bass music heavyweights, like Krewella and Adventure Club, based on a batch of bottom-heavy bangers that never cease to electrify the dancefloor.
It's not just his capacity for crafting sub-shattering bass in the studio that has held the attention of his fans, but also his ability to cut up those beats behind the decks. His appearance at Corona's Electric Beach stage at EDC Orlando fell at the tail end of a whirlwind nationwide summer tour schedule that saw the young trap lord making two international appearances in the UK. In 2018, he shows no signs of letting up, as he continues to drop nasty beats on a regular basis. On top if it all, he's also holding down two residencies: one in his hometown of Seattle and the other in San Diego, CA.
On his debut Discovery Project Release, SHARPS teams up with Mikey Ceaser, whose voice you may recognize from features with Kompany, Diskord, and Ray Volpe. The pairing here wastes no time slapping you silly with a hefty portion of sub-bass and some straight fire bars. As things start to heat up, a barrage of rhythmic, transforming buzzsaws slice their way through a thick slumping beat. SHARPS and Mikey Ceaser work in unison to strike a masterful balance of dirt-nasty sound design and a fire cypher.
We had a chat with SHARPS about his close friendship with another Discovery Project alum, why he quit football to pursue music, and what he's listening to when he's not jamming out to dance music.
SHARPS' "Glass Jaw" is available here.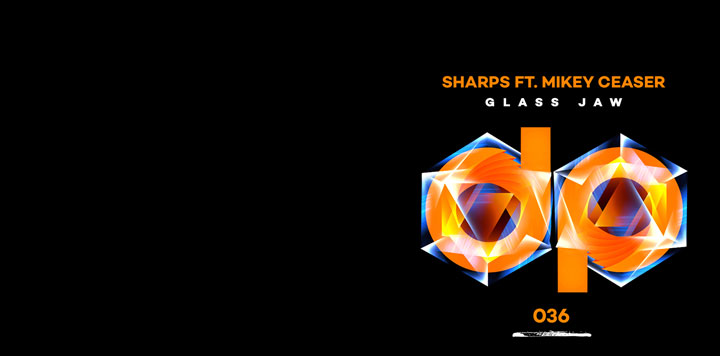 Before going all-in on music, you played football on a scholarship. What led you to the decision to drop the sport and go full-force with music?
When I discovered DJing and music production, it was a no-brainer. I thoroughly enjoyed football, but music will forever be my first love. I've always considered music a way to express myself in ways words couldn't.
You posted a picture on Twitter from when you learned how to DJ last year. How well do you remember that day?
I remember that day like it was yesterday. I was so beyond excited to begin learning, and when I opened that first DJ set up, I remember saying, "What the hell do I do now?" I locked myself in my room for the past five years working to scratch off my next bucket list item.
With the perspective you have now, what would you say to yourself from five years ago?
I would tell myself to be patient, because it's a long road, but it'll all be worth it in the end. Enjoy life and whatever it brings.
Can you talk about your journey of entering and winning the Discovery Project?
[It] was a huge bucket list item, so when I won, I honestly didn't even believe it. Funny story: When they called to tell me I won, I [ignored the call] because I rarely pick up phone numbers I don't have. It never occurred to me that I would actually win!
It wasn't the first time you had entered either, was it?
That was the third Discovery Project I entered. Each time my name wasn't announced as the winner, it was a little shot to the heart, but it ultimately fueled me to work harder and continue perfecting my craft. It is amazing to see the hard work start to pay off!
You're pretty close friends with Fransis Derelle, another DP alum. How has his journey inspired you?
Honestly, I wouldn't be where I am today without him. I must have asked him a billion questions about production, and each time, he went above and beyond to help me learn. Glad to see such a good dude doing so well; he deserves every bit of it.
We know the EP was delayed by the purchase of a Nintendo Switch, so how's that coming along?
The Switch is deadly. The tracks are done and ready to go—just currently trying to find a place for the EP now. I am really excited to share this with the world. I've put a lot of time and emotion into this project, so I hope people enjoy it!
Any other big releases in the future?
I have two other records I'll be dropping within the next month. They are collaborations with TYNAN and Craymack on two different labels. Both tracks will be rattling bass stages across the country, so stay tuned!
What are you listening to right now that's not EDM?
I am a huge '80s R&B guy, thanks to my parents. They schooled me early, so I enjoy listening to a lot of the Gap Band, Bobby Caldwell, Earth, Wind & Fire… the list goes on forever. No matter how stressed or upset I am, it always puts me in a good mood.
I have to admit I just found out that Bobby Caldwell is white like two months ago.
Oh wow, I honestly didn't know that. He is a bad white boy! LOL.
Follow SHARPS on Facebook | Twitter | SoundCloud
Follow Discovery Project on Facebook | Twitter | SoundCloud | Instagram
---
Share
---
Tags
---
You might also like