Birthdayy Partyy "The Get Down"
Discovery Project Releases is a regular series featuring exclusive music downloads from our DP alumni.
Birthdayy Partyy has been on a tear this past year, stomping the bass with a dizzying number of high-energy bootlegs, remixes, and originals. Even though the birthplace of house music was just a stone's throw away from the home of twin brothers Jon and Bryan, it wasn't until they discovered dubstep that dance music took control of them. That's not to say music in general hasn't always played a crucial role in their lives—in fact, it was always front-and-center. But by the time they picked up production, things just snapped into place, and the two decided to take their brotherly bond behind the decks and the boards.
Since Jon and Bryan have such a rich and varied background in music, their productions have taken on an almost all-encompassing, eclectic feel. Running the gamut from dirty bassline breaks to funky, midtempo glitch, there's no genre the boys won't slap their gritty bottom-end sound onto.
This year alone has been huge for Birthdayy Partyy. Besides racking up nearly half a million streams and releasing official remixes for the likes of Autograf (fellow Chicago natives) and LUZCID, Jon and Bryan have begun to hit the festival circuit with appearances at Spring Awakening and EDC Las Vegas. Count that along with support from seemingly every corner of dance music, and you have the beginning of a very promising career.
"The Get Down" encapsulates everything that makes Birthdayy Partyy great. Channeling a little bit of the Chicago house funk, this record lights up the space with a slippery groove, a growling bassline, and bed of slappin' guitar work that steps up the funk from 1 to 30.
We sat down with Jon and Bryan to discuss their deep background in music and how they overcame stage fright to find a home under the spotlight.
Birthdayy Partyy's "The Get Down' is available here.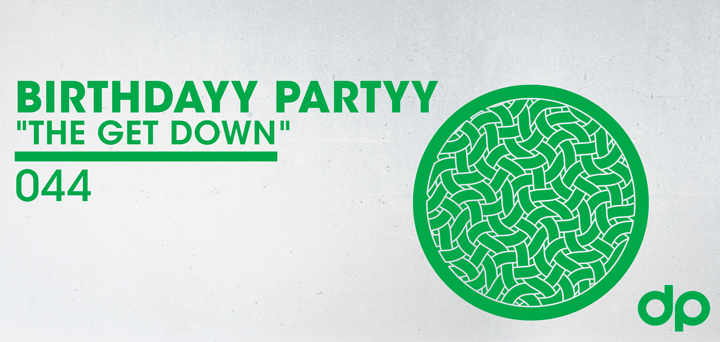 Has music always been a constant in your lives?
Jon: It absolutely has. We both started playing the guitar when we were in the 3rd grade, and Bryan also picked up the trumpet in 5th. The only thing that has been more constant than music is us annoying the crap out of each other.
Bryan: Jon was always the guitarist, while I kept adding instruments like trumpet, drums, bass, and keys. Knowing music theory has been a huge help. I also played in a cover band through most of high school and college, which gave me a good sense of full-spectrum arrangement.
Jon: I definitely wish I had the music theory knowledge that Bryan has, though. I just know what sounds good, but I never know why. I can't even read sheet music.
At what point did the switch turn on for dance music?
Jon: I'd say somewhere in 2009 or 2010. We found dubstep and were immediately blown away by all these new types of sounds we'd never heard before. It was so different from anything else we had known before, and we loved it. I think that dubstep influence can definitely still be heard in a lot of our tracks—even the ones that don't fall cleanly within the "bass music" umbrella.
Bryan: Artists like Flux Pavilion, Skrillex, and Bassnectar were really inspiring for us. The first full track I finished was a dubstep remix of "The Final Countdown" by Europe that was a straight rip-off of Flux Pavilion. I guess you gotta imitate before you can innovate, am I right?
How has living so close to Chicago had an influence on you musically?
Bryan: It's such a blessing to have been born so close to the dance music mecca that is Chicago. I'd like to think if you listen to our music, you'd agree that we landed exactly between our roots in bass music and our city's influence of house.
Jon: We consciously try and use some influence from classic Chicago house music by sampling disco and funk records, which is kind of how house music started in the first place. We're also blessed to get just about every tour that hits the US to come through Chicago, because it's such a huge market. So, the wide variety of music we get to see live has also had a huge effect on how diverse we want our music to be.
Did the two of you decide to start DJing at the same time?
Jon: I got shown how to use a Traktor S2 at this random house party when I was 21, because the dude who was playing got bored. I thought, "Wow, this is super fun. I want to do this more." Unfortunately, I didn't have the money to go out and buy my own, but Bryan bought a Traktor S4 probably the next month or so. He taught himself and then taught me. After we kind of had a basic idea of how to DJ, he started producing stuff… a few months after he had been putting in some real hours into his production, he was able to teach me a lot of what I know. As he'd learn new things, he'd teach me, and I'd pick up a few tricks on my own, as well.
Bryan: Even though I had the hardware, Jon definitely was more of the DJ. He would go into the bar we worked at in college to practice on the CDJs, and he helped walk me through them once we decided to switch to the industry-standard gear.
Bryan, you were in high school band, and Jon, you were in drama. Have you both always loved to perform?
Bryan: I wouldn't say I loved to perform, but I loved to create. I actually had pretty bad stage anxiety playing in my band, and I'd always be so stiff and stone-faced, to the point where people kept having to tell me to smile—still working on that.
Jon: I actually HATED being onstage before I started producing music. I was involved with theater, but it was the tech crew that built the sets, ran lights and sound, etc. I didn't want to be seen at all. I used to have really bad stage fright, but that subsided as I got better as a producer, because I finally had something to be confident about while I was up there. I finally felt like I deserved to be in front of people—although I still get a little nervous from time to time.
Follow Birthdayy Partyy on Facebook | Twitter | SoundCloud
Follow Discovery Project on Facebook | Twitter | SoundCloud

---
Share
---
Tags
---
You might also like