Dateless Dials It in for the Dancefloor on His 'Ever Work' EP for IN / ROTATION
In the last two years, Dateless has become a household name for modern house heads the world over. And it's not hard to see why everything is starting to click for the L.A.-based producer. He releases music at a blinding rate. Since 2016, he's dropped EPs on the heaviest hitting labels including Confession, Dirtybird, Cr2, and Toolroom. His incorporation of the spicy Latin flava—rooted in his Chilean and Argentinian backgrounds—makes his booty-shakin' beats prime for most any groove-thirsty dancefloor. And his skills as a DJ are second to none; just ask anyone who has witnessed him work a crowd until they have no more sweat left to give. His Ever Work EP just dropped on our ever-growing IN / ROTATION imprint, and it shows him dialing it in straight for the dancefloor.
The title cut, "Ever Work," makes the boldest impression, getting things going with a sassy vocal and a super saucy bassline. Next is "Funk It Up," taking things in a much more tech-friendly direction with its driving drum programming and punchy synth work. Going one deeper on the closing track, Dateless dips down into the dark and minimal with "The Key Holder." All three offerings get the job done, and some might even say they are overqualified for the position.
We caught up with Dateless to have a chat about how is brother got him into production, the way his temporary stay in South America changed his life, and what it was like to perform three sets in one night at EDC Las Vegas 2018.
Dateless' Ever Work EP is available here.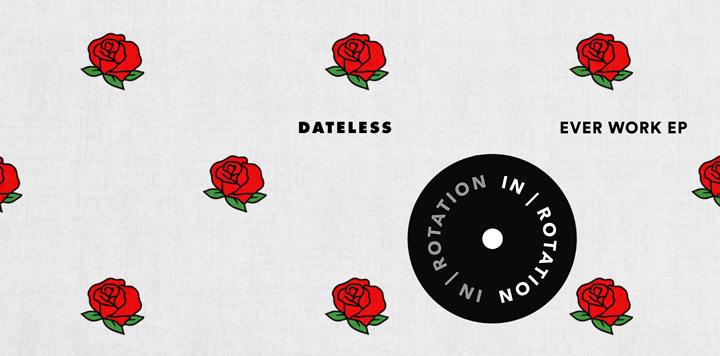 You lived in South America for six months and said it was a life-changing experience. How did it impact your music?
Definitely! My time in South America was crucial. The club scene I was introduced to was strictly rhythm-based dance music, whether it was reggaeton or percussive house with a heavy tribal influence, which is what influences my vibe tremendously.
Your older brother helped inspire you to dedicate yourself full-time to music. You guys have even worked together and DJed together. What's it like having a family member as a mentor?
It's a long story, but to sum it up, my bro introduced me into what is referred to now as EDM. He was actually on the rise as a duo when electro house was poppin' off, but due to the usual drama that happens between duos, they broke up. From there, I witnessed my brother become so discouraged that he gave up everything and hit the 9-to-5 circuit we all love so much. Having a front-row seat to his experience lit a fire inside me that has no intention of burning out. Fast-forward to now, I've thankfully inspired my bro to jump back into the game, and now we're getting ready to flip the house scene on its ass. It's safe to say Dateless & Lucati are in the house; recognize! <3
Speaking of family, music is definitely a family affair for you. Can you talk a little bit about how music has been a part of your life since you were born?
Since birth, my mom would constantly bump salsa and all sorts of Latin music in the house, and I've been shaking my ass ever since!
Shortly before you were signed to Dirtybird, you actually gave up on signing a track with them. Did this help you find your own sound?
Yeah, for sure. The second I stopped focusing on what others might've liked and focused more on what I liked and what I wanted to hear, it all magically came together.
You had a pretty intense Friday night at EDC this year. What was it like playing three sets on three vastly different stages?
Oh man, all I have to say is: unreal experience—absolutely unreal.
Follow Dateless on Facebook | Twitter | SoundCloud
Follow IN / ROTATION on Facebook | Twitter | SoundCloud
---
Share
---
Tags
---
You might also like