Dateless and Shermanology Deliver Ravey House Bliss on "Disappear" for IN / ROTATION
L.A.'s Dateless is such a steady grinder that he had a big mention on this site only a week ago. But he's already back in action, reaching out to an equally notable Amsterdam duo, Shermanology, for a collab. Together, they're about to drop one monster of a tech house track on IN / ROTATION.
"Disappear" is a straight-up heavy tune that carries a hefty low-end with bursts of big energy. While Dateless and Shermanology are both known for their unique angles on music, here, they've generally set them aside to meet in the middle. The question then is how to make traditional four-on-the-floor music really captivate. Their choice seems to be a driving beat, with locked-in body-moving rhythms, set under big classic rave synth stabs and bass. Punctuated by a sometimes pitched-down vocal hook, "Disappear" lands solidly on all fronts. The groove is undeniable, while the dynamic builds and drives. Choice moments see the structure rise and crash back down with hands-in-the-air flair.
Clearly aimed at a prime time slot, Dateless and Shermanology have really rolled up their sleeves and put serious work into the finished product. This one is a solid win for the two.
Shermanology and Dateless' "Disappear" is available here.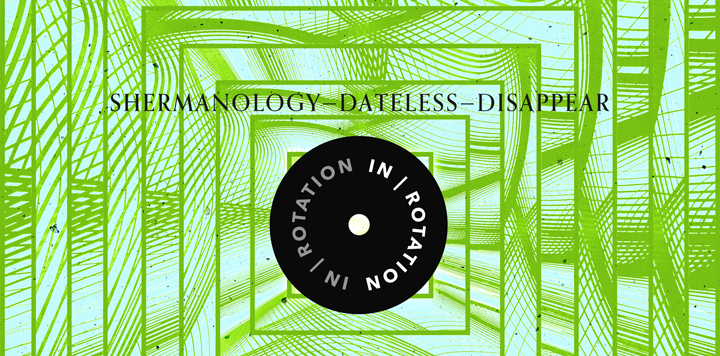 How did the two of you decide to team up for this release?
Dateless: I think this collab came together due to our mutual respect for one another's works of art, etc. <3
Shermanology: We've been fans of Dateless since day one. So, for us to collab was a big honor.
You both tend to lean into your own specific takes on electronic music, but "Disappear" feels like something unique outside of those directions. Was that something you felt as well?
D: Without a doubt. This tune had a couple different versions, actually. I had laid down a tech bassline, sent it back to Andy, and he returned it with the catchy garage bassline layered on top. Although it's not exactly my sound, I dug it and said, "Track's done!"
S: I always wanted to put all my garage influences in a house track without it being a full UK garage track. With Dateless, it all came together. I was happy with the result.
The classic rave sounds really seem to push this one to the next level. How did those choices come about?
D: Yeah, I really like those elements. This one's a question for Andy, as these were great additions made by him.
S: I'm a big fan of the old-skool rave sounds. Back in the days, that was the sound that triggered me, standing on the dancefloor. So, we decided to combine the new-skool and the old-skool.
Do you have a specific memory of a party or rave, etc., when you really felt it all click? And how do you think that directly led you down the path you're on today?
D: EDC 2010 at the neonGARDEN stage, watching Umek and then Carl Cox. Ninety percent of my sound and direction comes from that moment in time.
S: In Holland, there was a club called Now and Wow! That's where I got a lot of my inspiration [from] DJs like Benny Rodrigues, Cleon Macnack, Joey Daniel, and more.
You've both played to some very large crowds. What do you do to really reach and move those crowds?
D: I tend to play as if I'm in the crowd, listening. You could say I'm just a crazy fan who snuck backstage and jumped on the decks.
S: We always party ourselves onstage—and most of the time, the crowd follows. I never think about how big the crowd is. It's all about the good vibes.
What do you both have in the works next?
D: Preparing my music library with loads of new Dateless material—let's call it Dateless 2.0! [My] agent is working on putting me back on the road, but in the meantime, the next big crowd I'll be in front of will be EDC Mexico.
S: We have some big tunes coming up with Dennis Quin, but also with Juan Magan and Akon.
Follow Dateless on Facebook | Twitter | SoundCloud
Follow Shermanology on Facebook | Twitter | SoundCloud
Follow IN / ROTATION on Facebook | Twitter | SoundCloud
---
Share
---
Tags
---
You might also like