Cut From the Catalog: Psycho Disco!
Record labels have long been the gatekeepers of the dance music space, as they continuously define and reshape tastes via releases, endless talent scouting, and the curation of brand-hosted parties. In our Cut From the Catalog series, we big-up established and buzzing imprints alike by taking a look at the organizations' ops while running through a retrospective mix built solely from their respective catalogs.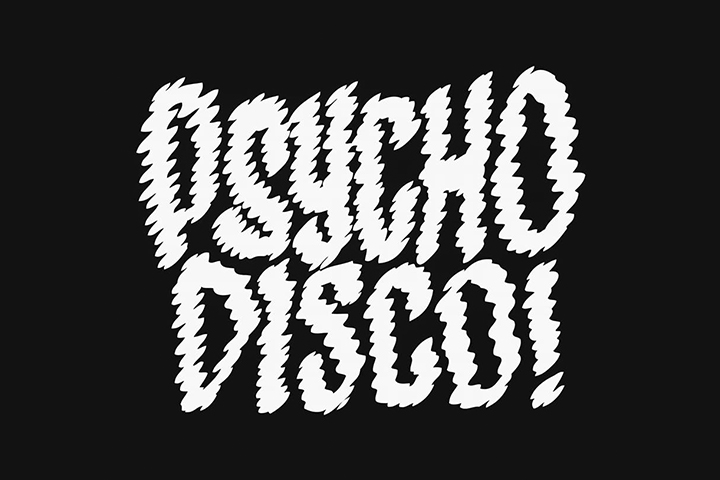 Treasure Fingers is a familiar name to anyone who has been in the world of four-on-the-floor music for the past decade. The artist is as known for genre-bending tracks that carry deep grooves as he is for epic DJ sets that stand out for their tight curation and dancefloor-packing sensibility.
With a work ethic as relentless as his track selections, it was only a natural move for the Atlanta-based artist to start his own label in 2015. Christened Psycho Disco!, the imprint has been hitting the scene hard and heavy ever since. With a number of successful releases from the likes of Gettoblaster, Codes, Holt 88, Astronomar, and more, Psycho Disco! has operated with a desire to give artists more control over their releases, create a greater sense of community, and give a specific vision to a deep and vibrant sound that Treasure Fingers identifies with.
Before all of this, the journey for Ashley Jones (aka Treasure Fingers) started with a different name, the Enemy, and with a different project, the hard-hitting drum & bass trio Evol Intent. The impetus to change wasn't so much to move away from the D&B scene as it was to explore other ideas in electronic music.
"I've always flirted with producing other genres on the side," Jones explains. "I've also always been drawn to more experimental music and got really inspired specifically by the first Soft Pink Truth (side project from one of the Matmos guys) album. It was experimental house, super funky, with some glitch and micro-sampling production style. That's what kicked off the more house/disco direction of what became Treasure Fingers a few years later. The project officially launched after I showed what I had been working on to some friends and ended up doing a remix for the band Snowden. Shortly after that, 'Cross the Dancefloor' made its rounds on blogs, then Fool's Gold signed it, and I started officially touring as Treasure Fingers."
Taking full advantage of that initial success, the newly donned Treasure Fingers went full-force into that identity and sound, touring and releasing more music nonstop. And as that success continued to grow and evolve over the years, so did the artist's goals and desires. The next level, it seemed, was to regroup in Atlanta with a new club night called Psycho Disco, which would also serve as the name for a new record label to match. The idea was to give house music a foothold to express what it felt like in the contemporary world.
"If you time-traveled back, picked up Larry Levan, brought him to 2019 and showed him what was going on, he'd probably be like, 'What the fuck, this is crazy,' but also dig how certain things have evolved."
"It was all conceived at the same time," Jones recalls. "I knew I wanted to start a label but also have it serve as a club night and be able to expand into more. That thinking is what led to going with the 'Psycho Disco' name. In its purest form, current house and club music share the same ethos as when disco culture (discotheques, disc jockeys, disco music) kicked off in the '70s. I wanted to portray that, but fast-forward to the leading edge of what's happening in the scene now. Like, if you time-traveled back, picked up Larry Levan, brought him to 2019 and showed him what was going on, he'd probably be like, 'What the fuck, this is crazy,' but also dig how certain things have evolved."
Launching Psycho Disco! with a release of his own, "Kool Aid & Sunny-D," Treasure Fingers unified his new role as an artist, a promoter, and a label boss. The gamble has paid off—each one seeing continued success through their interplay—with a weekly radio show added to the mix as the final piece of the puzzle.
Jones explains what the bigger picture looks like: "The love for new music works out great with how Treasure Fingers and Psycho Disco! have evolved within the past few years. Running the label and the weekly show always has my ear to the ground on all the latest tracks and newest artists, which in turn inspires me to step my own production game up and keep things fresh."
A big part of the Psycho Disco! label is to help the artist feel as though they have more control over their releases. With typical complaints surrounding everything from release dates to promotion or even album art, Jones keeps in close contact with the producers, making sure each party feels connected to every step of a release. Even as Psycho Disco! grows in output and notoriety, that mission stays at the forefront. "It's not super easy, but something we strive for. Being accommodating with the artist's schedule, vision, and overall goals really helps both parties."
After the success of the first releases, Treasure Fingers' aforementioned Kool Aid & Sunny-D EP and a follow-up album of remixes, the first EP led by an artist other than the label's founder was by 18-year-old Floridian Landis LaPace. The simply titled Caffeine featured two tracks (and a remix by none other than Treasure Fingers) of raw house sounds filled with heavy grooves, rolling basslines, and angular acid. The release helped tap in to the bigger picture, as Jones states. "He started sending me promos that were exactly the sound I was looking for, so I asked if he had any unsigned tracks he'd want to release on my new label. He sent over that EP, and I immediately jumped on it. I think it was a very integral release to show the label's musical direction."
Expanding on the push and pull of measuring that sound against what makes for a good release, Treasure Fingers goes on to say, "There are certain margins I have set in my head, I guess, but the main thing is just getting excited by the music while also meeting a certain level of production quality. There's a lot of REALLY well produced tech house out there, but if a drunk person in the club can't even describe a track to their friend the next day, then it's just another nondescript filler track. On the other hand, I've heard some really creative tracks that sounded like shit, so finding that balance is the magic formula. I don't put too much weight in how big or good the artist is before listening. I've had to turn down some tracks from some amazing and already successful producers because they didn't quite fit the sound we're aiming for."
That balance has paid off so far, earning accolades for a number of releases (some of which have made Track of the Day on this website). Still, there's more to the equation than simply sound and style.
"As an artist, it sucks when a label unnecessarily fumbles a release—so I try to combat that as hard as possible and make the shit pop."
"When I hear something I want to put out, I like to see what else the artist has going on and get a gauge for their work ethic and passion. If we're both on the same page, pushing hard, then there's not much that can get in the way to mess that up."
Beyond making for successful releases, these criteria also help bring artists back to the label to release more music (most recently, Astronomar returned to release his That Thing EP). Jones views this from the perspective of the artist: "I like to think they trust us with their art and vision… As an artist, it sucks when a label unnecessarily fumbles a release—so I try to combat that as hard as possible and make the shit pop."
Keeping the label going, on top of all of Jones' other obligations, can be tricky. It takes a couple of additional dedicated people to make sure things all go off without a hitch.
"It's mostly me and my wife, Molli, who is label manager, on the day-to-day operations. We also have Camille Cushman helping us on the press side, and Hunter Reid helps with A&R, sniffing out new artists. We have about a three releases a month, so we've really been serious about pumping out all this really good music. I haven't had much time to work on my own music, but I'm starting to find my footing and make improvements in my time management. One day, I'd like to be able to hire a full-time staff and build a really cool crew of like-minded people, all working toward making Psycho Disco! a household name with house DJs and fans internationally."
Jones is optimistic, with plans for 2019 reflecting that expansive vision: "We're just gonna keep on moving. We've got some really hot records scheduled throughout the year, and keeping the parties going, obviously. Our main goal is expanding our fan base and strengthening our ties with those already familiar. Build this thing into a full movement."
Treasure Fingers leaves us today with a stellar mix to help illustrate the Psycho Disco! concept, hitting on the type of deep vibes and atmosphere that have already propelled the label to prominent footing.
"I tried to touch on the different styles within our spectrum and pull out a few of my favorite tunes from the past few years that I feel define the label. It starts off fun and quirky, gets into some serious rolling tech house, and ends with Codes' 'Bumps,' which has been one of our biggest records to date. Even though there are tons of my favorite records I had to leave out, I think it's a solid hour-long snapshot of what Psycho Disco! is about and where we came from."
Psycho Disco's 'Cut From the Catalog' Mix Track List

Treasure Fingers "Koolaid"
Gettoblaster & Just Alexander "Bubble"
909 Til Infinity "Don't Clock Me Out"
Sage Armstrong & Astronomar "Up Down Left Right" (Hunter Reid remix)
Lux Groove "Setup" (Mark Starr remix)
Steve Darko "Wreck Yourself"
Ocean Roulette "Froze Up"
Fritz Carlton "Teleport"
ZDS "Do You Like"
Option4 "Back2Business"
Grensta "Chunky G"
Treasure Fingers & Vanilla Ace "Sweat"
LA Riots "House Is a Feeling"
John Summit "Touch Me"
Black Girl / White Girl "Rave Slang"
Treasure Fingers "Bodyrocking"
Codes "Bumps"
Follow Treasure Fingers on Facebook | Twitter | SoundCloud
Follow Psycho Disco! on Facebook | Twitter | SoundCloud
---
Share
---
Tags
---
You might also like