Crisis Era Kills It With the Hard Dance Crossover Vibes on Escape: Psycho Circus 2018 Mix
Are you ready?
It's a simple but necessary question when Crisis Era steps to the decks.
The hyperkinetic hard dance duo of Matt Bekh and Silas Wind broke out of Western Canada (Vancouver, to be exact) armed with an arsenal of soul-shaking, floor-quaking beats for the world.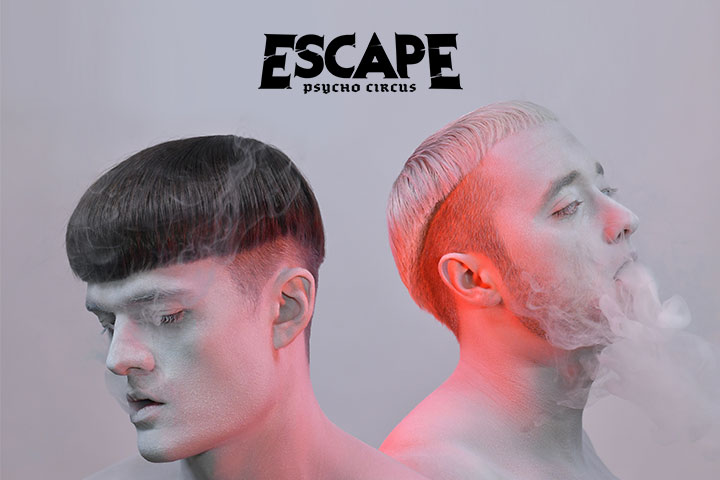 "The dance music scene in Canada is stronger than ever," they explained ahead of the group's set at Insomniac's forthcoming two-day Halloween festival, Escape: Psycho Circus. "DJs of all different styles are killing it up here, and there's no shortage of parties for the fans."
With the duo repping hard for Western Canada, they insist that their country is not one for East Coast/West Coast beef.
"We wouldn't call it a competition. People rarely travel across the country for music festivals in Canada," they explained. "Just a bunch of people looking to have a good time."
Fans psyched for the Crisis Era experience should dial up this exclusive highest-energy mix from the duo, chock full of storming tracks and body-moving remixes from rap heroes like Cardi B.
"Our set at Escape will be a little different, because we're doing a back-to-back with Wasted Penguinz," they revealed. "Expect our signature crossover style, combined with their trademark melodic vibes. It's not our first time playing with them. It always turns out to be something special."
As for how they'd explain themselves to a dance music fan new to their sound, the guys kept it simple and direct.
"We are known for our energetic live performances. If you're ready to completely lose your shit on the dancefloor, come by our set and party!"
The group has a variety of releases to look forward to in the near future, promising "a bunch of collabs with guys like Yellow Claw, Mike Cervello, Ibranovski, and a few other others. Look out for us performing live in the States, Canada, and the Asian circuit over the coming months."
When pressed about their Halloween costumes for 2018, the guys are keeping their plans under wraps ("We wouldn't dare spoil the surprise"). Still, we were determined to get some spooky information out of the duo, and they eventually relented when asked to share the scariest record they could think of: "Just google 'terrorcore,' and brace yourself."
Crisis Era is playing at Escape: Psycho Circus 2018, which takes place Friday, October 26, and Saturday, October 27, at the NOS Events Center in San Bernardino, CA. Tickets are on sale now. For more information, visit the official website.
Crisis Era's Escape: Psycho Circus 2018 Mix Track List

ID – ID

Crisis Era "Shake"

Valentino Khan "Deep Down Low" (DJ Ravine & Arbee Flip)

DJ Snake & Jauz "Gassed Up"

Valentino Khan "Lick It" (Crisis Era Flip)

Wiwek & Mike Cervello "Namek"

Jauz "Super Fly"

Code Black "Lowr U Go"

Alison Wonderland "Good Enough" (Valentino Khan Remix)

Wuki "Go Deep"

TYNAN & Kompany "Extraterrestrial"

Eptic "Watch Out"

LNY TNZ & DJ Punish ft. Mr. Polska "Rakata"

Bassjackers "Let It Bang"

Yellow Claw & DJ Snake "Public Enemy"

DJ Snake & Higher Brothers "Made in China"

Flosstradamus & NGHTMRE "MVP" (NGHTMRE Remix)

Cardi B, Bad Bunny, J Balvin "I Like It" (Dillon Francis Remix)

Wuki "Chop It"

Rusko "Jahova"

Zhu "Exhale"

SLVR, Jimmy Wit an H "Feeling"

Crisis Era & SLVR "If U Like"

SLVR "Old Picta"

Ibranovski – ID

Crisis Era & Seth Hills "Basslevel"

Crisis Era & Mike Cervello "Oldschool Sound"

Eminem, Joyner Lucas "Lucky You"

Gent & Jawns "Collecta"

RayRay & Crisis Era "Ninja"

Snails, NGHTMRE, Kill the Noise "Only Want U" (Kill the Noise Remix)

Yellow Claw, Bok Nero "Loudest MF" (Crisis Era Remix)

4B & Teez "Whistle" (Nitti Gritti Remix)

Snavs "Rapture"

Crisis Era "Drop It Low"

Stoltenhoff & Skellism "Jump!"

Yellow Claw & Juyen Sebulba "Do You Like Bass?" (Crisis Era Remix)

Mike Cervello & the Galaxy "Luxor II"

The Upbeats, Noisia "Long Shadows"

Lil Wayne, Travis Scott "Let It Fly"

Poseidon & AETERNA "Zen Mirage"

Pegboard Nerds "Purple People Eater"

Darren Styles, Gammer, Dougal "Burning Up"

Dither & Cesqeaux "Lethal Drop"

RL Grime, Daya "I Wanna Know" (Mike Cervello Remix)

Abstract Elements & Subwave "Posthuman"

Stoltenhoff "Berserk Warrior"

Lorn "Replika"

Ekali ft. Mossy "Stay Hollow"
Follow Crisis Era on Facebook | Twitter | SoundCloud
Follow Escape: Psycho Circus on Facebook | Twitter | Instagram
---
Share
---
Tags
---
You might also like