Coming Soon!!! Takes You on a Psychedelic Ride in Dreamstate San Francisco 2018 Mix
The formation of Coming Soon!!!, the up-and-coming duo putting a new spin on progressive psytrance, was really only a matter of time. Hailing from Israel, home to one of the strongest psytrance communities in the world, producers/DJs Dui Biton and Irad Brant grew up with trance and psytrance in their blood.
"As young kids, we were always around trance music in Israel," says Brant, one half of the duo. "In those days, parties were amazing; the underground movement attracted us a lot."
Biton and Brant had been active in the Israeli psytrance scene, both as self-described ravers and solo artists—with Brant producing as Switch and Biton going by Cycle Sphere—before officially joining forces as a duo. Initially, the two linked up to produce a collaborative track. But once they were in the studio together, they felt an immediate energy and undeniable creative bond.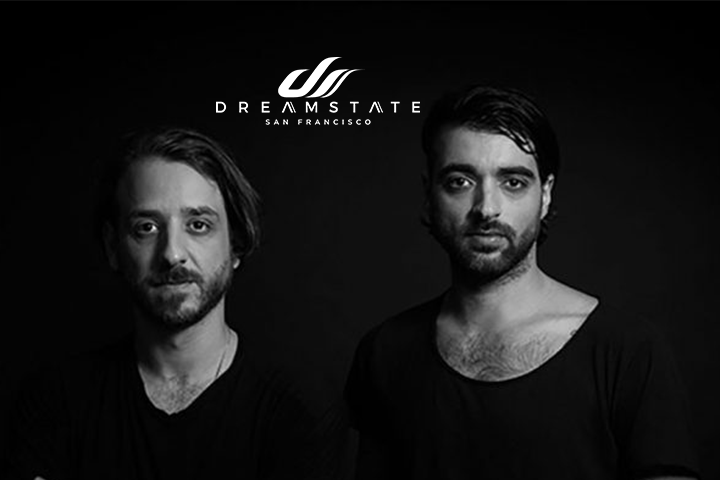 "We were always very good friends, and [we] just decided to sit in the studio to see what comes up," Brant says of the group's formative days.
For an entire month, Biton and Brant fully committed themselves to music, eating and breathing the studio life—and often sleeping in the studio—as they experimented with noises and tinkered with beats to create what would eventually become the Coming Soon!!! sound. In 2012, they finally cracked the code, and Coming Soon!!! was born.
Today, they are considered one of the leading acts in progressive psytrance. Their growing discography has seen them release originals and remixes with seminal underground labels Spin Twist and Iboga, among others. They've also added their so-called Midas touch to remixes for fellow psytrance artists like Neelix, Captain Hook, and Freedom Fighters.
With the psytrance scene exploding here in the US and psytrance movements growing around the world, the genre is experiencing global expansion like never before.
Brant, for one, has seen the scene blossom from local gatherings in his hometown to full-on international massives. Still, he maintains that the close-knit community and family-like bonds he experienced in 2003, when he first discovered psytrance, remain integral to the movement.
"It started as a small scene… everybody [knew] each other, and that mentality stuck."
It's not just the psytrance community that's taking notice. With crossover artists like Steve Aoki, KAYZO, and Dimitri Vegas & Like Mike dipping their toes into the fast-paced genre, psytrance has become the inescapable sound capturing eyes and ears around the world. Even international trance legend Armin van Buuren is on board: He's collabed with psytrance greats Vini Vici on "Great Spirit," and he even released his own solo psytrance festival anthem, "Blah Blah Blah," earlier this year on his Armada Music imprint. Armin, too, counts himself a Coming Soon!!! fan: He's released the duo's music on his Armada sublabel Who's Afraid of 138?!, and he enlisted the dudes to perform at his A State of Trance festival in the Netherlands, making them the first psytrance DJs to perform at the event.
"It's nice to see that the scene is growing and being more accepted by the more mainstream DJs," says Brant.
Beyond their psychedelic sound, Coming Soon!!! are a powerful force behind the DJ decks. In fact, they're known to go harder onstage than most ravers on the dancefloor—so, expect them to outlast you on any given day. Headliners will experience the frenzy firsthand when Coming Soon!!! thrown down at the third annual Dreamstate San Francisco, which returns to NorCal Friday, August 17, and Saturday, August 18, at Bill Graham Civic Auditorium.
Ahead of their performance next week, Coming Soon!!! have delivered an exclusive mix jam-packed with trippy psytrance, mind-expanding basslines, wild mashups, and a new track that's set for release from the duo later this year (see if you can spot it in the mix).
Press play above, and take a psychedelic ride with Coming Soon!!! as your guides. Make sure to catch them in the flesh at Dreamstate San Francisco 2018.
Dreamstate San Francisco 2018 takes place Friday, August 17, and Saturday, August 18, at Bill Graham Civic Auditorium in San Francisco, CA. Tickets are on sale now. For more information, visit the official website.
Follow Coming Soon!!! on Facebook | Twitter | SoundCloud
Follow Dreamstate on Facebook | Twitter | Instagram
---
Share
---
Tags
---
You might also like