CODES Will Increase Your Pulse With Shifty Basslines on His 'Heartbeat' EP for IN / ROTATION
CODES has spent the last several years spreading the house music gospel, while quickly becoming one of the scene's most prolific underground champions. His trademark sound comes replete with bold New York swag and expertly refined groove sensibilities. So, it's easy to understand why the New York producer is highly sought-after by DJs of every persuasion and record labels, such as Dirtybird, Main Course, Night Bass, and Psycho Disco. On his debut Heartbeat EP for IN / ROTATION, he continues to retarget the intersection between attitude-driven bass and bouncy house flava.
The two-tracker opens with "Heartbeat," an offering he holds particularly near and dear. He harnesses the dark, rolling basslines he's become known for in the past, but in new and exciting ways. It shows an utterly eerie vocal duel of alarming female cackles and a bone-tingling male hook, battling it out under a constantly mutating bassline. What jumps out most, though, is how adept CODES is at weaving interplaying synths and themes into a song that constantly shifts underneath your feet.
He stays on a similar path with "To the Beat," only injecting a bit more of that signature synth juggle he has perfected beyond belief. The pulsating house vocal plays into the rhythm neatly and acts like a siren call to the dancefloor. And, as is always the case, he takes a nod from his favorite genre ('90s jungle) and lets the bassline do most of the heavy lifting.
CODES has had plenty of opportunities to test these heaters out on some very lucky dancefloors, but his recent trip to Electric Forest was an especially poignant one. Not only did he get to rep his signature blend of bumpy beats as part of the insane This Ain't Bristol takeover at the Forest Stage, but he also had the opportunity to return to his turntablist roots (and do it in proper renegade fashion). We had the chance to speak with him about his experience at that festival, how he fell in love with dance music in the first place, and how his New York upbringing plays into his music.
CODES' Heartbeat EP is available here.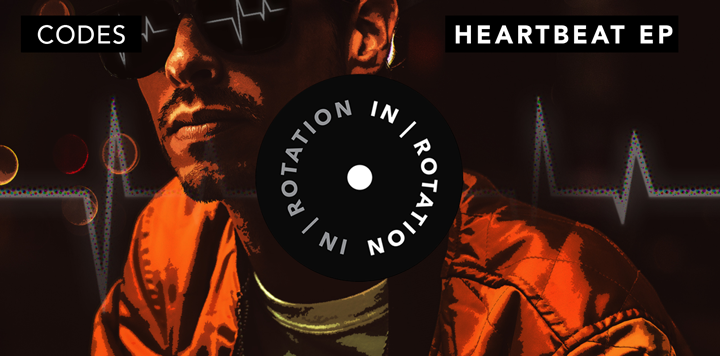 While at Electric Forest first weekend, you got down on some renegade action with a beatboxer. Can you tell us a bit more about that experience?
I linked with a super dope beatboxer that goes by Honeycomb. The second night, I was there for his set at the Grand Artique, and he brought me up on the fly at the end of his set. That's where I met Psychadelic, who was the MC we rocked with that whole weekend. Something really clicked, so we did a renegade the next day in the middle of the Forest. To top it off, we had IE, who is a sick magician rolling around with us. He was gathering people to add to our group by blowing their minds with these crazy card tricks. We literally had a mini circus.
Honeycomb has a big-ass speaker and was using a loop station, while I had my portable turntable hooked up, doing the cuts and scratching some phrases. Everything from the place we would set up to the tempo we would rock at was improvised—some shit I'll never forget and will def do every year. I'm also gonna work on some tunes with these guys, and maybe we will start an actual circus.
What do you think it is about an event like Electric Forest that brings these kinds of experiences to the surface?
Besides the fact that it's a magical forest, it's not very close to much, so you really have to love the music and everything about it to truck it out there. Then, jamming that much creative energy and music into a place like that, the possibilities are endless. Def one of my favorite festivals I have ever played.
You recently posted a video of you getting down on the dancefloor at a Night Bass show. How important is it to you that you experience music from the other side?
Damn, that show was something else! I am guilty of being onstage, nodding or jumping around when a homie or label mate is on, but I just as much love to be in the crowd. That's where the raw, live energy is. As a DJ, you create the vibe and energy of the room, but when done right, it multiplies and reflects in the crowd. Last weekend, AC Slater tapped Sinden and me and said, "Yo, let's go jump in the crowd for the last song." So, we did, lol. Shout out to all the Night Bass fam!
You grew up in Rochester but have spent the last several years in Brooklyn. How does that change in your environment play into your music?
I moved to Brooklyn about 16 years ago. The constant hustle is real af. To live off making music—especially house music and DJing—is not for the weak at heart, haha. It's a bit abusive at times, but maybe that's why Heartbeat turned out so dark and weird. It's always some kind of extreme. I guess most of my EPs are like that, too. My DJ style, and even the vibe to my house music, have a bit of an NY hip-hop/dancehall undertone to it, as well.
When did you fall in love with dance music, and how do you keep that early hunger going?
I went to my first rave when I was really young, in Rochester. I didn't do any drugs or drink any booze; I was just blown away by the music. I bought a mixtape on the way out—a DJ mixing and scratching over all these old-school jungle records—that I still love to this day. Def was inspiration and some sort of a bible or blueprint I still stay true to in a lot of ways.
Follow CODES on Facebook | Twitter | SoundCloud
Follow IN / ROTATION on Facebook | Twitter | SoundCloud
---
Share
---
Tags
---
You might also like