Champagne Drip Flies Into the Future With a Mind-Bending Nocturnal Wonderland 2017 Mix
Simply put: Champagne Drip is not messing around.
His mind-bending mix for Nocturnal Wonderland 2017 is packed with so many otherworldly beats and drops, it could easily be taken as something beamed back from the year 3017.
A manic mashup of his own remixes for the likes of Diplo, Zeds Dead, Dillon Francis and NGHTMRE, alongside his own original tracks (including some credited to his earlier moniker, SPL, under which he made music for more than a decade), Champagne Drip has proved himself to be a true mix-master Jedi from another dimension, offering listeners a glimpse into his technicolor world.
"It's important for me to have the focus of the project be on the music and aesthetic I'm using," he told Insomniac about the mysterious nature of all things Champagne Drip. "I felt like if people knew where the project was coming from and what my history was, it might create some sort of expectation from the listener. I wanted carte blanche when launching this thing."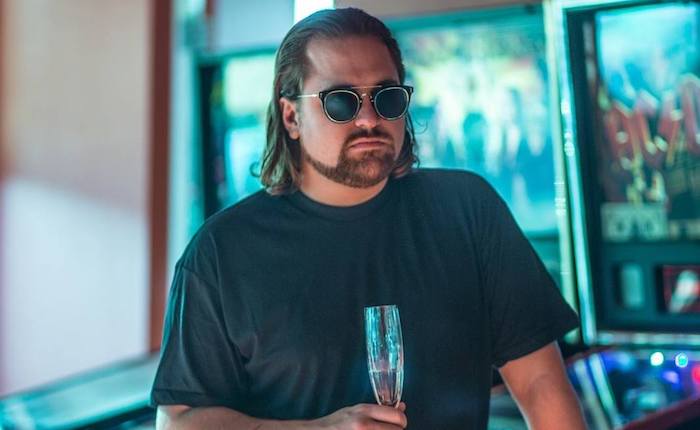 Combining elements of everything from trap to footwork to drum & bass and beyond, Champagne Drip's new mix should definitely have scores of Headliners including him in their list of must-see sets for this weekend.
"Every track can be really different, but the vibe and emotion of the songs come from musical energy," he explained about the panoramic nature of his innovative sound. "When I'm remixing, I'm using the vocals from the original and then maybe borrowing musical elements from it, such as chords and melodies. Whatever genre these elements come from doesn't really matter to me. At the end of the day, I'm just taking a track and getting creative with production and expressing myself."
The manic energy and ingenuity of Champagne Drip's Nocturnal Wonderland 2017 mix is that it will surely get minds moving, as well as bodies, hitting with a positive cerebral punch that's also a lot of fun—like when he applies his remixing prowess to Ghost Town DJ's dancefloor R&B classic "My Boo."
With releases on a variety of imprints, including Mad Decent, Deadbeats and Quality Goods, he looks well beyond what's happening now when making music, focusing instead on top-notch tunes that can exist well beyond their time.
"I think good music will always hold in the long run," he estimates of what listeners can expect going forward. "Stylistic trends will come and go."
Nocturnal Wonderland 2017 takes place Friday, September 15, and Saturday, September 16, at Glen Helen Regional Park in San Bernardino, CA. For more information, visit the official website.
Champagne Drip Nocturnal Wonderland Track List:

Champagne Drip "Show Me the Stars"
ID - ID
Dillon Francis & NGHTMRE "Need U" (Champagne Drip Remix)
Champagne Drip "Of Course I Still Love You"
Champagne Drip "Blue Science
Champagne Drip "Oni" (Sayer Remix)
ID - ID
Mad Zach "Blackout"
ID - ID
Noisia "Tentacles" (Ivy Lab Remix)
What So Not "Divide & Conquer" (Noisia Remix)
Champagne Drip "Ikebana"
SPL "The Vision"
SPL "Hypnotizing VIP"
Zeds Dead & Diplo ft. Elliphant "Blame" (Champagne Drip Remix)
DMVU "Bloccd"
Zeke Beats "Yuck"
G Jones & Sayer "Who Runnin Em"
Buku "Control"
ID - ID
Champagne Drip "Scattered"
ID - ID
ID - ID
Follow Champagne Drip on Facebook | Twitter | SoundCloud
Follow Nocturnal Wonderland on Facebook | Twitter | Instagram
---
Share
---
Tags
---
You might also like