Born Dirty Brings the Heat With Banging Audiotistic SoCal 2018 Playlist
From the UK house scene of West London to the vibrant jazz culture of France, Born Dirty has soaked up scores of musical influences, and they're interweaved throughout his genre-defying style. His multifaceted house sound is a melting pot of those disparate tastes, as he is known to casually dip into silky smooth techno, funky hip-hop, tribal afrobeats, and vivacious B-more.
Since the project's inception in 2015, Born Dirty has earned his place among house music's finest, slamming out endless bangers to follow up his initial hit track, "Don't Stop Get It." The scope and downright genius of his music has garnered the attention of many, with releases on revered electronic labels like Mad Decent, OWSLA, Night Bass, and our very own Insomniac Records ("Crazy" is an absolute heater that still hits the spot).
The personality and groove quintessential to Born Dirty tracks keep his Team Dirty fan base begging for more, and there are no signs of slowing from this French powerhouse. This has been a banner year for BD, in which you could have found him playing raging b2bs with Anna Lunoe, lighting up festivals such as Escape: Psycho Circus, and touring the country with Jack Beats and Chris Lake. Now, with the recent relaunch of his own label Way Way Records and a forthcoming album, Born Dirty is set to keep things extra filthy while moving into 2019 and beyond.
So, what's the inside scoop on this fast-rising house guru? We picked his brain in the lead-up to his highly anticipated set at Audiotistic SoCal later this month.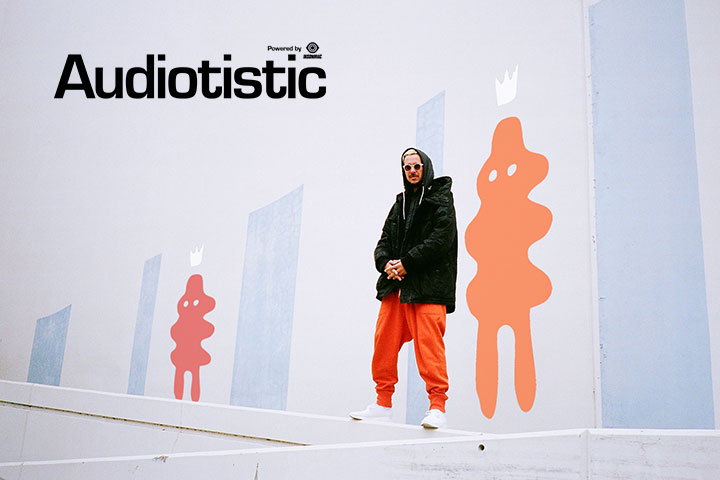 With huge releases and sets at some massive festivals like EDC Las Vegas, Holy Ship! and HARD Summer, 2018 has been a pivotal year for Born Dirty. What are some personal highlights?
Really hard to answer that one, because I've had so many! First time at Shambhala, HARD and Splash House, to name just a few. Supporting Chris Lake on the Southern Cali leg of his sold-out Black Book Tour was insane. Touring the whole of the US, Australia, Japan, and more… nuts! Releasing a tune with the sis Anna Lunoe, a feature with Jstlbby, working with G Perico, and a collab with my brother Will Clarke made it all pretty insane for 2018.
Your newest track, "Get Up Get Out," is quite the motivational banger. What inspired you to create a track around the sample from Jstlbby?
Thank you! I love going online and sample random vocals from YouTube and chop them up. I was following Amber, and obviously that one particular post she had stuck with me. I sampled it and kept it in my acapella bank. I was on a bus going from Austin to Dallas and I started a beat, then added the vocals in, chopped them, got to the hotel, gave it a mix, and played it that night at the show. WENT OFF! I knew I had something good going.
As a tastemaker and an artist willing to explore many genres, what sounds are you most excited about right now?
I'm not entirely sure right now. I'm in a phase where I don't really fuck with a lot of music. I'm mostly listening to new soul, R&B and indie shit—Gabriel Garzon-Montano, Electric Wire Hustle, Daniel Caesar, Son Lux, and Monte Booker.
You've recently created your very own label, Way Way Records, and announced that you're willing to release any quality music, "electronic or not." Can you talk more about your vision for the label?
Actually, Way Way was created a few years back to be able to release BD tunes, if needed. Today, I'm re-opening it. The idea is to help artists get some sort of exposure and connect them with the right persons, so they can evolve into who they want to be. I want the label to be open-format, open-minded. XL Recordings always was a label I looked up to.
I listen to almost every genre of music, and I know a lot of people feel the same way. I want them to be able to go to Way Way and listen to a beautiful, soulful folk song and then onto a crazy, forward-thinking garage tune, then through a hip-hop banger, then back to some fresh tech house.
Who are some of the artists you'd like to sign, either big or small?
Gabriel Garzon Montano, Arin Ray, Slowthai, Cam & China, Damso, 070 Shake, Truncate, YDIZZY, and FARR.
What vibe were you trying to create when putting together this playlist for Audiotistic SoCal?
I've been working on hip-hop tracks, so I guess I just wanted to put some BD tunes mixed with hip-hop/grime tunes that I fuck with—get a blend! 
Do you have any words for those thinking about catching your set at the festival?
Come and get DUTTY! I will bring you vibes that you won't catch anywhere else. x
As 2018 comes to a close, what are your goals for the new year?
In 2019, I want to make more time for others, connect more, and break more barriers with music. Also, I want to drop an album before the summer and plan on touring it with a band as Born Dirty Live.
Born Dirty is playing Audiotistic SoCal 2018, which takes place Saturday, December 29, at NOS Events Center in San Bernardino, CA. Tickets are on sale now. For more information, visit the official website.
Follow Born Dirty on Facebook | Twitter | SoundCloud
Follow Audiotistic on Facebook | Twitter | Instagram
---
Share
---
Tags
---
You might also like