Born Dirty Fraps Up B-Boy and Electro Breaks on "Crazy" for Insomniac Records
Born in Israel. Raised in France. Cutting his teeth in England, London. Now based in the low-down, sweet-scened, dirty dog of a town that is Los Angeles. It's said that style comes from experience, and it's not difficult, even on first spin, to taste the electro, the breaks, the hip-hop—the many flavors accumulated on such a journey. And it works. It's worked since inception in 2015, and the safe money is on it continuing to do so.
In those three short years, Born Dirty has streaked heavenward as though launched from the crackling mouth of a plasma cannon—with drops on more legit labels that there is space here to name. BD's walloped the eardrums of goers at EDC Las Vegas, Nocturnal Wonderland and, most recently, Countdown NYE 2017.
Here in the now, Insomniac Records offers up "Crazy." It's a garage-driven dreamer, frapping up B-boy hip and electro breaks—heavy on the atmospheric—which, if you're receptive, will deliver a punch to your prefrontal cortex that seems to say, "There's no written rule that EDM must make you happy. But right now? You are."
Summertime can't get here quickly enough for "Crazy."
We caught up with Born Dirty to get a bit of insight into what came before, what's happening, and what's to come.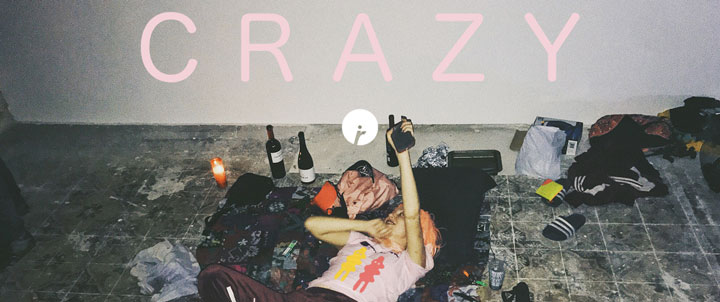 Your new single on Insomniac has touches of electro and B-boy. Do you have a deep history in either of those two worlds?
I remember when I was like 6, my older sister used to take me to breakdance showcases with her friends. I know it had a big impact on me with the whole B-boy scene later on. Always loved old-school breaks and the original electro style, like Egyptian Lover, Cybotron, Mantronix, etc., which worked hand-in-hand with the early breakdancers.
The vocals play a huge role in this track, looping through nearly the entirety of the piece. How did you land on these vocals, and what made you want to give them so much play here?
Originally, the beat was made for a remix and really just ended up flipped with a new hook, because it was just too large! A homie and amazing singer, Romeo Testa, came through, and we wrote the new hook—and voila! 
Tell us how you initially linked up with the Insomniac Records crew. When did talks about this record first pop up?
I met the boys last year at some underground rave I was playing in DTLA. We decided to connect and talk about potential work together. After a few meetings, we picked a couple tunes, including "Crazy," and the rest is history. 
"I'm sick of all the same conversations" is a line in this song's hook that is extremely easy to relate with. What are you tired of hearing about on social media, or simply during small talk?
I could go forever on this, and I think I really shouldn't. To keep it simple, I feel like we could all make a conscious effort of being more interested in others than ourselves. Instead of hearing the same constant things, like, "What do you do?" "Who do you work for?" "How much do you earn?" When people communicate, I find it's a lot of this.
When people say, "Hey, how are you doing," they don't mean it. They don't listen to what they are asking. I think all of this is connected. Whether this song reflects this in particular, or just a love story between a girl and a guy, or whatever, it's all connected.
Everyone has things in their life that help them hold on to their sanity. What are yours?
Reflecting and asking myself how things can be better—how I can be better with others, especially. I think my family is a hugely important part of my sanity—and also my insanity (laughs).
I think music, too. I tweeted about this recently. I said there were moments in my life that were really dark, and I had music to go to and write and produce, and get a lot of dark feelings out of my system and into my music. That literally saved my life. I could have put all of that energy into something or someone else. I think music is ultimately what keeps me together.
You've changed your home address a few times during your adult life, having moved to three major international cities. How have these relocations had an impact on your career?
I'm currently operating in L.A. Just before that, I was in London for years. I was always influenced and extra curious about the English scene—all of the scenes: the music, the clothing, and the art. As soon as I could go, I went. That was the destination where I wanted to go. I got to experience the rise of a lot of genres and be within a lot of different cultures. London is such a melting pot, and I'm a melting pot of everything. It resonated with me, and it still does. It's my favorite place on the planet. It opened me up in ways I never could have really imagined.
The sounds and all of the influences I've had and the connections I've made—they've helped me move forward to get me from one stop to another, until I got lucky enough to get on the road and stop working two or three jobs, and do music and live off of it. That's the dream.
For the traveling-impaired who have never ventured outside of their own country, can you break down your home city in France and compare it to where you live now? What makes each of them special, and how, if at all, do they intersect?
I was born in Israel. I grew up in France, and then the UK, and then moved to L.A. To break it down, France is an amazing country. I don't say this because I'm French; I'm just saying this because I never realized how amazing the country is until I left it. Years later, I realized, "Oh shit, France is really an amazing country." It's stunning, it's beautiful, and it's rich in culture. It's also a melting pot of cultures, and I realized I was a certain way because of that. I really embrace it way more now when I go back. I'm like, "Wow, it's dope here." My hometown is a little town in the south, called Nice. It's a beautiful town by the sea, by the mountains, and by Italy. I'm just really, really lucky. Good food. It's just great.
I'm in L.A. now, and it's amazing. L.A. is like a mix of cultures that came in and out, in and out—and now, it's like creating its own. And I feel like, whether it's the beginning of it or it started ages ago, the way I see it, it's starting to take form and shape. I'm excited to be here for these times.
All these cities are connected through music. That's how I moved from one to another—from Nice to Paris, Paris to London, and London to here.
With this being your first single of the year, how do you intend to keep the stream rolling throughout the rest of 2018?
The next single is in March. I am thinking the next one after that would be at the end of April or beginning of May, and another sometime in June… let's just say roughly one every 6–8 weeks. I can't say what labels just yet, but there are really exciting releases coming. There's something really dope about what the shows are going to be, and how the music is coming together, and prepping Born Dirty Live. All of that makes 2018 a big year for me and for the team.
Follow Born Dirty on Facebook | Twitter | SoundCloud
Follow Insomniac Records on Facebook | Twitter | SoundCloud
---
Share
---
Tags
---
You might also like