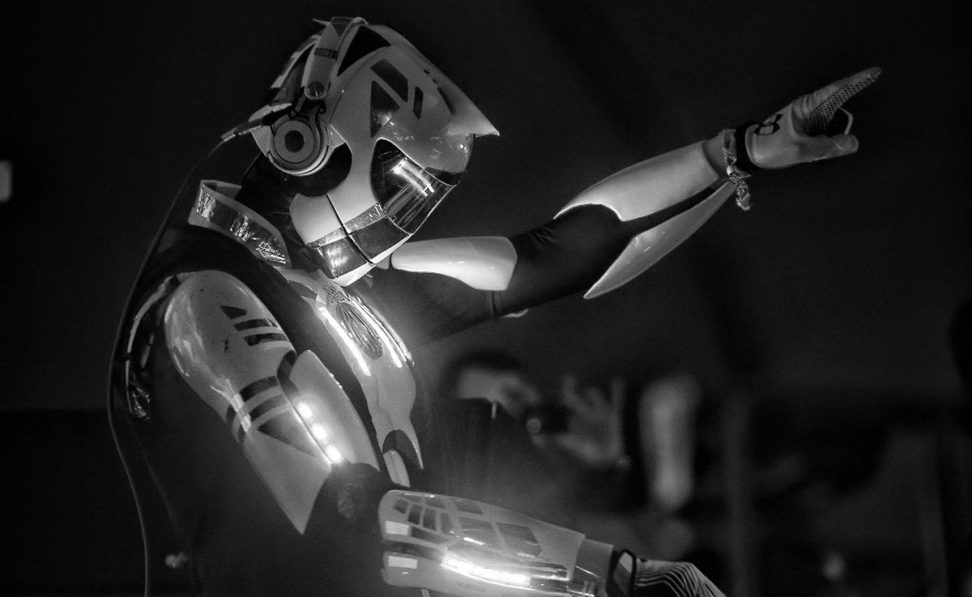 The character of DVJ KING ARTHUR was released in 2009 by a Mechanical Engineer student named Arturo Hernandez Padin. Who has also 11 years of experience in the music business. The name of DVJ KING ARTHUR its related to his creator, since the name of the "DVJ" stands for Disc Video Jockey, "King" stands for a Puertorrican Holiday (The 3 Magic Kings Eve" on January 5 which its the date Arturo was born and "Arthur" stands for its name. Which also his father named him Arturo in the name of the real King Arthur.
DVJ King Arthur's costume is based on the King Arthur armor back in the days of history but with a creative robotic design. This futuristic character is always ready for a new battle, always ready for a new party, always ready to make an impressive show. The helmet and suit was designed and build by himself, applying his knowledge as a mechanical engineer to add to it special features like night vision, lasers, blue eyes, temperature control, air replacement system. His armor is white and frosted which stands out the reflection of its own suit multicolor lights. All of this design were created with not only the purpose of entertain the people but also to make them wonder and imagine ?? how can he do that? ?? and to promote the fact that we all can do all that we dream of, we just have to try to do it.
DVJ King Arthur has a passion for electronic music but his specialty is Electro, House and Dubstep. This choice of gender is because it has more synth sounds with an aggressive beat that always get the crowd going. He believes that electronic music will help make the world a better and happier place. King Arthur is the resident DJ of the weekly television show called Adrenalina Sin Frenos (ASF) every tuesday night on Univision Puerto Rico since 2009. He is always trying to make the crowd jump to the beat, playing special mixes by adding his own touch of ?the beat? standing out with his unique creativity. A perfect, flawless DJ set its what King Arthur always deliver. He's personal goal as a DJ its to play and be one of the first 100 DJs of the world on " The List " and to be a part of the lineup of the Ultra Music Festival on Miami or Electric Daisy Carnival of Las Vegas.
---
Share
---
You might also like