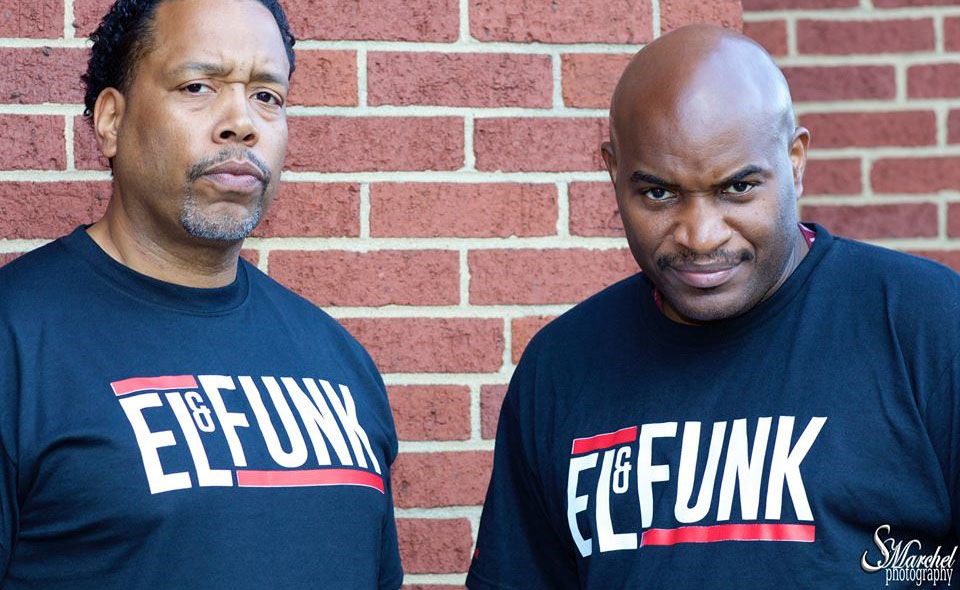 Home Town: Cleveland, Ohio
Currently Living: Cleveland, Ohio
Origin Of Name:
EL: EL came from the first and last initial of my name Elliet Lanier.
FUNK: FUNK is short for my production name RAGAFUNK REBEL which came from combining Reggae and Ragga style basslines and funk basslines in the same melodic riff.
Weapon of Choice: Ableton Live 9.
Source of Power: Carl Cox, Jeff Lorber, David Sanborn, David Guetta, Queen, Freddie Hubbard, John Coltrane and Bob Marley.
What advice would you offer someone thinking about entering the Discovery Project competition?
EL: Don't be afraid to be different with your tracks and mixes. Believe in yourself and keep pushing through.
Was there one particular moment in the recording or mixing process for your Discovery Project entry that made you feel like you were creating something pretty damn special?
EL: We knew our Mixcloud mix 44 was a good mix. We got lot of hits on that mix. When we saw the advertisement for the EDC Las Vegas Discovery Project, we just went for it. We knew that even if we didn't win, Insomniac had the chance to listen to our mix. That was good enough for us because it meant a lot. FUNK: First off we had to improve ourselves and our mixing style from what we created with "DJ EL & FUNK EDM MIX 44" on Mixcloud before truthfully considering entering the Discovery Project competition. The night before the announcement of the Discovery Project competition I remember wishing there was some type of way to perform at EDC Las Vegas 2014. The next morning I saw the announcement, and knew there was nothing left to do but win!
Are there any dots to connect with where/how you grew up to your musical output?
EL: I grew on the northeast side of Cleveland, Ohio, the same neighborhood as talented rappers, DJs and producers like Bone Thugs-N-Harmony, Grand Wizard Johnny "O" Ragga Funk Rebel and many more. My passion for music started at home with my uncle playing jazz albums and my grandfather listening to big band music. I would sit and mimic the music. In the 7th grade I was introduced to the cello. By 8th grade I was playing baritone saxophone and loved it. Music was my life, when I got to high school, I became the head announcer of the radio club and head DJ. Music has always played an intricate part of my life.
What do your parents think of what you are doing?
EL: My parents are deceased. They always told me that because of my years of experience with music and time invested that I couldn't look back.
What's the biggest misconception about being a DJ? Or, what would people be surprised to find out about the profession?
EL: The biggest misconception would be that being a DJ is easy. It is not an easy profession. The art of playing music and reading crowds takes years to learn.
Tell me about your most memorable night out as an artist or as a fan.
EL: My most memorable night out as a DJ was EDC Las Vegas 2014. I have never in my over two decades of being a DJ experienced such a well thought-out, planned, fun and engaging event. It was awesome.
Do you have any memorable moments from past EDC's or any other Insomniac party?
EL: Yes! Being in front of Kaskade at the kineticFIELD and witnessing over 10, 000 people dance to his set was especially memorable. I have never witnessed a stage set up or sound system of that magnitude in my lifetime. It was absolutely breathtaking.
What is your ultimate career dream?
EL: One of my ultimate career dreams is to DJ the kineticFIELD at EDC.
FUNK: My ultimate career dream is to perform at the kineticFIELD with a string of EL & FUNK #1 hits in the mix with surprise appearances from artists we've remixed and produced with and feeling the love from the fans while we create the wickedest drops ever live!
Are you impulsive with your work or do you have a sketch in mind before you start?
EL: It's kind of both. It's always good to have a set planned but there are times that you will stray off course to adjust to the flow of the party.
How, if at all, does listening to music figure into your creative process? What's the last song you heard that made you drop what you were doing and go into the studio?
FUNK: Modestep's video Sunlight and the drops on "Feel Good". I still rock to it whenever I get time to just listen to music without creating. I'm a huge dubstep fan. I can't get enough of bass wobbles and sick drops.
What's the most important piece of gear in your studio and why?
EL: The Akai APC 40. It allows you to create beats, produce music, record, filter and DJ all in one unit. It's a very powerful tool.
FUNK: My computer. With Ableton Live, my collection of sounds and my mind, I can create anything I want or need and then remix it to fit any genre.
How important is it for you to experiment and take on the risk of failure?
EL: It is very important. We view failure as smaller successes due to learning what we have to do in another way to reach our goals.
FUNK: Experimentation is where my best ideas come from, and naturally leads to mistakes as well. To know failure is to know success. One should experiment often.
Do you have a list of people you'd like to collaborate with in the future?
EL: For us it would be Fat Boy Slim, Carl Cox and Pete Tong. These guys inspire us because they are older jocks. They continue to show the world that you can still rock the house no matter what age. It's not about age but the love for the movement.
FUNK: Lighting and visual artists are a must because they will take our intricate mixes to an epic level experience that fans will truly enjoy. I would love to collaborate with these people.
If we pressed Shuffle on your iPod while you went to the bathroom, what would you be embarrassed to come back to us listening to?
FUNK: I collect, study and listen to pre-1938 blues and all genres. If it's a genre that has a name I haven't heard of, I must listen to it and judge for myself. I'm never embarrassed about music, either you like a song or you don't.
What sound or noise do you love?
FUNK: Deep heavy synth sub bass.
What should everyone just shut the fuck up about?
FUNK: Things they don't truly know.
What gets you excited when you think about the future of electronic music and club culture?
EL: What gets me excited is that there is so much of the States that has not been introduced to this returning art form. This genre brings energy and excitement back to parties and events. FUNK : The sub-genres that are created, their growth and longevity.
When you look at electronic music and the surrounding culture, what worries you about the future, what do you wish would change or that you could change?
EL: What worries me about it is that the States put a lot of emphasis on age. There are a lot of exciting jocks out there 40 and over that can still rock the house.
FUNK : Commercialization, but the underground is usually nearby to keep things fresh.
Do you have a secret passion?
FUNK : "When you have passion, you have everything," Don Julio Gonzalez said. It involves an epic light and visual art display that is performed live on-the-fly.
How would you describe your sound to a deaf person?
FUNK: I would let them feel those bass tones and they would know.
Is success physical or internal? What does it mean to you?
EL: Internal. Success to me is learning something new or accomplishing a set goal, no matter how big or small.
FUNK: Success to me is achieving a set or sets of goals and moving on to the next level. Mentally and physically I continue to improve and share my knowledge with others.
What do you remember about your first DJ gig?
EL: My first gig was at my high school. I was head announcer and DJ. It was our homecoming dance and the dance was at capacity. What a feeling being in control of the entire school at one time. Awesome experience.
FUNK: My first DJ gig was a disaster for my family reunion. 1. I didn't have my own equipment (I had to rely on others).
2. The turntables I'd rented were ancient and missing the spindles, so the store owner pulled two ink pens from his shirt pocket, jammed it into the center of the platters and told me "That's all you DJs need" (ouch!).
3. I drove all over the east and west sides of Cleveland borrowing equipment and arrived late to my own family's reunion.
4. The cables and cords were all over the stage and eventually I tripped over one during the first record and the needle skipped and my dance crowd sat down.
5. Determination: After requests from more experienced DJs to let them save my party, I told everyone to step back, rearranged my vinyl in B.P.M. order and rocked the house up-tempo style with no requests. The floor was packed, everyone was drenched with sweat and had a good time.
What's the hardest professional lesson you've learned thus far? How did it make your life easier—or more difficult?
EL : Like any good teacher would say, "patience my boy." We have to continue to remind ourselves to be patient. We have played music to a variety of crowds who listened to hip hop, reggae, house, old school and more. With being jocks for over two decades, your patience can get tested at times but the love for it keeps you going, especially with the new energy that EDM brings. We are going to hang in there for a little bit longer because the best is yet to come.
FUNK: You can't please everybody. Just do the best that you can do and funk it! Spend less time worrying and more time doing.
Have something you'd like to get off your chest that we did ask you about? Go for it, shoot for the hip…
EL: I respect Insomniac for coming out with the Discovery Project. It allowed jocks like ourselves who live in a region of the country that does not have a big EDM scene to get noticed. If we can do it, anybody can do it. Thank you Insomniac.
Winning Mix:
---
Share
---
You might also like