Alison Wonderland Rocks Out Like a Boss on Her EDC Orlando 2018 Mix
If the likes of Hardwell and Tiësto were at the forefront of the first wave of festival EDM that rose phenomenally through the US at the beginning of the decade, then Australia's Alison Wonderland represents its future. Certainly, one of the more exciting new faces to storm the mainstages the past few years—whether it's staples like EDC Las Vegas and next weekend's EDC Orlando, or crossover access points like Coachella—she's a welcome burst of excitement at a time when EDM needs a shot in the arm.
Sporting an energy that's a lot more rock 'n' roll than straight-up basshead, she's nonetheless the perfect match for Insomniac blowouts. When we catch up with Alison, she's taking some much-needed R&R.
"Right now, I'm in L.A.," she says. "I've been touring all around the world, and I finally had probably a week to chill. But I'm about to go to Hawaii, and then EDC Orlando, so I'm really, really stoked and excited because I feel super refreshed."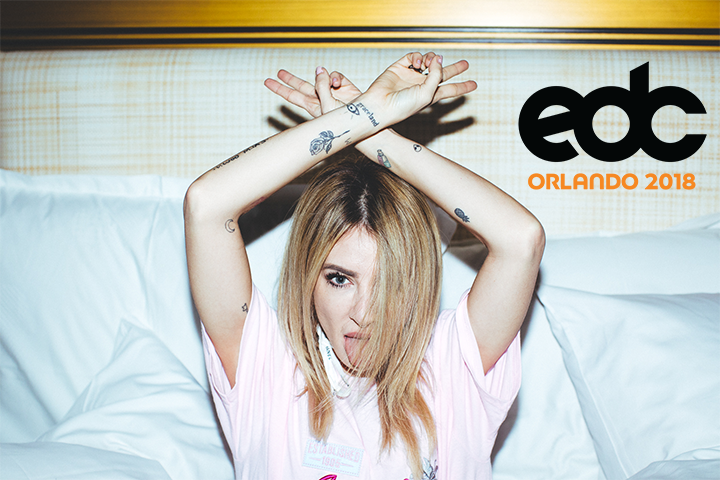 Beyond her elevation to the festival A-league, which is showing zero signs of slowing down in 2019, her year was otherwise marked by the release of her sophomore 14-track album Awake. It featured a huge cast of studio and vocal collaborators (including Joel Little, Illangelo, Party Favor, BFF Lido, Buddy Channels, Trippie Red, and Chief Keef), but the most defining element about Awake is the degree to which it represented Alison Wonderland as an artist.
"I pushed myself so much on this album," Alison says. "I wanted to give everybody all of me with this. I was super honest with it, and I feel like people heard it and they completely got it, and they completely understood me. And I feel like the people who do listen to my music really get me anyway, and so it was really amazing to see everyone with such open minds, understanding where I was heading as an artist."
"It's great, because I feel very comfortable with my fans, and I feel like I am always able to push myself and try new things, keep moving forward and be creative. So, to anyone who's listened to my album this year, thank you so much for understanding me and getting my music and coming to my shows and dancing. I love you guys—I wouldn't be here without you, and I will never forget that."
Alison has risen through the Australian dance scene in recent years and is now performing at a truly global level. What stands out as the important touchpoints in her journey?
"There were some really memorable things… Definitely what helped introduce me into the international world was when I did a mix for Diplo & Friends; that was in 2014. Two weeks later, my single 'I Want You' was put up on SoundCloud, and I ended up being #1 on Hype Machine. And then, all these people started reaching out to me internationally. The next big thing for me was deciding in 2014 to record my debut album Run, which came out a year later. It debuted at #1 on the Billboard Dance Charts, which was super crazy for me."
A short two weeks after the release of Alison's debut album in 2015 was when she played her first US show, no less than a rammed dancefloor at Coachella.
"I remember being so nervous, and then getting there, it was a completely full tent at an early time. I was just really overwhelmed, and really, I couldn't believe it. A little later that year, another big moment was my Mixmag set in L.A., which now has the most views of any Mixmag set ever. I feel like that broke me overseas even more. And then finally, playing all of the EDCs completely changed my life."
"I remember getting up onstage, and I could not believe the crowd; it was just so colorful and welcoming, and there were so many of you guys. I definitely cried during that set."
Alison ranks the 2015 edition of EDC Las Vegas as one of her most memorable shows ever.
"I didn't know what EDC was at the time, because I was coming from Australia, and I was still new to the festival scene in the States. I remember getting up onstage, and I could not believe the crowd; it was just so colourful and welcoming, and there were so many of you guys. I definitely cried during that set. And then EDC Orlando 2016 was a really big one for me. I remember I'd made a remix for Justin Beiber, and I played it out for the first time at EDC Orlando. The way you guys responded to it was so crazy. Again, I just burst into tears. I feel so appreciative whenever I play a show, because I remember the many years when I wasn't playing big shows; it might have been playing to five people, and no one was replying to my emails. So, I feel super grateful, and even now, I'm shocked every time I get onstage."
Arguably the reason Alison was positioned to make such an impact is that she's brought a totally new energy to the mainstage, one that's definitely a lot more gritty rock 'n' roll, in comparison to the standard EDM big league.
"When playing live, I've always been that chick in the oversized T-shirt and thigh-high socks, headbanging and going as hard as the crowd is and not really caring. I just feel like when I'm onstage, I'm free, and the last thing I am doing is thinking; I'm really just reacting on primal instincts. I guess that kind of is like rock 'n' roll because, for me, that's just being who you are and not really giving a fuck. I just love DJing; I love it so much. You put me on the decks, and I'll play for eight hours if you don't stop me."
Alison is set to appear at EDC Orlando next weekend. She's a touch cagey when we push her to give us an idea of what we can expect, but she nonetheless drops a few tantalizing clues.
"I am one of those people that's kind of working on my set until the minute I walk onstage. Who knows? But I also might name-drop Dillon Francis right now, because maybe something cool is going to happen with him—that's all I'm saying. My EDC Orlando mix is for the purpose of getting you guys pumped, and if you can't be there, then I would like to make you guys feel like you are there with this mix. Shout-out to anyone around the world who is listening to my radio show right now!"
Alison Wonderland's EDC Orlando 2018 Mix Track List

Alison Wonderland ft. Trippie Redd "High" (Quix & Eschway Remix)
Yookie ft. Jeff Kush "BASSQUAKE"
Bill Withers "Ain't No Sunshine" (Lido Remix)
YehMe2 & Bailo "SPIT"
Alison Wonderland "OKAY" (blush Remix)
Boombox Cartel & Flosstradamus – ID
Wuki ft. Nicky Da B "Go Deep"
Alison Wonderland "Good Enough" (Valentino Khan Remix)
Lil Skies "Red Roses" (4B Remix)
Kendrick Lamar "X" (Rickyxsan x YehMe2 Remix)
G Jones & Ekali "Dark Matter"
Whethan "That's Too Slow"
San Holo "Light" (Kloud Remix)
La Roux "Bulletproof" (Midnight Kids Remix)
RÜFÜS DU SOL "Lost in My Mind"
Dillon Nathaniel "Resonate"
Emmit Fenn "Meteorite"
Fisher "Losing It" (Yvng Jalapeno Remix)
Earth, Wind & Fire "September" (Nitti Gritti Bootleg)
Travis Scott ft. Drake, Swae Lee "Sicko Mode" (Crankdat Re-Crank)
Krane & Myrne "Monarch" (Blush Remix)
Nitti Gritti "Tell Me"
Dirty Audio & Zeke Beats "Mind"
SLUMBERJACK, Machine Age "Daggers"
Lil Mosey "Noticed" (Bishu Remix)
Chaca, Sterfry, Bonnema ft. JESTIC "Heavyw8"
Dabow & Thook "Cliff Jump"
Netsky & David Guetta "Ice Cold"
Bad Bunny ft. Drake "MIA"
Taylor Kade ft. Grtr Crtr "Bent" (Instrumental)
What So Not ft. KLP "Jaguar" (Party Favor Remix)
Alison Wonderland "No"
Alison Wonderland is playing at EDC Orlando 2018, which place Friday, November 9, and Saturday, November 10, at Tinker Field in Orlando, FL. Tickets are on sale now. For more information, visit the official website. 
Follow Alison Wonderland on Facebook | Twitter | SoundCloud
Follow EDC Orlando on Facebook | Twitter | Instagram
---
Share
---
Tags
---
You might also like