'Night Owl Radio' 426 ft. EDC Orlando 2023 Mega-Mix
This week is the EDC ORLANDO 2023 MEGAMIX.
Night Owl Radio 
is available via 
iTunes
, so get to subscribing on your iOS devices.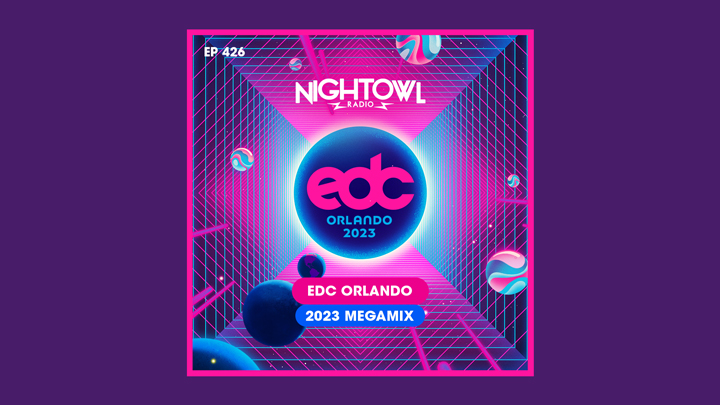 'Night Owl Radio' 426 Track List

ANATTA & RachEP "Self Checkout"
Westend ft. Notelle "Dive In"
Mau P "Dress Code"
MEDUZA "Friends"
FISHER x Aatig "Take It Off" vs. Carlita & Calussa "Fell in Luv" (Acapella)
Dillon Francis & Valentino Khan "Move It"
Dillon Francis, Alesso, Clementine Douglas "Free"
JOYRYDE "ON FIRE"
BLOND:ISH, Madonna ft. Eran Hersh & Darmon "Sorry" (Franky Rizardo Remix) vs. BLOND:ISH, Madonna ft. Eran Hersh & Darmon "Sorry" (Miss Monique Remix)
Gorgon City ft. NEZ "Pose"
Noizu & Martin Ikin "Burnin'"
Tini Gessler "Do What You Want" vs. James Hype ft. Kim Petras "Drums" (Acapella)
Dom Dolla & Nelly Furtado "Eat Your Man" vs. Ship Wrek & Disco Lines "Misbehave" (Acapella)
DJ30A, Huda Hudia "I Come Correct"
Dennis Cruz "Galactica"
Boris Ross, Baggi "Dissing the Truth"
Kaleena Zanders & Anabel Englund "Anything 4 U"
Jay Crusoe "Hey Jerry!" vs. HoneyLuv, NEZ "Let's Get Sexy" (Acapella)
Jorza "Lose Control"
KREAM "Sweat"
Seven Lions and Above & Beyond ft. Opposite the Other "Over Now" vs. Gem & Tauri ft. Dani King "Fatal Love" (Acapella)
Dylhen, Luccio "Running Away"
Jamie Jones "Lose My Mind" (Eats Everything Remix) vs. Jamie Jones "Lose My Mind" (LF System Remix)
Chelina Manuhutu "Freakiness"
HUGEL, Tom Enzy, Nfasis ft. Damien N-Drix "Chakachaka" vs. Miguelle, Betomonte, TONS "Un Poquito" (Paco Osuna Remix)
Yotto "Breezer"
Dombresky ft. Discrete "Bless Me"
Alan Walker "Dreamer"
HI-LO & Eli Brown "RIDE OR DIE"
Bryan Softwell "Cathouse" vs. San Pacho "In Your Mind"
Gryffin "Dreams"
Nicky Youre, dazy "Sunroof" (Loud Luxury Remix)
Baby Weight "Persist"
Azzecca "Tell That Boy"
Malaa & Wax Motif "Otherside" vs. Mizzo "Chickenhead"
Solardo & Joshwa "VIP Business" vs. Matt Sassari, Ashibah "Paris to Milan"
Franky Wah x Korolova "Lost in Space"
Pretty Pink "Manipulate"
Sam WOLFE & UMEK "Aktivate"
Paul van Dyk & Jordan Gill "Voltage"
Modapit "Time to Run"
CID, Truth x Lies "Caroline"
BONNIE X CLYDE "Indigo"
Malone & Edgar V "Passed the Max" vs. Haylee Wood & Fredy Lane "Outta Town"
ZOYA, FACTORe "Sun Is Dark"
Ferreck Dawn & Todd Terry "Get on Down"
Martin Garrix & Zedd "Follow"
Armin van Buuren ft. Anne Gudrun "Love Is a Drug"
Pook, Lola (UK) "In Dark Rooms" (Lee Coombs Remix)
Ben Sterling ft. Superchumbo "All Over My Body"
Liquid Stranger, LSDREAM "Take a Trip"
GorillaT "Amnesia"
Zombie Nation "Kernkraft 400" (Maddix Remix)
Hamdi "Skanka" (Kayzo Remix)
Barely Alive, Voltra "Fusion Core" vs. RUVLO ft. AFTERMYFALL "CHAOS IN THE CONFINES" (Wyllo Flip)
Black Tiger Sex Machine x Hairitage ft. Hyro the Hero "Mindstate"
DIESEL & CELO "WARFARE"
Excision, Subtronics "Asteroid"
Ben Nicky x Distorted Dreams "Adagio for Strings"
MR.BLACK, BLASTOYZ "Voyage"
Black Carl! & Saka "Red Dragon"
Phocust x Evalution "Step"
Excision, Benda "Hyperdrive"
ARMNHMR ft. RUNN "Falling Apart" (Crankdat Remix)
MACHAKI X Wayve "HIGH ENERGY" vs. ATLiens "Crazy" (SubDocta Remix)
Röyksopp ft. Karen Harding "Unity" (Anfisa Letyago Remix)
Billy Gillies ft. Hannah Boleyn "DNA" (Loving You)
MaRLo, Oskah "Rest of Our Lives" (MaRLo & Technikore Remix)
LEVEL UP "Phantom"
Subtronics ft. Nevve "Spacetime" (Virtual Riot Remix)
AFROJACK & Steve Aoki ft. Miss Palmer "No Beef" (Riot Ten & Crankdat Remix)
Alison Wonderland x MEMBA "Fight or Flight"
AVELLO "Angel"
Alok, The Chainsmokers & Mae Stephens "Jungle"
Deathpact "AXIOM"
deadmau5, YTCracker "Antisec"
Dirt Monkey x Jantsen ft. MC Spyda "Full Circle"
Nia Archives "Baianá" (Instrumental Edit) vs. Wilkinson, Kioto Bug "Never B Mine" (Acapella)
San Holo ft. What So Not "ENERGY"
Eslabon Armado & Peso Pluma "Ella Baila Sola" (Deorro Remix)
Kaskade & Lauren L'aimant "Save Me"
EDC Orlando 2023 takes place Friday, November 10, through Sunday, November 12, at Tinker Field in Orlando, FL. Tickets are on sale now. For more information, visit the official website. 
Follow EDC Orlando on Facebook | Twitter | Instagram
---
Share
---
Tags
---
You might also like