We Reviewed the Best Headphones With Music From the Nocturnal Wonderland 2018 Artists
The Insomniac crew and crowds love our favorite tracks for loads of reasons. Sometimes, the songs are chroniclers reminding us of artists we've seen. Other times, they're conjurers revealing moments we'd love to feel live.
When we encounter these highs (and mids and lows), headphones are our history books and our crystal balls. The Nocturnal Wonderland campground will even host a silent disco from 2–6am, using wireless headphones as a portal into an alternate universe where the after-party goes on, even as people sleep nearby.
Before you make it to that experiment, or even to the festival at all, you might be in the market for an innovative, immersive experience to set the mood. Here are some suggestions of recently released headphones and earphones (that have been tested with tunes from a few artists on the Nocturnal lineup!) that can handle dynamic playlists without sacrificing kick or control.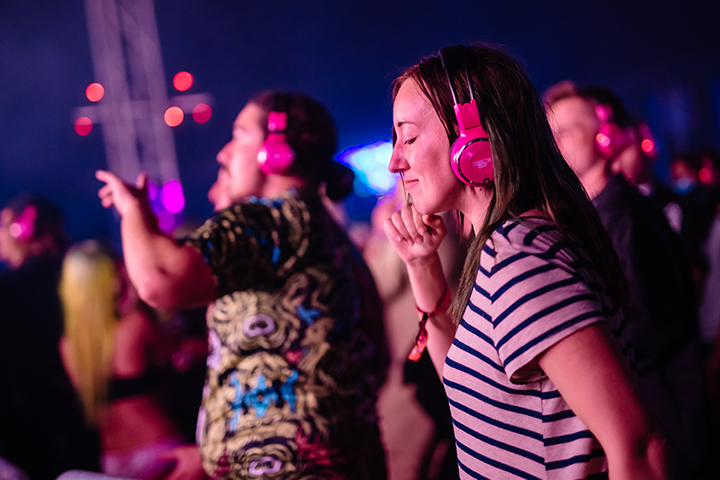 Started From the Bottom, Now We Here
No recommendation would lack bass, but some gear leans more toward the depths of the low-end. Heaven trap, melodic dubstep, UK garage, liquid funk, and any future bass banger or freq-y choon can benefit from more sub.
The Periodic Audio Ti ($199)—named for titanium, the rigid material that ensures its 10mm driver delivers the knock of every kick drum with authority—is an overachiever for fans of visceral drops and pitched agitators. Coming from a boutique California manufacturer mastering the science of sound, the Ti is an easily pocketable, bullet-shaped earphone with a lightweight polycarbonate housing and heavyweight response.
Launch the keyed-up snares and bubble-pop bass of NGHTMRE and Slander's signature cut "Gud Vibrations," and the Ti will deliver rumble while still managing to sound quick and clean. Follow it up with Flux Pavilion's insistent calling card "I Can't Stop," and the little cylinder will articulate every serrated oscillator without ever sounding edgy.
Contorted synths massage every inch of your earholes with the Ti, while the spectrum mids are cool and highs airy but never brittle. They're supporting characters to the bass warmth, but not at the cost of detail. Comfortable, well weighted, and backed by an exceptionally generous five-year warranty, the Ti lets you carry around peak-hour intensity without fatigue.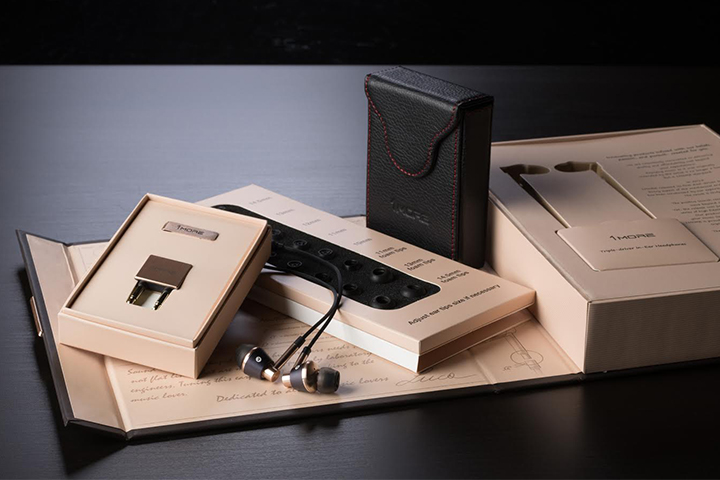 If you're willing to sacrifice some portability for pump, the 1MORE Triple Driver Over-Ear Headphones ($249) use a 40mm graphene-coated mylar driver and passive reflector to deliver generous but not disproportionate lows, balanced out by the crisp, atmospheric highs of a piezo ceramic tweeter. Recalling the alloy rims of precision auto, the closed sound chamber helps create a foundation that is impactful yet respectful.
Put on "Take You Down" by ILLENIUM, and the two-way contrast of seismic tension and assertive melodies is compelling. The extremely thin, stiff drivers ensure a punch without sibilance in Gryffin and ILLENIUM's "Feel Good," which showcases its wobbles and sparkle expertly on the Triple Driver. Its mid-bass bump is a guiding force that remains consistently palpable but never intrudes on authentic mids or cloud-soaring arrangements. The tuning elevates the Triple Driver in the same way a dedicated sub integrates with and transforms a traditional stereo monitor setup: Songs are as tangible as they are contoured.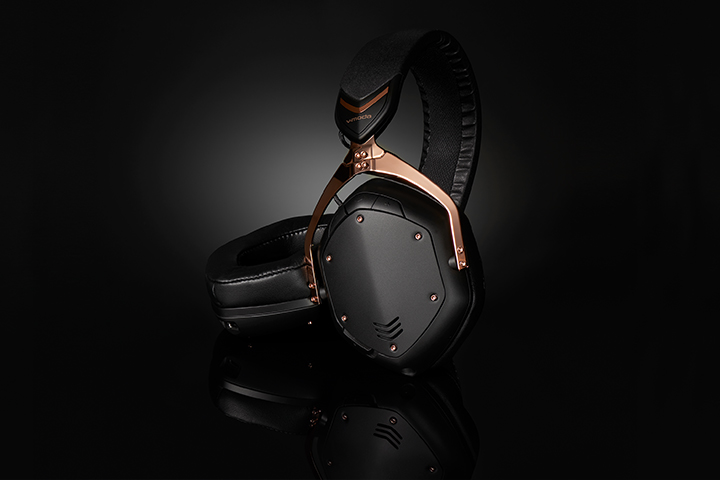 Want to dig even deeper into felt-more-than-heard frequencies? The V-Moda brand has recently updated its over-ear flagship for the audiophile basshead: the Crossfade II Wireless Codex Edition ($349). V-Moda's Crossfade headphones are used in the booth by dozens of DJ Mag's Top 100, and the Codex variant adds the convenience of expanded, upgraded Bluetooth compatibility (aptX, AAC and SBC) to an already deservedly award-winning model. If the 1MORE Triple Driver is an optimized club system, the Crossfade II is the speaker arrays flying next to the main festival stage.
The percussive basslines of AC Slater can be a perplexing test for average gear, but the Crossfade II's dual-diaphragm 50mm drivers and high-resolution Japanese voice coil reproduce the saturated pneumatic swagger of "Bass Inside" without a stumble.
Pull out any iOS or Android device and throw on Danny Byrd's silky drum & bass anthem "Sweet Harmony," and the enhanced streaming formats, connective mids, and expressive highs assure snare ferocity and dexterous bass that's hard but not harsh. V-Moda's exacting, military-grade build and cushy isolation—plus the ability to fold compactly and operate wired for increased resolution and/or when the battery runs out—assure the Crossfade II delivers slam and can take hits, so you can trust it will not only survive but also elevate your road trip.
Playing Both Ends Against the Middle
A lot of people love the undeniable power of bass—and that's understandable—but much of the heart and soul in a track is in the midrange, and it takes stable gear to showcase this complex energy.
If you want V-Moda connectivity but more conventional styling and tone, the relatively unknown (at least for now) Cleer FLOW ($279) is immensely feature-rich for the price. Offering Bluetooth (aptX HD, AAC, SBC), Sony's proprietary LDAC wireless standard, active noise cancellation, touch controls, a 20-hour battery playback, plus wired capability (with a wider frequency response than wireless), just to name a few features, the FLOW is competing (admirably) in a higher echelon of enterprise.
Some of that savings comes from plastic in the finish, rather than the aircraft-grade build of a competitor, but the sound is anything but synthetic. The company's 40mm ironless drivers go for musicality over musculature. Jai Wolf's "Indian Summer" exhibits its thick, swelling bass, but that doesn't overwhelm the vibrant chords, pads, and pitched-up vocals. Whether it's fed plush bliss or the wonky ripples of tweaked-out heaters, the FLOW blooms. Mikey Lion and Sacha Robotti's "Glide" lives up to the name, weaving smoothly on a hypnotic groove. Another place the FLOW exhibits balance is in its earcups and headband. It's comfortable for extended sessions, and combines with the noise cancellation, it makes for a pleasingly isolating road-trip partner or nightly comedown vehicle.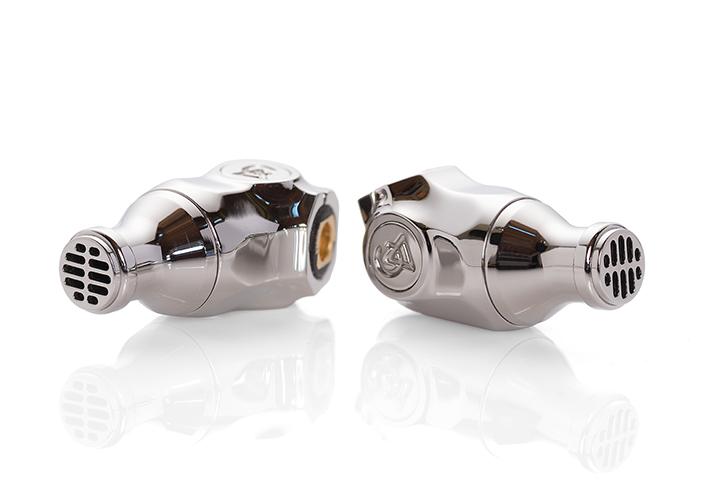 If in the search for a more low-profile, full-spectrum transport, the Campfire Audio Comet ($199) can handle super-driving and spacey techno, serotonin-replenishing house, and any hyper-dimensional hiss and flutter in between. The Portland, Oregon–based company (an offshoot of a highly respected audiophile bespoke cable company) has made its name on innovative industrial design and evocative sound. The company's Andromeda in-ear monitor raised the bar at the $1,000 level by putting to shame many models almost twice as expensive, and now the company has turned its meticulous eye for detail and some trickle-down tech to the other end of the price range.
Bring on the Comet, a gleaming, elongated chrome earphone that stands out sonically from the pack as readily as its slender body inserts deeply and separates you from the outside world. While all the models discussed to this point use a dynamic driver (basically a miniaturized version of a speaker cone/magnet assembly, albeit of varying materials), the Comet uses a single vented balanced armature (a pivoting plate manipulating a membrane) in a 3D-printed Tuned Acoustic Expansion Chamber for sound reproduction.
While admittedly a balanced armature won't quite keep up in the sub-bass with a dynamic driver, the Comet's vented structure does craft more pressure than the format's average, while keeping the speed and agility that is an armature's hallmark. The cascading snares, clapping hi-hats, propulsive 808s, and burbling synths of "Laserdance" by Lee Foss or "Down With Tha" by Waze & Odyssey come across well defined, tight and punchy. Tracks with female vocals in particular exhibit a velvety, engaging character, the realism of the performance keeping pace with the flickers and force of percussion. A three-button control and mic cable, worn hanging down, marks the Comet as an unobtrusive, smartphone-friendly all-rounder.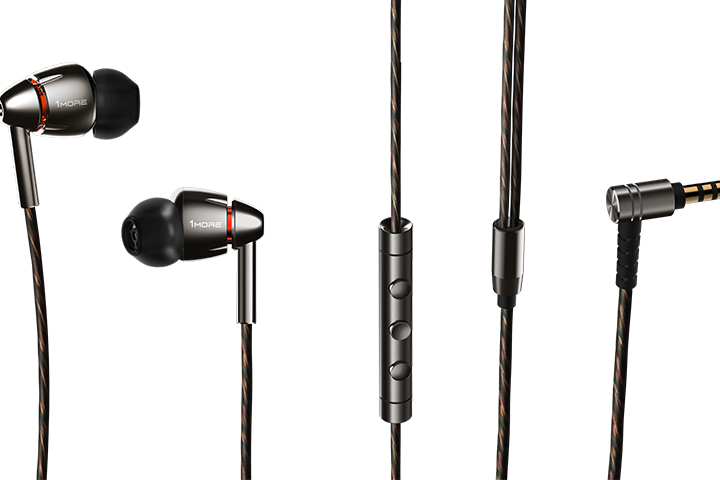 1MORE (makers of the Triple Driver Over-Ear described earlier) is another company with distinctive in-house earphone designs, such as the Quad ($199)—a polished, ergonomic hybrid earphone that pairs a "diamond-like" carbon dynamic driver for lows and mids with three balanced armatures front-mounted as tweeters in the nozzle. 1MORE's comprehensive approach is apparently from all its models' luxe packaging, and this extends to the sonic presentation. The Quad's unorthodox crossover of analog sensations and digital precision is chesty, offering some embellished but not smudged details.
Put on the breathy, ducking sound design of "All I Got" by Said the Sky, and the Quad can convey the depth of field of its otherworldly blanket. Then, hit play on the pinging indie-tronic of "Queen of Hearts" by PRXZM, and every chiming, grippy hook and palpitating rhythm rings loudly. While it excels at honeyed midrange, the Quad isn't so relaxed it can't handle potent crowd-movers, offering up a liveliness stellar for full-throttle progressive house such as the big-room drops in Audien's sun- and synth-drenched "Higher." The Quad is a shallow-fit earphone (complete with three-button controls), easy to take in and out and therefore great if you're wandering around interactive festival grounds and want to slip in and out of your own world.
Highs Fidelity
Now we come to the upper registers.
Delivered in almost identical packaging as the Ti, built from the same matte black, non-resonant casing and rubberized cable, the Periodic Audio Be ($299) doesn't really stand out—until you put it in. With a proper seal achieved (tip selection is always key to sonic quality with every earphone), the Be presents a sound that is fleshier in every dimension and achieves an astounding level of coherence for the price. But it doesn't try to pass off bigger as fuller. Where the Ti's titanium transducer emphasized intensity over accuracy, the Be's wideband diaphragm is made from 95 percent pure beryllium, with acoustic properties that excel at distortion-free texture and natural tonality.
Put on "You Know, Right?" or "Poison" by Skream—tracks that resonate with raves past and echo like a warehouse party—and the imaging is so clean you can pick out every clearly etched cue in the clattering breaks and cavernous techno. The mesmerizing haze of sunrise house in Nora En Pure's "Trailblazer," or the dream-state tech-house of Oona Dahl's "Baba," throb in ethereal and then authoritative waves. Whereas listening to the Ti is like the decisive thawk of standing directly in front of the floor stack, the Be and its enriched mid-bass put you center-stage as it unfurls every billowing pad, vivid chord, and tactile filter.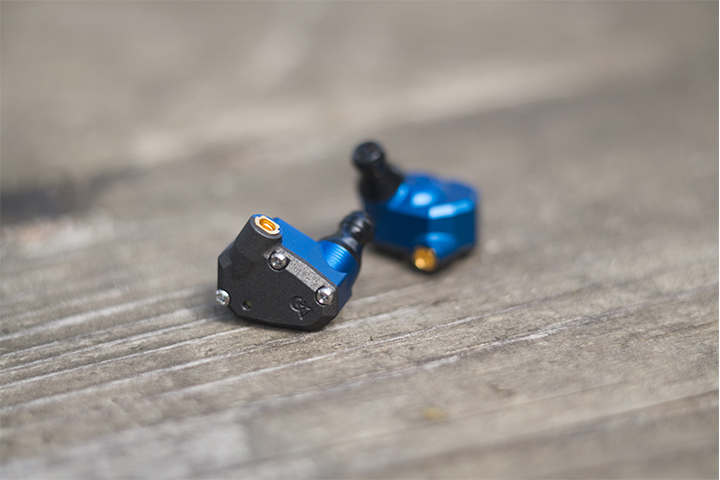 The Periodic Be is a price-to-performance king that has feel for days, but if you're looking to capture every last melodic flare and ounce of sizzle, the Campfire Audio Polaris ($599) pushes air and extension to the fringes. As with the Comet, Campfire uses proprietary 3D-printed sound chambers, durable, painstakingly machined enclosures, and custom-crafted (swappable) cables to advance a house sound that's lush and layered with plenty of headroom.
Tracks like "17" by MK shimmer with accentuated transcendence, thanks to the hybrid pairing (similar in concept to the 1MORE Quad) of an ultra-thin, hyper-responsive dynamic driver for lows and mids and a single, balanced armature driver to assure treble presence and transparency. The midrange is a bit less linear than the Be, but the speed and decay of every jackin' beat is stellar, the lift in vocals (especially female ones) is euphoric, and crunch is there when called for, but without any distracting grit. It trades some width for depth, but the Polaris, like the best mainstage acts, achieves an equilibrium of density and dexterity.
Nocturnal Wonderland 2018 takes place Friday, September 14, and Saturday, September 15, at Glen Helen Regional Park in San Bernardino, CA. Tickets are on sale now.
Follow Nocturnal Wonderland on Facebook | Twitter | Instagram
---
Share
---
Tags
---
You might also like