Video Surveillance: June 2015
Upcoming Event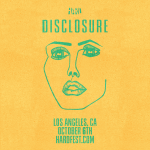 In our Video Surveillance series, we comb through hours of footage to gather the most eye-catching visuals and unique storylines and bring you the best music videos of the month. Happy watching.
10. GUNSHIP "The Mountain"
Bringing a monumental new aspect to the gaming experience, Grand Theft Auto V developers have created a Director Mode app in its PC version that allows users to control the in-game actors and create, edit and share their video. It sounds like a budget-friendly way to make a music video, and indie electronic trio GUNSHIP has done just that on the official video for their new single, "The Mountain." The first music video to result from the app, it weaves a new tale of crime, explosions, car-jacking and all-around badassery with the familiar GTA protagonist. The combo of nostalgic '80s music and whippin' round at 200 MPH makes this one feel like an animated version of Drive.
Follow GUNSHIP on Facebook | Twitter | SoundCloud
9. Steve Aoki ft. Linkin Park "Darker Than Blood"
Earlier this summer, Steve Aoki revealed he'd been concocting tunes on a legendary team-up with alternative rock heroes Linkin Park. Well, Aoki is back in the lab again—not to cook up beats, but rather to save the world from a zombie super virus. Set in a post-apocalyptic world, "Darker Than Blood" sees mad scientist Aoki take the fate of humanity into his own hands as he saves the world from a Resident Evil-type scenario. The short feature also showcases a new side of Aoki's creative vision as he tries on the screenwriter hat for size by penning the project's storyline. If there were any question that Aoki was a jack-of-all-trades, after seeing him write, star and score "Darker Than Blood," there shouldn't be any lingering doubt.
Follow Steve Aoki on Facebook | Twitter | SoundCloud
8. Paul Kalkbrenner "Mothertrucker"
Last month, Paul Kalkbrenner debuted the first installment of his collaboration with directors Alexander Nowak and Felix Richter on the FLORIAN music video trilogy. Titled "Cloud Rider," episode one told the tale of a music junkie who gets assaulted as he tries to share his tunes with the world. Out this month comes episode two, "Mothertrucker." We catch up with our now black-eyed beat hero, and homie is looking pretty rough. Dude gets violent and starts throwing food, and himself, against the wall, petting cockroaches and kissing doors. The director's use of Kalkbrenner's hypnotic track provides an entrancing pull that really allows the viewer to get in touch with the protagonist's dark psyche. The use of gritty imagery, dim lighting and mysterious flashbacks is more than enough to make the viewer feel uncomfortable, and by the end of "Mothertrucker," we're praying this kid gets his beats and sanity back.
Follow Paul Kalkbrenner on Facebook | Twitter | SoundCloud
7. Avicii "Waiting For Love"
If there is anything we know about Avicii, it's that he's big on drudging up the feels. His latest visual, for summer anthem "Waiting for Love," offers another dose of his romantic ethos. Directed by Sebastian Ringler, it tells the tale of a still-madly-in-love older couple that gets separated. The elderly gentleman wastes no time looking for his lost lady, immediately jumping on his power scooter and riding off into the night. Besides the endearing theme of everlasting love, the gorgeous backdrop is what really makes this video something to swoon over. Moving from cityscapes to lush countryside and even through the mountains, we watch as gramps moves through some of the most gorgeous landscapes imaginable on his souped-up scooter. Anyone else catch the Ostrich chase scene?
Follow Avicii on Facebook | Twitter | SoundCloud
6. Claude VonStroke "Make A Cake"
The next offering from the dirtybird camp is, well, dirty. Illuminating Claude VonStroke's "Make a Cake," director Simon Cave gets very NSFW with an inflatable frog and his leggy companion. The super suggestive video uses tons of hilarious sexual innuendos, foggy windows, and a furiously shaking dashboard hula girl to really hit home the point that this inflatable frog gets way more action than you ever have. Better keep practicing those pickup lines.
Follow Claude VonStroke on Facebook | Twitter | SoundCloud
5. Alison Wonderland "Run"
While we're still reeling from Alison Wonderland's recruitment of McLovin' for her kinky BDSM music video for "U Don't Know," we're getting another piece of eye candy thanks to "Run." Following a group of brolic hoodlums, director Tim K sets up a harsh reality where street kids are so desperate to eat, they rob ice cream shops. As the sprinkles fly and the three-scoop maximum is exceeded by hijacking the whole tub of ice cream, the director parallels the action with artsy slow-motion shots and an underlying theme of the harms of addiction. While these dairy bandits may have only rocky road on the minds, their fiend-like behavior brings to mind a much darker side of drug abuse and dependency. Someone please dial up Intervention.
Follow Alison Wonderland on Facebook | Twitter | SoundCloud
4. Crookers ft. Jeremih "I Just Can't"
Italian house OG Crookers is no stranger to tripping out fans with his arsenal of expertly crafted riot-starters. With the help of director Joe Zohar on "I Just Can't," he sends us on yet another mind-boggling journey with a tale of alternate universes operating in the same space and time. Sounds deep, right? The video explores six different versions of the same character and how his life unfolds based on his decisions. Don't be surprised if you're feeling quite existential after viewing this three-minute head-scratcher.
Follow Crookers on Facebook | Twitter | SoundCloud
3. Disclosure ft. Gregory Porter "Holding On"
As our favorite production brothers, Disclosure, gear up for their highly anticipated return with their upcoming album Caracal, they've been teasing us with the premiere of a full-length film to coincide. With LP cut "Holding On," the first installment sets the scene in a not-too-distant future where Big Brother rules. The high-budget production features some eye-popping CGI effects and a cliffhanger ending that will get fans hyped enough to mark down every Disclosure video release date to come. Who's got the popcorn?
Follow Disclosure on Facebook | Twitter | SoundCloud
2. GENER8ION + M.I.A. "The New International Sound Pt. II"
Fresh from the Bromance Records squad comes GENER8ION, the new project from French producer Surkin. While the details of the project are recently emerging, judging by the music video for "The New International Sound Pt. II," he's doing it big. Featuring vocals from M.I.A., the track comes to life thanks to director Ingio Westmeier, who adapted the film Dragon Girls for the visual counterpart. The daunting scenes capture a day in the life of the 36,000 students of Shaolin Tagou, the biggest fighting school for kids in China. The insider's view into the school reveals the incredible amount of work, dedication and unity these badass kids display to become skilled fighters. If you thought your Zumba class was hard, try keeping up with these youngsters.
Follow GENER8ION on Facebook | Twitter | SoundCloud
Follow M.I.A. on Facebook | Twitter | SoundCloud
1. KSHMR "Jammu"
KSHMR's latest single, "Jammu," may be another upbeat dance record, but for the track's visual interpretation, there's nothing to dance about. Director Tyler Yee manages to humanize the devastating act of suicide bombings in a little under four minutes. Yee unfolds a dark tale of a child who lost his mother in a bombing, is taken in by militants, and grows into a man who straps himself with dynamite and boards a bus. Yee effectively brings the viewer into the troubled mind of the militant and finds a place where we can understand—and even more incredibly, relate to—how one commits such violent acts of hatred. What makes this video hit even closer to home is the dedication at the end to KSHMR's grandmother, who presumably passed in a situation similar to what the video highlights.
Follow KSHMR on Facebook | Twitter | SoundCloud
---
Share
---
Tags
---
You might also like