Valentino Khan Talks Drums, Synths and Style Ahead of His Appearance at Nocturnal Wonderland 2016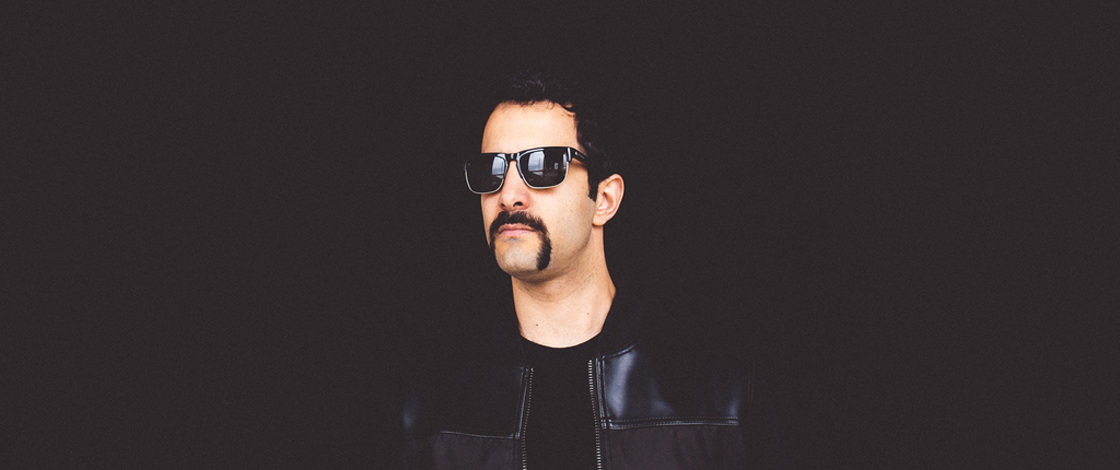 Valentino Khan is an L.A. native turned superstar hip-hop producer turned EDM fan and dancefloor powerhouse. He started off producing hip-hop at the age of 16 and has worked with countless heavy hitters like B.o.B., T.I., 2Chainz and Bruno Mars. His dance music collaborations are just as star-studded: Zeds Dead, Yellow Claw, Diplo and Skrillex are just a few of the names he's remixed or worked with, and since he recently signed to Skrillex's OWSLA label, the hits will likely keep coming.
Khan clearly likes to work in lots of genres and subgenres, as each song he makes usually has five or six different mixes. That—along with the diverse cast of characters he's worked with, and his hip-hop pedigree—makes this hometown hero one of the most hotly anticipated acts at the upcoming Nocturnal Wonderland.
With all the turns Valentino Khan has taken in his career and all the artists, styles and tools he works with, one would think his musical philosophy is complicated and storied. In fact, Khan is quite succinct when it comes to how he makes his music: he likes his synths unique, he likes his drums to "hit hard," and he always makes sure to rock the crowd—especially in L.A.
You've got a versatile style and obviously enjoy mixing genres, so I'm sure that factors into your decisions on which labels you work with. What made you decide to sign with Skrillex's OWSLA label for your dance mixes?
Versatility was definitely a huge factor that led me to gravitate to OWSLA. The label has a wide range of sounds throughout their releases, and I felt confident that I wouldn't have to adjust my vision to make it work with them.
Your style is versatile—not just in all the different mixes you do of each song, but in the way your tracks are composed (e.g., the "Deep Down Low" VIP mix). When you're putting together a track, how do you like to work, and how do you know when it's finished?
I have to ask myself what the overall goal of the track is and what it needs to accomplish this. Sometimes in this process, I'll come up with something random that will completely change the direction of it. But these unexpected moments often are what make the process of producing so much fun.
How do you make those crazy bass sounds in your dance tracks? They're really one-of-a-kind.
I just try to break rules and do things that I haven't heard before.
It looks like a lot of the tracks you've released are remixes. What do you enjoy about remixes? What attracts you to a particular artist's work that makes you want to remix?
I actually haven't put out a remix all year, as I've been focused a lot on my own original music. But I treat a lot of these remixes like original songs. I'll just take the vocal from the original and build an entire new track around it sometimes. It's a fun way to take something from someone I respect and flip it into an entire different direction. Having a great vocal in the original really helps. Sometimes I'll add my own vocals to remixes, though, like I did with my Zeds Dead and Yellow Claw remixes.
Same with collaborations? What kind of artists do you like to work with, both on the hip-hop and dance sides?
I want to make amazing records but have them be unique. In doing so, I think you need to just work with people who you genuinely feel are unique and dope. It could be a big artist or an unknown name, but something about them has to be striking.
You began making hip-hop beats quite young in L.A., at a time when there was a bit of a dip in the popular hip-hop scene in that city. When you started out, what kinds of producers and sounds excited you the most? Did you take any inspiration from the underground hip-hop scene?
I used to listen to a ton of underground hip-hop during the early 2000s. But the producers that inspired me the most were probably Dr. Dre, Timbaland and the Neptunes. I just loved their ability to bring in sounds that I hadn't heard before but still deliver amazing songs and production quality.
What made you start moving toward EDM and dance music?
My younger brother played me a record by Justice called "Waters of Nazareth." That really pushed me to explore that world more. Their whole Cross album was really revolutionary.
Your creative process with solo tracks seems very unique—almost like a brainstorm, which then produces several versions of one track. Would you say that's accurate, in that there's a central theme upon which you like to build different styles? If not, what does the process look like in your head?
I try to keep the process very open and free, and I don't usually like using the same synth sound more than once. It allows every release of mine to be a fresh listening experience for the audience, I think. The one central theme in my music is probably just that the drums have to hit hard. Other than that, I really like to switch things up quite a bit, or else I would probably get bored producing.
Insomniac is really looking forward to having you play at Nocturnal Wonderland on Labor Day weekend. What artists are you looking forward to seeing? What do you have in store for the crowd?
I'm born and raised in Southern California, so any time I get a chance to play for that crowd, I have to make it special for my hometown people. Nocturnal is going to be no different. One guy I really hope I get to see on the day I play is Chris Lorenzo. He is making some of the best bass-driven house music around right now. Unfortunately, I have other shows on Saturday and Sunday, but I would have loved to go see Bro Safari and Alison Wonderland. They all play very rare and different tracks than most others in their sets, and that's what always excited me as an observer.
Follow Valentino Khan on Facebook | Twitter | SoundCloud
---
Share
---
Tags
---
You might also like