The Top 10 Songs We Heard at RARE SoCal
Upcoming Event
We were in for a real treat last week as Carnage and some hand-selected members of the #ChipotleGang descended upon Southern California for an all-night trap and bass fest at RARE SoCal. Papi Gordo promised next-level production, and the result did not disappoint: With a massive stage design, an abundance of lasers, and CO2 cannons from the floor to the ceiling, the show was one of the wildest I've seen in a while. The fans were next-level as well. Headliners packed the front gates as soon as doors opened, and the building was running thousands deep even for the opening acts.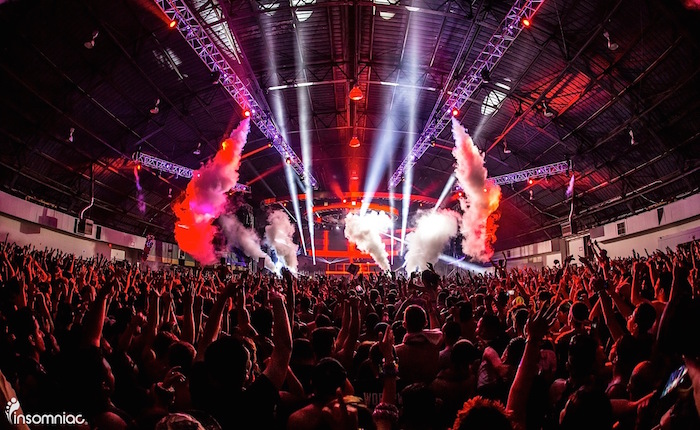 Let's not forget about the music, which was skull-crushingly loud and packed with excessive bass, just the way I like it. Here are 10 awesomely memorable tracks I heard at RARE SoCal that truly made it one for the books.
BL3R & Andres Fresko "Jumpoff" (Carnage Edit)
Newcomer Andres Fresko paid homage to the Chipotle Gang by dropping Papi's own edit of his original "Jumpoff." I later got the chance to chat with him outside while he waited for his ride. "This is a huge step in my career!" he exclaimed. "It's the biggest crowd I've ever had. There's another track I'm really excited about that I tested out tonight. It's a track I'm releasing soon called 'LYM,' featuring Dzeko & Torres. Look out for it soon."
Dillon Francis ft. TJR "What's That Spell"
KAYZO knew how to make the crowd get D-O-W-N with this one. We were only one song into his set, and the familiar yells of "What's That Spell" got everybody chanting in unison. Once the moombahton bassline came in, there wasn't a soul that wasn't dancing to this Money Sucks, Friends Rule standout.
Jack Ü ft. AlunaGeorge"To Ü"
Will Sparks decided to end his set with this massive tune from crowd favorites Jack Ü, and there was not a single unhappy face in the swaths of people watching it happen. He even got up on his DJ booth, turned around, and took a selfie with the crowd when the song dropped. It was Kodak moment frenzy for a second there, as thousands of fans all tried to get a fingertip in the photo at once.
Yellow Claw ft. Lil Eddie "Never Dies"
Yellow Claw's frontman came to the very front of the stage during this trap banger and commanded that the lights be turned off. "Everyone, close your eyes! This is our generation, and we don't give a fuck what people think!" Sure enough, the lights went dim and the crowd collectively shut their eyes 'til everybody was enveloped in complete darkness. When the wild drop hit, the crowd lost their minds.
French Montana "Hold On"
I know I wasn't the only one intrigued by how French Montana's hip-hop swag would fit into the electro-filled night. Headliners were very receptive to the downtempo change in pace; it's almost like everyone needed to take a quick breather following a wild set by Will Sparks. This new anthem especially took the cake for making the crowd get into the groove.
Fetty Wap ft. Monty "My Way"
Carnage didn't even play half of this track. Instead, he let the crowd do all the work for him. I looked around and saw at least seven girls sitting on their poor boyfriends' shoulders, singing their hearts out.
French Montana "Don't Panic"
There was no panicking in sight. In fact, all I could see were a lot of hands in the air and a breakdance circle going on to my right. There's something about this beat that calls for some serious grinding, and it was evident that every couple in the building was thinking the same.
Dimitri Vegas, Martin Garrix, Like Mike "Tremor" (T&T Festival Trap Edit)
It was around this time that my friend ran to come find me, claiming that "Carnage dropped the trappiest remix of 'Tremor' ever!" Of course, I had to go see for myself. I caught the last bits of this trap anthem as CO2 cannons erupted from the ceiling—not just the stage, the ceiling. Production, you win this one.
Yellow Claw & LNY TNZ "Last Night Ever"
I know there are two Yellow Claw originals on here, but there's no way I could leave out this epic hardstyle tune. Those unfamiliar with this track were in for a hilarious surprise as Bizzey, Jim and Nizzle yelled, "This is the last night ever," right before shattering minds with some serious bass. I feel as though they weren't the only ones thinking that.
Carnage ft. ILoveMakonnen "I Like Tuh"
Judge me, but I love this track. And it may or may not have been stuck in my head for the last couple of days. But whatever, Papi looked spectacular up there as he effortlessly bobbed his highlighted head to the catchy lyrics. It wasn't long before he transitioned into Big Sean's "I Don't Fuck With You" and got the crowd singing along even louder than before.
Follow Carnage on Facebook | Twitter | SoundCloud
---
Share
---
Tags
---
You might also like