The Return of Tensnake, King of the Dancefloor
When Tensnake made the major label jump with his 2014 debut album, Glow, nobody was prepared, especially his longtime fans. It went over the heads of many, and rightfully so. The glossy and sophisticated, vocal-based song arrangements found on Glow were worlds apart from, and years ahead of, his instrumental, disco-heavy club tracks spread throughout his nine-year discography. To the analytical listener, though, Glow makes complete sense. It is the natural progression from an underground up-and-comer reaching toward his artistic zenith.
The earliest signs of Tensnake's evolved sound hit in 2011 via "Need Your Lovin." Drenched in vintage disco, this house gem was his first track with full vocals, a theme the German producer/DJ would later perfect on Glow. Prior to that, tracks like "Holding Back (My Love)" (2009), "Something About You" (2011), "Mainline" (2012) and "Coma Cat" (2010)—the track that launched him into international stardom, and arguably one of the best songs in electronic music history to this day—all laid down the groundwork for the vocal-based sound that would later come to define the Tensnake sound.
Fast-forward to 2015 when Tensnake, born Marco Niemerski, returns to the clubs and takes back the dancefloor crown he deserves via his latest masterwork, "Keep on Talking." The track's bouncy disco soul, along with the the darker vibes of accompanying bomb "The Walk," sees Tensnake abandoning the studio focus and pop appeal of Glow and returning to the club basics that outlined the earliest years of his sound. It's a much-needed return to Tensnake, the disco king and overlord of the dancefloor.
You're quite the eclectic artist. You hear it in your production discography and throughout your DJ sets. What do you think your fans want to experience when they see you?
It depends. Many people who discover me through Glow, the album, probably expect me to play a live show. That never happens. I know that some people were disappointed. Basically, I think everyone's happy if I play "Coma Cat" at least once… I think my fans are quite open-minded. They don't expect me to play just some style all evening.
Earlier this year on your socials, you shared a Pitchfork article about how people are surprised when DJs play music from other artists. You had quite a bit to say on the topic.
I was surprised that was an issue. Why wouldn't you play it, especially if it fits well within a festival? Why wouldn't you play a track that has more song arrangement in it? I think it was Jamie xx playing Tame Impala. I think a good DJ needs to be always flexible. It might be a little bit new in the States, where lots of the kids listen to one style of EDM.
That's an interesting point. Perhaps it's an American thing to expect the expected and not seek artistic diversity. A band headlining Coachella—say, AC/DC—is expected to play the hits. Today, when you go see a major DJ, you expect them to play their hits also.
It's a new thing. The DJs became like a band. I started, quite a few years ago, playing live sets with a MIDI controller. It was more programmed and less flexible, and I got so bored after a while. I felt like it was like cheating. I'm feeling much happier now playing CDJs. Of course, I've got a playlist with like 500 tracks in it, so I can never really predict what's going to happen; it's very in-the-moment.
You mentioned in an interview that you feel guilty charging your fans a full ticket price if you're just giving them a MIDI show, as opposed to an actual live band.
I have a lot of respect for musicians and live bands. Unless you're Arcade Fire or something, it's hard to be a band, especially a rock band. I wouldn't want to try to become famous being a rock band these days. In some way, people expect DJs to be the new rock stars, but they're not as exciting to watch.
Which brings me back to my previous point: DJs are the new rock stars, and now they're forced to play the songs they're known for instead of allowing DJs to play what they want.
What's the point? The versions played aren't any different. You could stay at home and listen to the Duke Dumont or Tensnake playlist on Spotify. I think it's personally more exciting to play a surprise set.
I'm always excited to find tracks I didn't know, and to hear other DJs play new material. It's also a matter of how popular you are. Of course, if you play the mainstage at a festival, it's more likely you play the hits. If you play in an underground club, it's more likely you play whatever you want to. If I had proper worldwide radio hits, I would probably play them more at a festival.
What is the status of your live show?
It's not an option at all right now. I've been going in the opposite way—DJing more, playing smaller clubs. My next release is back to basics a little bit, back to some old-school vibes. I don't expect a big bang; it won't be on the radio. But I feel very good with it, and that's important to me.
After Glow, "Keep on Talking" and "The Walk" see your return to the clubs—your return to the dancefloor at 5am.
Totally. I had such a good time last time I came to the States. Clubs with 500–800 people—I think that's what I'm good at and feel comfortable with.
What brought you back to the dancefloor feel?
Basically what you mentioned before. I don't want to play the hits; I don't want to play five versions of "Coma Cat." I think that's killing creativity and the fun. I'm not on Virgin anymore; I have no pressure producing a radio hit anymore. If it happens, that's brilliant; if not, it's fine.
When you're signed to a major label, you're forced to aim for a sound that appeals to the masses. Often, it doesn't turn into your best work.
It feels very calculated often, and that's not very creative. It's not why I make music, often. It's not why I want to be in the studio… I want to get excited and lose myself in the production process. There are a few things coming together these days. It's like there's so much music at the moment, and everything is focused on signing releases, and there's hardly any buildup anymore. They sign, they release. If it gets huge, fine; if not, you get kicked out. It's a lot of pressure.
Let's talk about your major label debut, Glow. Was it a learning experience for you?
Definitely. I've never been on a major before. It was safe to say it was a dream of mine to have an album out on a major—a pop major, especially on Virgin. For me, it was quite an honor to be on that label. Then again, it wasn't smart that I released Glow the way it was. It was basically a pop album; it wasn't a club album at all. It might not have been smart in terms of building up my profile. I think you lose people a little bit from the base, the credible people, because they think, "Now he's going only for the radio." But for the commercial people, it wasn't commercial enough. I was sitting somewhere in between. But it was ultimately the music I wanted to make.
Glow was your attempt at a pop album; you did not want to make a club anthem. Glow, ultimately, aimed at creating your own definition of pop. Did you achieve that?
I still like to listen to it, which is a good sign. I really like some songs on the album still. I guess I achieved something.
I think Glow went over a lot of people's heads; a lot of people weren't ready for it.
It's kind of a timeless album still, and it works. I never expected to be signed on a major with that album. I think the time was right. Disclosure became very big just before. Some people even said I'm trying to be in the same lane, trying to copy Disclosure. But as a matter of fact, most of the songs were super old, before "Latch" came out.
Will there ever be, or has there ever been, a Tensnake song that has outgrown "Coma Cat"?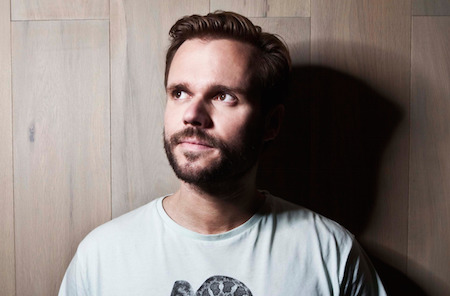 I wouldn't say so. That song was the right time and the right place. I don't know if it's true, but some people say that it even made this tropical thing that's happening now, and all the electronic vocal music that suddenly came up in the charts, it made a little bit possible. I don't know if that's true or not. But it's a fact, when that came out, there was nothing like that in the charts. I think people were kind of waiting for that. Back then—2009 and 2010—that was the peak of minimal music and the clubs. It was so serious and so dark; I was really missing the fun in the clubs.
You and a handful of other artists are recognized for this resurgence of classic and vintage house, particularly from the '80s and '90s. The Tensnake sound is rooted in the '80s, whereas someone like Duke Dumont is rooted in the '90s. Are producers re-creating sounds based on the music they grew up on? How is this old music being recreated into new?
When you grow up and you get older, you realize that the music that influenced you at an early age comes back in your taste and your musical world. It's just a revival, basically. As a consequence, what happens now is what happened 10–15 years ago. If that's really true, I think at some point we will have an electro new-wave revival, or whatever was big in the early 2000s.
Where do you want to be? Where you are now?
I feel good at the moment. I want to build up my own label and plan some new releases and do a label party next year. I'm feeling very happy at the moment. I'm building a studio in Berlin, trying to get a home in L.A. by the end of the year, and that's all I need, really.
Follow the jump for Tensnake's 10 Tracks to Play Pinball To Playlist.
Tensnake's 10 Tracks to Play Pinball To Playlist.
Blondie "Atomic"
Tame Impala "Let It Happen"
Shura "2Shy"
Jungle "Busy Earnin'"
Taylor McFerrin "Degrees of Light"
Knightlife "Don't Stop"
Blood Orange "You're Not Good Enough"
Tensnake "Keep on Talking"
Phil Collins and Philip Bailey "Easy Lover"
Joe Jackson "Steppin' Out"
"Keep on Talking" is available now on Tensnake's independent imprint True Romance.
John Ochoa follows a Tensnake audio ritual on the daily. Follow him on Twitter.
Follow Tensnake on Facebook | Twitter
Follow True Romance on Facebook | Twitter | SoundCloud
---
Share
---
Tags
---
You might also like