Datsik is over one hour late for our interview. I'm sitting on a bench in the backyard of his North Hollywood home, busying myself with unanswered emails and selfies, wishing I could take a dip in his pool without fear of getting hit with a trespassing lawsuit. That's when I notice something in the window: a playful lil' salt-and-pepper tabby cat begging to come out and play. I name her Catsik, obviously, and she provides endless joy with her kitten kisses and clumsy barrel rolls.
Datsik calls me and begins to apologize profusely. Turns out he's buying a car, and he's delayed at the dealer. Though he does sound frazzled and hurried, the new automobile addition is no big deal, it seems. Datsik is used to these life-changing purchases; he bought this very house less than a year ago.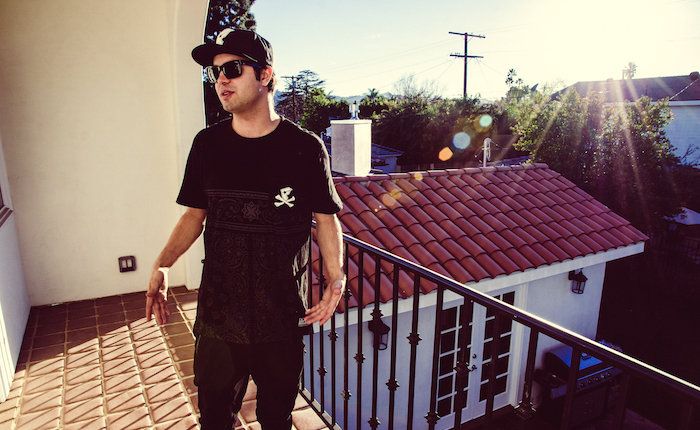 When he does arrive, he shows me around his two-story house, and I finally get to shake Catsik's paw (and find out her real name is Iris). He then leads me back outside.
Behind the house, adjacent to the glistening pool, stands a garage-like structure. Beyond its double-door entry lies a small yet technologically modern office, recently converted into Datsik's own fully functional home studio. A keyboard is at hand, paired with sophisticated speakers. On each side of the room hang two large, silver emblems that look more heavy metal and devil horns than laser shows and strobe lights. They're the logo for Firepower Records, the independent imprint he founded in 2012.
This is where Datsik creates his biggest bass bombs. This is where the walls shake. Ladies and gentlemen, welcome to Firepower.
"It's like a bomb shelter in here," he says.
He's right. This is where Datsik creates his biggest bass bombs. This is where the walls shake. Ladies and gentlemen, welcome to Firepower.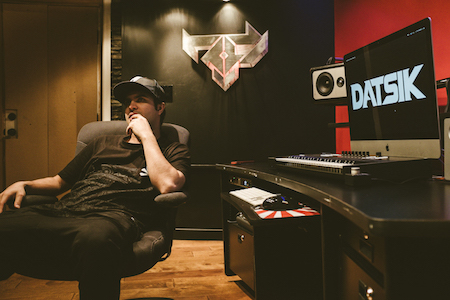 Eight years after becoming a dubstep wunderkind, Datsik, born Troy Beetles, has evolved as much as the sound he helped forge. He's moved from video game-loving fanboy—his moniker derives from his old Xbox Live gamertag—to chart-topping producer, internationally touring artist, and owner and founder of the enterprising Firepower brand. Owning this house, then, is a major step for Beetles twofold. On a personal level, it's one of his key strides into total adulthood. Professionally, the house doubles as the official Firepower headquarters. And he's totally on board.
"It's great having people over here and partying, because you can totally turn up in here and be as loud as you want," he says from within his dungeon studio. "Lately, instead of going out, I've just been bringing people over here. Bring a bunch of wine, and everyone parties. I have the sequencer open, and we bang out ideas."
This simple statement resonates with me. Beetles, once the infamous party boy, is starting to sound like a grownup.
It's impossible to imagine electronic music without Beetles' influence. Despite his short career thus far, he played a significant role in pioneering the bass-heavy North American dubstep sound along with fellow Canadian producer Excision. Nowadays, "dubstep" is becoming a dirty term, with many of its star players criticizing it heavily or abandoning the genre altogether (see Skream and Flux Pavilion).
Beetles remains loyal to his dubstep roots, but he now identifies with the broader "bass music" tag. "It allows me the freedom to play more of what I want," he says. "If people are expecting just dubstep, and I play drum & bass, they'll be confused."
It's impossible to imagine electronic music without Beetles' influence.
Beetles' first foray into music came when he started producing hip-hop beats in his bedroom studio back in his hometown of Kelowna, British Columbia—not quite the rap mecca by any means. His life was forever changed when his brother played him Method Man at full-blast on a new car sound system. That's when he found his calling. That's when he found his sound.
"I lost my mind. There was so much bass. That moment had a big impact on the type of music I wanted to make. I always think back to that moment, hearing a track on a proper system, and the impact it had on me."
That love for hip-hop never left, and it is a core fundamental on his latest EP, Down 4 My Ninjas, which sees Beetles collaborating with DJ Paul of celebrated Southern rap group Three 6 Mafia and iconic rapper KRS-One. "I'm trying to bridge the gap between the edgy side of electronic music with the grittier side of hip-hop."
Down 4 My Ninjas is a fine ballet between the ruggedness of hip-hop lore and Beetles' latest take on bass music. He hints at some upcoming rap collaborations, featuring artists so huge he can't even name-drop, but you hear his excitement when talking about his work with DJ Paul and KRS-One.
"Obviously, a current rapper like Kendrick [Lamar] is hugely popular, but that's not what it's about for me," he says. "I work with classic artists because they're dope. Most artists would want to work with big names because it'll give them more exposure."
He references his track with KRS-One, "No Requests," in which the rapper talks about remaining true to the underground: "I don't hang around at the top/It's too fake up there/Forget being in the front/I'd rather sit in the rear."
"Instead of getting a status boost, I'd much rather work with someone like Method Man over someone prolific at the moment," adds Beetles. "Once you become a bigger artist, it's harder to keep that underground feel alive, and you soon realize that the way to make more money is to climb the ladder and work and collaborate with people that will boost your status. And that fame has an impact on their music, and they begin to focus more on how they will be perceived, even though what got them famous to start with was the fact that they were underground. It's like a double-edged sword."
The parallels between hip-hop and dubstep make sense, according to Beetles, which is why Datsik fans are often also hip-hop fans. Similarly, he thinks there's room for cross-pollination between dubstep and deep house/future house. The key ingredient? Bass wobbles.
"There's a lot of house music that I don't like," he says. "But this newer, more minimal kind of stuff, with garage elements and deep and low wobbles, I think is really cool. It kind of touches back on the old-school dubstep."
Beetles, much like most of the electronic music industry right now, sees the potential of these surging, and resurging, movements in America, and he agrees it's time to pounce.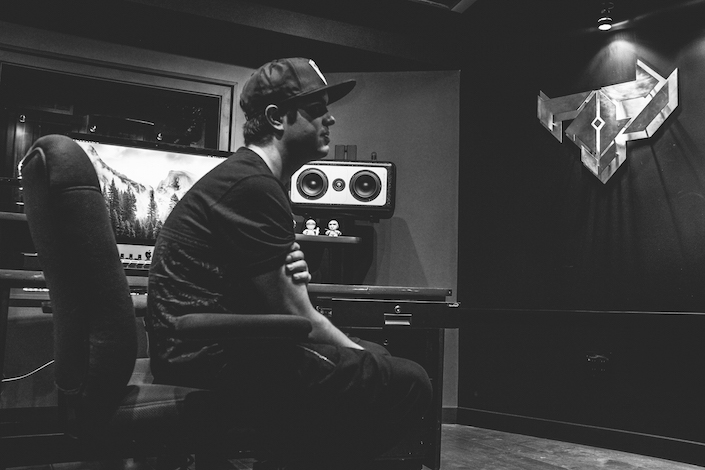 "It's kind of like an uncharted territory right now, and I think that's what makes it exciting," he says. "You can be the best drum & bass producer in the world, but it's not gonna matter because it's still just drum & bass. I feel like it's reached its point where, from a technical production standpoint, it's already so good. Where do you really improve on that side of things? Same with dubstep. Whereas with deep house and garage and future garage and all that, I feel like there's still so much room for interpretation. It doesn't really have a box around it yet. That leaves a lot of room for experimentation.
With age comes wisdom, world travels, and life experience. For Beetles, currently and constantly on tour, that all multiplies by the day. As such, he's at a crossroads in life and in his career. The older, wiser Datsik is more experienced on all fronts. Herein lies the evolution of Datsik. It's this mental and artistic growth that has sparked a new phase in the Datsik storyline.
His personal evolution mirrors the grander scope of the rapidly changing electronic music landscape he helped expand, as well as that of his personal fans. As he's gotten older, his fans have gotten older, and their tastes aligned every step of the way.
"A lot of kids who were listening to aggressive dubstep are also listening to deep house, and are also listening to everything now," he says. "The Datsik fan never used to be a Zedd fan, but now they like both sides of it. They see more than just one thing, and I think that's important for the growth of the whole thing."
The same goes for Firepower, which he hopes will one day outgrow the Datsik brand and stand on its own.
"I didn't choose this life to fall into a loop of being bored. I chose this life because it's exciting, and I'm passionate about it, and I like music."
"It started out being paired up with me… but I feel like it's taking form and doing its own thing," he says of Firepower. "We have such a loyal fan base just dedicated to the label that it doesn't have to be synonymous with Datsik anymore. It's its own beast and runs wild and does its own thing and doesn't need me. The label was never meant to be an extension of me."
As Beetles dives deeper into the wider spectrum of bass music, his future sounds remain a mystery for now. What is known is that inspiration is coming from all sorts of places and people. He's not abandoning the dubstep ship, but rather steering it in new, broader, and more exciting directions with more diversity. It's this challenge of his personal artistic vision and his simultaneous attempt at revolutionizing bass music as a whole that holds new hope. It's all in line with Datsik's ongoing evolution.
"As times change, you just gotta evolve," he says. "I think doing the same thing all the time is cool, but at the same time, it gets boring for me. I didn't choose this life to fall into a loop of being bored. I chose this life because it's exciting, and I'm passionate about it, and I like music. My taste changes just like everyone else's taste changes, and I think it's important to keep doing what you love."
Down 4 My Ninjas by Datsik is available now on Firepower Records.
All photos by Alexander Federic. Instagram: @alexvnder
Follow Datsik on Facebook | Twitter
Follow Firepower Records on Facebook | Twitter | SoundCloud
---
Share
---
Tags
---
You might also like