You can get the lowdown on an artist's current happenings and read plenty of juicy gossip about them at way too many other places on the interweb; but we're not having any of that here. Instead, 'The Count-Off' aims to reveal a never-before-seen side of the top dance music names on our radar, by inviting them to share five songs, four things, three albums, two people and one wish.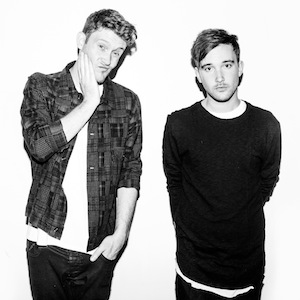 According to their Facebook bio, Botnek are "Canada's first celebrity storm chasers." While I'm not here to neither affirm nor deny the validity of the Montreal duo's self-proclaimed title as adventure-seeking meteorologists, I will say things have been heavily precipitating on the party front for Eric Muse and Gordon Huntley. They've managed to hold main-stages by the neck in recent memory, showering the scene with smashers like their recent riotous record on Dim Mak, "Tremors." With the forecast looking like it's in tremendous favor for Botnek, it felt only right to have them count it off for us.
5 songs I wish I'd made:
1. Queen "Bohemian Rhapsody"
2. Rage Against the Machine "Bulls on Parade"
3. Justice "Genesis"
4. Black Sabbath "Paranoid"
5. The Prodigy "Smack My Bitch Up"
4 things I'm happy I did: 
1. Went to a lame birthday party for a friend of a friend, met each other and talked about Ableton… and essentially formed Botnek.
2. Remixed "Animals" for fun.
3. Taught ourselves how to sleep on planes.
4. Spent a few days working on music with a legendary producer we look up to. We can't say his name but he did produce Linkin Park's Hybrid Theory as well as countless other records that have shaped rock music.
3 albums everyone should own:
1. The Prodigy Experience
2. Slaves Are You Satisfied?
3. Run The Jewels Run the Jewels 2
2 people I wish I could hang out with:
1. Anthony Bourdain
2. Bill Burr
1 thing I wish everyone knew:
Our name does not come from the villain from Sonic the Hedgehog's Dr. Robotnik. (or does it?)
Buy "Tremors" on Dim Mak.
Follow Botnek on Facebook | Twitter | SoundCloud
---
Share
---
Tags
---
You might also like