The Best of Nocturnal Wonderland 2017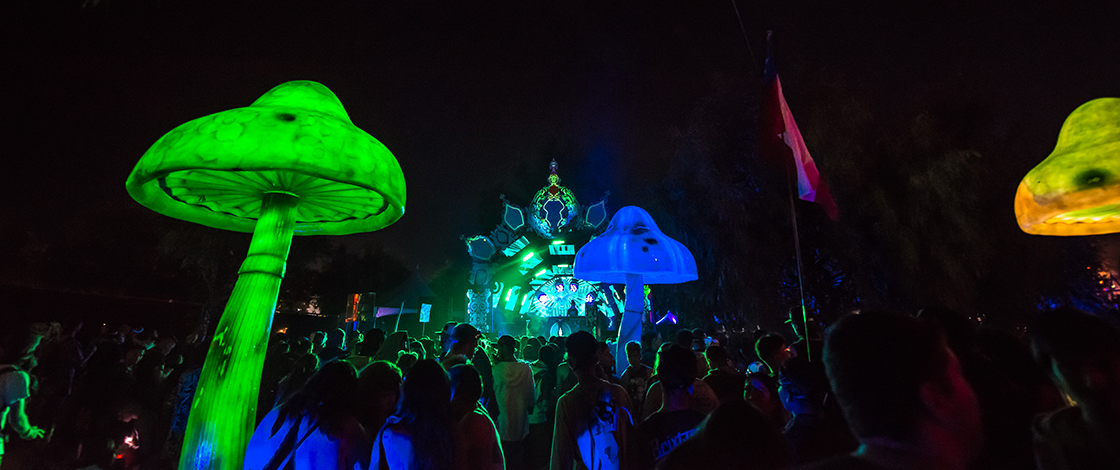 With reporting from Boojie Baker, John Ochoa, Rich Thomas and Sam Yu.
Nocturnal Wonderland is one of our favorite times of the year. Yes, the festival marks the official, and unfortunate, end of summer, but it's also our last chance to revel together on the dancefloor during the sunshine season. Plus, it's our way of kicking off the forthcoming fall season and sending cheers to new beginnings—the Insomniac way!
This year, Nocturnal Wonderland celebrated 22 years of family, community and culture, bringing together old-school ravers with our new generation of Headliners. That's 22 years of music, 22 years of memories, and 22 years of you beautiful Headliners and your magical smiles. Insomniac's longest-running festival, Nocturnal Wonderland has grown from its underground roots to become a major player in the American festival market, a leader in the SoCal scene, and a beloved favorite of Headliners worldwide.
This past weekend presented a different Nocturnal Wonderland experience with an emphasis on new music discovery, fresh talent, enhanced environmental design, and original art. The result: a boutique music and camping festival with a more intimate feel and unique vibe.
After two days of good music, happy Headliners, and proper camping vibes, here's the best of Nocturnal Wonderland 2017. We'll see you next year!
Feel the Vibes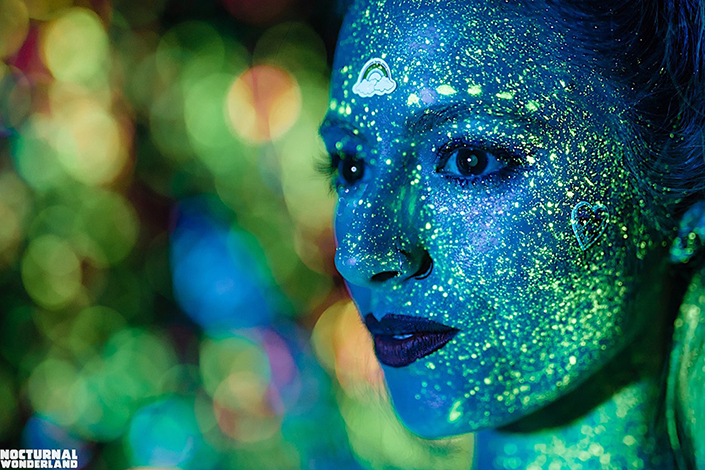 From the campground to the festival grounds, Nocturnal Wonderland was alive with good vibes all weekend long. That's not to say that Headliners don't bring their best to each and every Insomniac show, but the reimagined vision for this year's event did in fact provide a level of intimacy not typical of today's more-more-more approach to dance music festivals. Among the biggest contributors to this old-school-ish aesthetic were the more intimate stages, where the DJs weren't perched atop gargantuan structures out of sight. They felt like they were right there with you on the dancefloor, which made it easy to be sucked into the positive energy all around you. All in, year 22 of Nocturnal Wonderland felt reminiscent of a party you'd experience in the late '90s or early 2000s, back when things were starting to grow beyond the confines of the underground and into what the scene dubbed "massives." Not to be confused with the colossal scale of where things are at in 2017, these massives were a special time in dance music history. This year's Nocturnal Wonderland provided Headliners with a slice of what a raver's life was like way back before things started to blow up. —Boojie Baker
A Million Campers Can't Be Wrong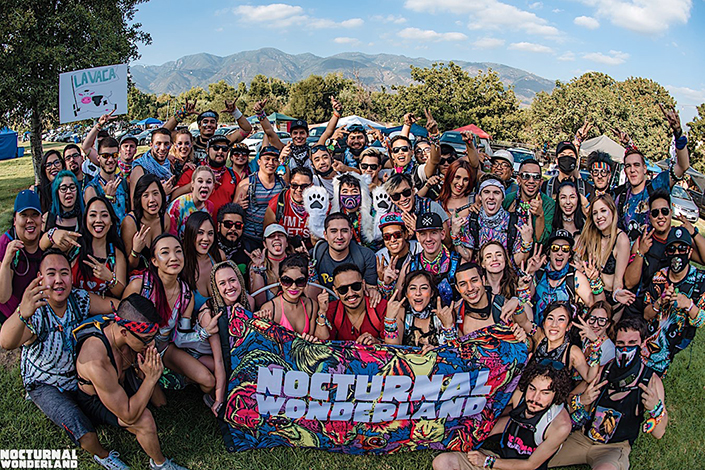 Glen Helen Regional Park is easily my favorite venue in Insomniac's arsenal. The grass, the lake, the trees, and the surrounding mountains make for one helluva picturesque location, where you can pitch a tent for a weekend of music and mischief. Even if you're not a self-proclaimed "camper," make it a point to do it in the future, because you're truly missing out on an experience you otherwise wouldn't be able to enjoy. —Boojie Baker
Thumbs-Up Weather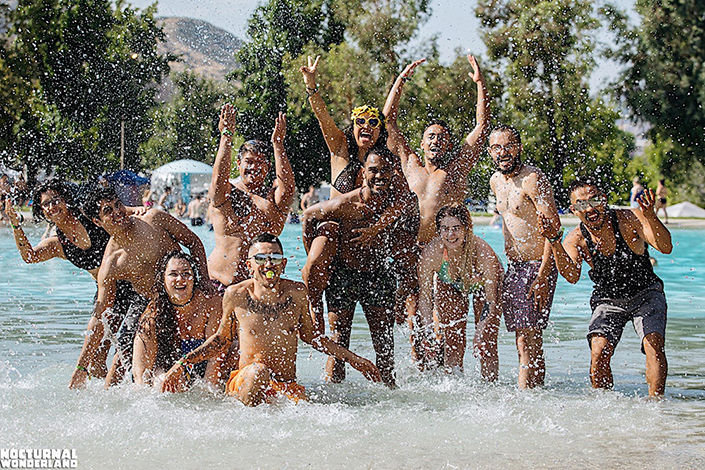 Granted, we have like zero control over the whims of Mother Nature—She shall do what She does—but that doesn't change the fact that the weather this past weekend was a welcome change from the 100+ degree days of previous get-togethers. Warm enough during the day to justify a splash in the pool and cool enough at night to keep you from turning into a hot, sweaty mess on the dancefloor, the weather at this year's Nocturnal was about as good as it gets. Good enough, in fact, to allow you to milk the last remaining drops of adrenaline from your mind and body as you bounced around the dancefloor, rather than the opressive heat calling all the shots. —Boojie Baker
Tree House Hangs at Silent Disco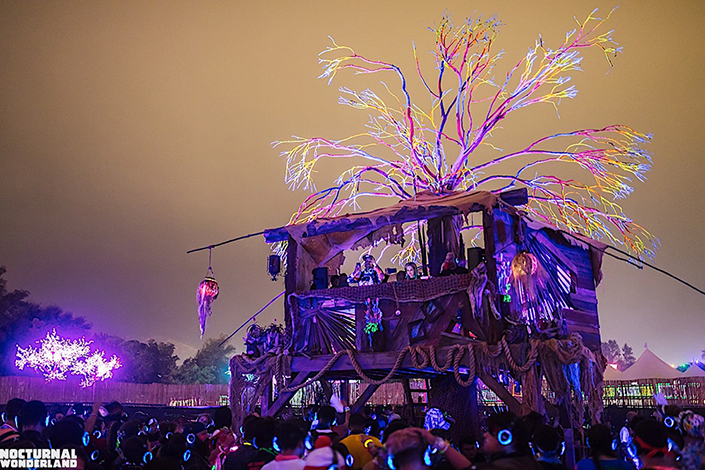 The Silent Disco really elevated its game this year, literally taking the stage to new heights with a brand-new tree house design that caught the campers off guard. Things heated up Thursday night with the not-so-silent pre-party that saw Snails projectile-launching his vomitstep sound all over the place.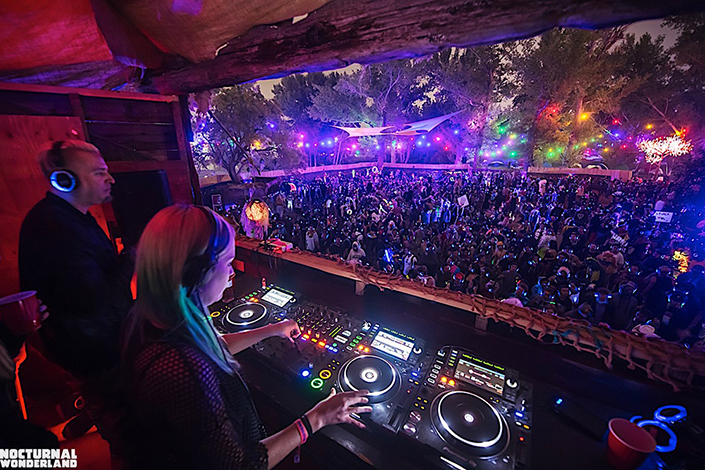 After the music shut down inside the venue on Friday and Saturday, Headliners headed back over to the campground for some headphone after-hours fun that went till the crack of dawn. While perched from the second-story structure, DJs ripped through their USBs to keep the party going strong. Everyone was feeling it, since no one there felt the urge to retire back to their tents and potentially miss the next fire track being dropped. —Sam Yu
This Ain't Your Average Takeover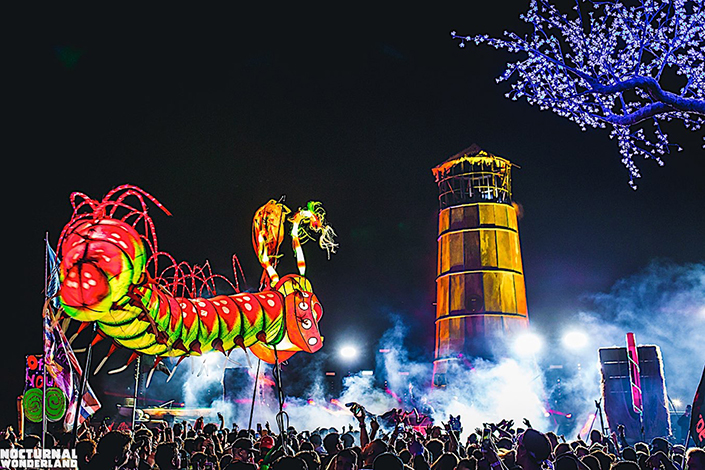 The top of the hill at Nocturnal Wonderland was not only the best location to snap a squad pic for the Gram, but it was also where people posted up to get served the most solid grooves at the show. Sunken Garden was a beacon of straight-up bangers, with the stage's lighthouse design shining the way for partygoers who wanted to get down with their bad selves. On Saturday, the This Ain't Bristol crew really brought it home by showing everyone how to pull off a proper takeover. Slot after slot, the energy continued to hit the high water mark as chunky and funky house selectors took turns at wearing out our feet. Label founders Billy Kenny and Maximono did the imprint justice by showing the full range of their buzzing-like-crazy catalog, while their invited guests really reinforced the emphasis they put on keeping things fun in the first place. The climax, however, came at closing time, which saw a back-to-so-many-backs set between the whole gang. Left-of-center house and disco was the flavor of the night, and they served it hot and ready for the final hour. —Sam Yu
Going All the Way Live at Labyrinth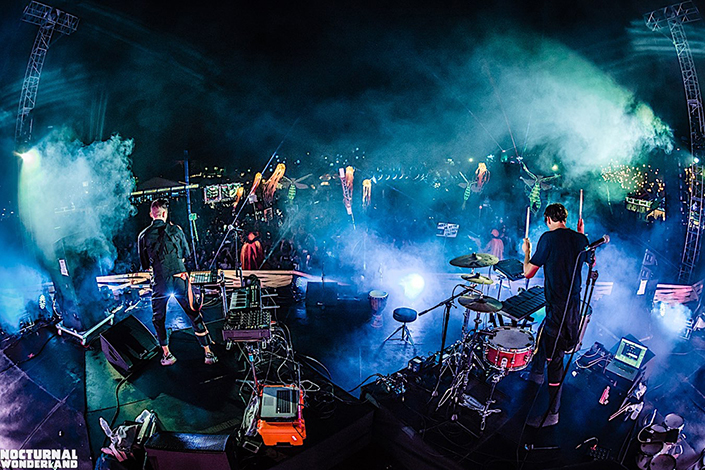 While there are still some naysayers who want nothing to do with live acts "invading" the electronic dance space, it's hard to hate on the performers who are keen on bringing instrumentation into the equation. At Labyrinth, the on-the-spot ethos was fully embraced by a bunch of artists who are doing all that is in their power to flip the script. Between the chilled-out wavelengths of Autograf and the knockin'-em-sideways energy of Keys N Krates down to the avant-garde circuitry of Haywyre, every performance really made you realize what year we're living in. —Sam Yu
Putting Faith in the Future at Temple Noctem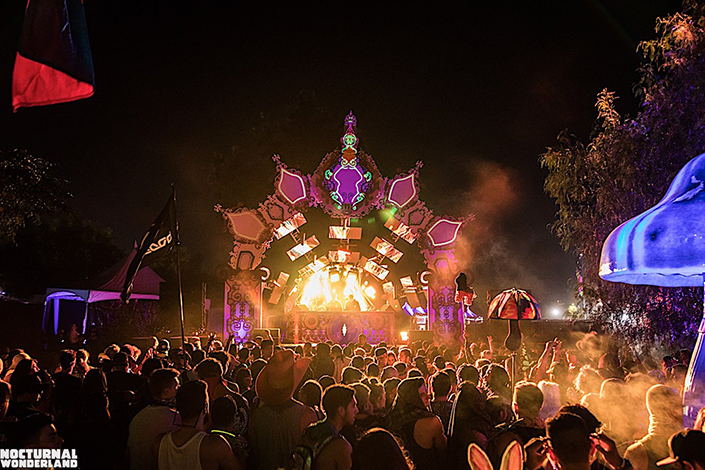 Although positioned a bit off the beaten path, Temple Noctem was a hidden treasure where the spirits of dancing Headliners were being lifted straight into the sky. Friday was filled with praiseworthy beat-makers like Falcons, Rawtek, and Four Color Zack. Meanwhile, Insomniac Records held a service on Saturday with artists they've placed their full faith in. Between newcomers who are poised to break through to the next level and those who're owning the hell out of the scene, this was the spot to be if you wanted to catch a glimpse of what the future looks and sounds like. —Sam Yu
Throwblacklight Painting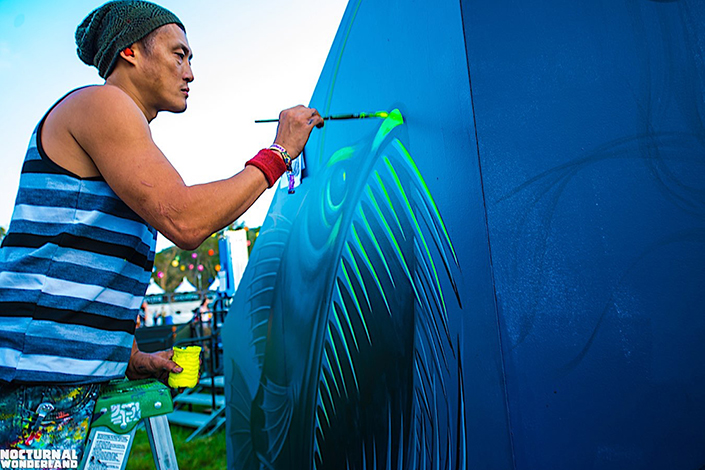 Even though Nocturnal officially (re)adopted the theme last year, black lights and paint rooms were decorative mainstays of the old-school rave era. This year, in addition to the DIY black light tunnels, artists did live painting on canvases throughout the festival, invoking those throwback days where a little bit of black light and a whole lot of creativity created the best ambiance. —Rich Thomas
Sneaky Sets on the Electric Beach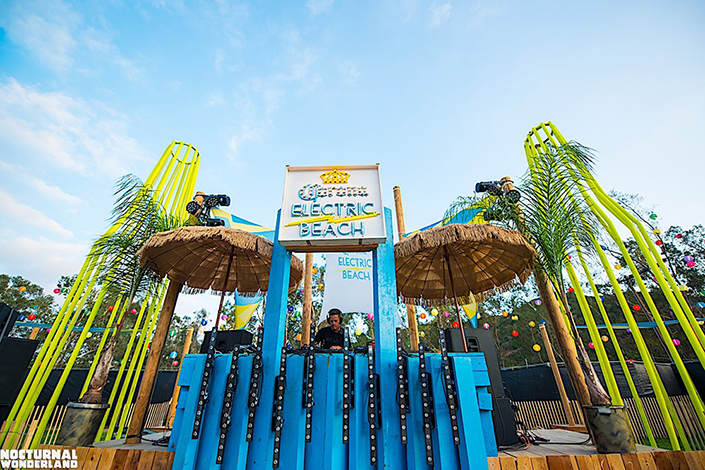 Corona once again brought their Electric Beach setup to Nocturnal, but this year's lineups—plus an extra-bumpin' sound system—made it a travel destination worth visiting again and again. If you missed Cut Snake's set at Sunken Garden on night one, you could catch them again later that night at Electric Beach from among a much smaller crowd. Other Friday night sets included LO'99, Assembly and Bijou, while Two Owls and Dr. Fresch rocked the decks on night two. Free Corona tall boys backstage were also a hit—or so we heard. —Rich Thomas
Ducky Goes Hard in the Paint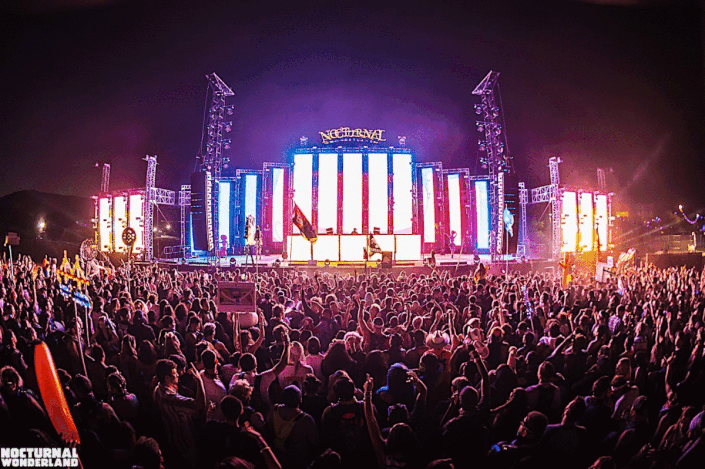 When you see Ducky—who looks like a real-life embodiment of an anime character, with highlighter-bright hair and neon hearts drawn under both of her eyes—you don't get a sense of just how hard she brings it. That is, until she hits the stage and all rave hell breaks loose. The Los Angeles–based, San Francisco–born producer has mastered a sonic style that simultaneously screams of classic rave hardcore and modern bass music, as heard on her Modern Rave Classics playlist, her exclusive Nocturnal Wonderland 2017 DJ mix, and her ongoing Rave Toolz series of bootlegs and edits.
Her future-meets-past sound found a perfect home at Nocturnal Wonderland, where we celebrate old-school rave culture and modern-day festival life. The show marked her grand Insomniac festival debut, and you best believe she went hard AF from bangin' beginning to the massive end. Her ravetastic track "Oceans," off her recently released I Fall in Love With Everyone I Meet EP, hit the dancefloor especially hard, making all the Headliners at Wolves' Den lose their collective shit. We knew this set was as special for her as it was for us when she brought out her dad to the stage and introduced him to her thousands of jumping fans. Expect to see Ducky making her name on the Insomniac stage, and beyond, in no time. —John Ochoa
Xs Up for Excision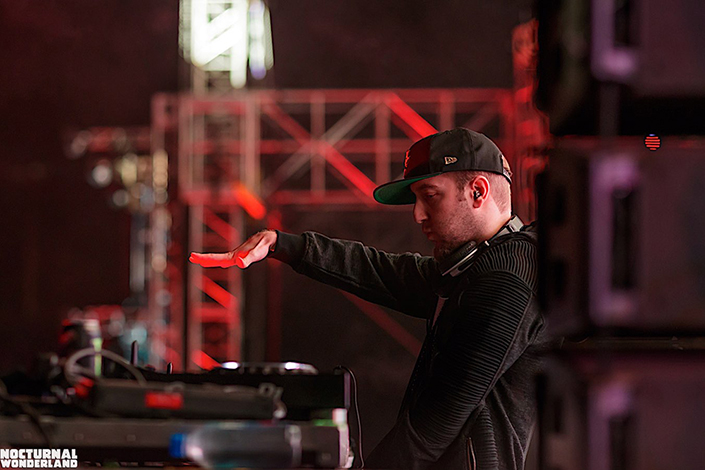 There's no denying the power of loud bass at a music festival, especially when a mega-headlining act like Excision is on deck. Throughout the festival, the spirit of Excision was everywhere, from homemade tribute totems to T-shirts and flags. The need for nonstop bass was as palpable as the midnight air minutes before the dubstep don took over Wolves' Den to close out our Nocturnal Wonderland weekend once and for all. Shit went bananas as soon as the first bass bomb hit, as Headliners headbanged as if there were no tomorrow and reached maximum velocity at the first drop. As soon as the Xs went up, they didn't come down, as a sea of bass-heads basked in the communal love of the low end. Saturday was most definitely bass night; nothing else mattered. Our ears are still ringing from it. —John Ochoa
Follow Nocturnal Wonderland on Facebook | Twitter | Instagram
---
Share
---
Tags
---
You might also like